In dire need of a commercial pellet smoker for your expanding barbecue business?
Stop here because this article is all you need to read!
Ordinary pellet smokers cannot sustain the incoming demand for food in restaurants or food trucks. With an influx of customers, you need to stay ahead of orders.
Editor's Pick
Good Choice
Don't Miss
Also Consider
Traeger Grills Pro Series 34 Electric Wood Pellet Grill and Smoker, Bronze, Large
Pit Boss 71700FB Pellet Grill, 700 Square Inches, Black
Z GRILLS Wood Pellet Smoker Grill, 8 in 1 BBQ Grill with Auto Temperature Control, 697 sq in Cooking...
Cookshack FEC240 Fast Eddy's Fixed Shelf Pellet Smoker Oven
Editor's Pick
Traeger Grills Pro Series 34 Electric Wood Pellet Grill and Smoker, Bronze, Large
Good Choice
Pit Boss 71700FB Pellet Grill, 700 Square Inches, Black
Don't Miss
Z GRILLS Wood Pellet Smoker Grill, 8 in 1 BBQ Grill with Auto Temperature Control, 697 sq in Cooking...
Also Consider
Cookshack FEC240 Fast Eddy's Fixed Shelf Pellet Smoker Oven
So in that case, the need for a commercial pellet smoker is essential. These pellet smokers will infuse the authentic wood flavor making people reminisce about traditional wood cooking. Not only that, but the smokers are also large enough to accommodate a variety of items like pork butts, rib racks, turkey, and much more.
We have brought you some of the best options of pellet smokers available in the market that are suitable for commercial use. They not only fall on standards of quality but also fulfill the requirements of your business. Let us get into the details.
Best Commercial Pellet Smoker Reviews 2023
Without any wait and query, let's take a look at the best commercial pellet smokers.
Looking for a commercial pellet smoker that outperforms in the grill section as well? Traeger Grills TFB88PZBO Pro Series 34 has made waves in the commercial sector with its exceptional features. The build quality is as essential as performance. So, Traeger has not compromised on both. Built with steel, Grills TFB88PZBO Pro Series 34 is engineered to be highly durable and reliable.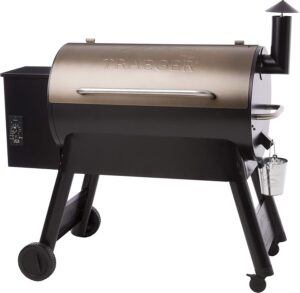 Not only that, but the steel is also finished with a powdered coating to make it stain, rust and corrosion-resistant. As far as the interior is concerned, the porcelain coated cooking grates speak for the quality. The coating makes grates non-stick. Hence the cleaning and maintenance are like a breeze. The design is completed by four sturdy casters at the base that make the 163 pounds unit portable.
On the left side of the cooking chamber is a hopper that can fit 18 lbs of wood pellets in one go. This means you can have hours of consistent and constant smoking without refueling the unit every few minutes. The hopper is also equipped with a control panel that offers temperature, time, and power control.
The control panel is extremely easy to interpret and use. You don't need to be a grill master with years of smoking experience to operate Grills TFB88PZBO Pro Series 34. Unlike one meat probe with other smokers, this unit has two meat probes to simultaneously monitor the internal temperature of different meat at one time.
When speaking of functionality and performance, versatility can be another name for Traegers Grills TFB88PZBO Pro Series 34. It is not only a smoker or griller, but it can also serve as an oven. You can roast, bake, braise along with a barbecue.
Lastly, coming to the point of what makes it the best commercial pellet smoker? The smoking chamber is of 649 square inches. Not only that, but the secondary chamber is also a grilling chamber with 238 square inches of space. That is more than enough space to feed a crowd with seven chickens, forty burgers, nine rib racks, and thirty-two hot dogs. So, ready to smoke and roll with Traegers Grills TFB88PZBO?
Pros
Maximum temperature of 450 degrees Fahrenheit
Easy to use
Wheeled base
Durable grates
Cons
Does not perform well over 330 degrees Fahrenheit
2. PIT BOSS 700FB – Commercial Pellet grill
It is worth mentioning that Pit Boss 700FB is far the best product and wood pellet smoker ever manufactured by the pit boss. Let's explore the great features. Considering the construction, Pit Boss 700FB is made of heavy gauge steel. Diffuser plates also have steel construction and racks are porcelain coated.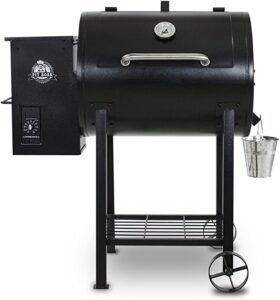 The most noticeable feature is 700 square inches of cooking capacity. It is enough to serve a gathering with a smoked bbq meal. With Pit Boss 700FB you might forget going in the kitchen for a while because it is all in one. You will have different appliances for roasting, searing and baking but Pit Boss 700FB has everything in it. Here you can find some easy Pit boss smoker recipes.
It is perfect for lazy grillers and cooks. From the digital control panel, you can set the desired temperature between 180 F to 500 F and forget it. No need for going back and forth to keep the check on cooking food. Pit Boss 700FB is suitable for low smoking and also searing which can be done on side high flames.
A metal broiler plate is another unique addition. It is common in pit boss smokers but not available in other smokers. You can use it if you want char-grilled sear. Other features that you need to know are adjustable cooking grates and easy cleaning.
Pros
Flame broiler
Wide temperature range
700 square inches of cooking space
Reliable
Cons
Not portable
Limited warranty
You might find it surprising but Z grills have been manufacturing pellet grills and smokers for more than thirty years. They have an approach to designing extremely user-friendly products that are easy to use for both starters and experienced professionals. Z GRILLS ZPG-7002E 202 has made it into the list of commercial pellet smokers due to its cooking capacity and price.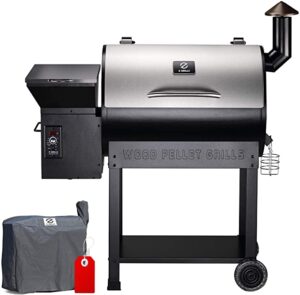 The unit is delivered carefully packed in a package on ordering. With basic mechanical knowledge, you can easily assemble the unit in less than an hour. For beginners, we recommend reading a manual first with step to step instructions. Z GRILLS ZPG-7002E 202 is multi-purpose. Enjoy the flavors of baking, roasting, braising along with smoking and grilling.
Rotisserie has become extremely easy in this pellet smoker because of fan-forced convection cooking. This also creates a suitable environment for other functions like baking and grilling. Nearly all the issues reported in the previous model have been solved in Z GRILLS ZPG-7002E 202. It now has better temperature control equipped with electronic ignition.
With a digital control panel, you can set the temperature between 180 degrees Fahrenheit to 450 degrees Fahrenheit. Also, there is an automatic wood pellet loading system which produces the required amount of smoke. The hopper has a capacity of 20 lbs of wood pellets per hour which can keep the smoker running for twenty straight hours.
The grilling area measures 19.2 x 26 inches while the smoking/warming rack measures 6.9 x 27.5 inches. Both the racks provide 700 square inches of cooking area. Moreover, caster wheels with a lock system complete the structure and features of Z GRILLS ZPG-7002E 202.
Pros
Great value for money
Digital control
Hopper loading system
Wide temperature range
Cons
Fluctuations in temperature
Not perfect for searing
This medium-size griller has the grilling capacity to prepare a meal for 4-5 people at a time. Having an exterior Coated with black, golden, and silver, this kitchen appliance has a traditional design and is constructed with stainless steel. The sturdy construction of this pellet grill ensures long-lasting performance. Total dimensions of the grill are 44 x 37.25 inches. Portability is promised by the four roller wheels attached to the 22-inch long-standing legs.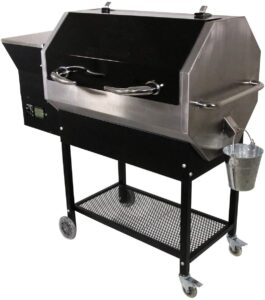 REC TEC grills have imparted uniqueness as the primary grilling chamber has an octagonal shape and covers a huge area of 772 sq inches. The enameled lid with two large handles attached covers the primary grilling chamber. RT 590 grill works proficiently with smart technology.
The internal temperature of the grilling chamber is indicated using smart technology. It employs Proprietary PID Algorithm for showing the accurate temperature inside that ranges from 200 F to around 500 F. Some other features added to achieve extraordinary smoking are dampers. Three dampers are located on the lid to control the smoke and airflow.
With its user-friendly digital interface installed on the hopper, you can adjust the temperatures and customize the settings. Temperatures are adjusted with the rotary knob, and other settings are made with the other two buttons. The Wi-Fi system in the grill allows you to control the grilling even if you are at a distance.
Having a hot-flash ceramic ignition system, powered by the electricity manages the input of fuel. Fuel is provided to the chamber through the intact hopper. This rectangular-shaped hopper has the actual capacity for pellets weighing around 30 pounds. Which is enough to generate heat that can run continuously for up to 25 hours.
Pros
Advance features
Wifi control
Durable
Large cooking area
With gigantic capacity and premium quality, we proclaim Cookshack FEC120 Fast Eddy's like the best commercial pellet smoker. No mess of gas, charcoal, or wood chips. Pellets have been declared as the green fuel for smokers. Less ash which means minimum waste after use. Cookshack FEC120 Fast Eddy's is best suited for use in restaurants, competition, large scale events, and food trucks.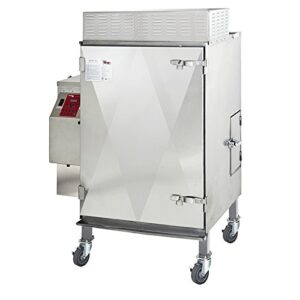 The structure has a solid steel construction with double-wall insulation. Both interior and exterior are built from heavy-duty steel. The walls are equipped with F spin-glass insulation. Both of these features work in great fashion to retain aroma, heat, and flavor for perfect cooking. It gives authentic smoky flavor with consistency without any hassle.
The steel construction gives the unit 515 pounds of weight. Unlike other smokers with digital control, cookshack IQ4 electronic controllers for time and internal temperature. The cook and hold features work the same as auto shut off or warmers. With the completion of the smoke cook cycle, the controller drops but maintains the temperature for warming.
The optional meat probe continuously monitors the temperature. When the desired temperature is reached the smoker automatically shifts to hold the feature. The electronic controller prevents rapid fluctuations in heat which may lead to drying out of meat. The automated pellet loading system loads the fuel when signaled by the smoker. FEC120 Fast Eddy's utilizes approximately 50 lbs of pellets per hour at 250 degrees Fahrenheit.
The heat recovery time of FEC120 Fast Eddy's is exceptionally fast. It brings the temperature back in less than ten minutes. Now coming to the most important feature of cooking capacity. It has an immense cooking capacity of 1955 square inches that can fit 150 lbs of pork butts, 90 lbs of ribs, 120 lbs briskets, and 30 chickens in one batch.
There is a convection fan operation for exceptional ventilation. It regulates the smoke in the smoker. You can adjust per the smoky flavor you want. After reading all these amazing specifications, we are sure you are clear enough to decide whether FEC120 Fast Eddy's fits in your restaurant.
Pros
Large cooking area
Robust construction
Durable and reliable
Best for commercial use
Nickel coated racks
Final Words
Whether you need a pellet smoker for your restaurant, food truck, food stall, barbecue party, and covering an event, we have presented you all the worth mentioning options available in the market. These products guarantee satisfaction and quality. Now the next step is ordering. Happy shopping! Read Electric Smoker Reviews for more updates.
Related post: Best commercial Electric Smoker reviews
Pit Boss Grills 77550 5.5 Pellet Smoker, 850 sq inch, Copper
Monitor internal temperatures with digital LED readout and meat probe
Five porcelain coated cooking grids, 1548 sq in. Includes porcelain coated water pan and heat Deflector
40+ lb hopper capacity with pellet Purge. 24+ hours of use.
Fully programmable 150 - 450 temperature range
Auto-start 300 watt igniter with auto shut-off
Bradley Smoker 6-Rack Outdoor Electric Smoker, Digital Vertical Smoker With Stainless Steel Grill
Large Capacity Smoker: Our digital smoker is specially designed to accommodate the 6 included racks; This meat smoker will let you feed a couple or a...
Professional-Grade Design: Perfect for professional chefs and food smoking fans, our fully automatic electric smokers allow you to simply load in your...
"Dimensions: Our digital outdoor smokers measure 19 by 22 by 41 inches and feature 6 racks with 11 by 13 inches of cooking space each "
Easy To Clean: Our electric grill features an easy-to-clean stainless steel interior that will not rust; Smoke diffuser system keeps the smoke...
Master Smokers: We developed Bradley Smoker products to produce the best smoke flavor possible; As we say, "It's all about the flavor," so enhance...
Weber SmokeFire EX6 (2nd Gen) Wood Fired Pellet Grill, Black
Weber porcelain-enamel finish helps prevent rusting and cracking.
Large 1,008 square inches of dual grilling space.
DC powered engine, specially designed to prevent auger jams.
Designed to distribute even heat across the cooking area.
Enhanced grilling performance and new Weber Connect smart features
Z GRILLS Wood Pellet Grill Smoker with 552 Cooking Area & Front Shelf for Outdoor BBQ, Smoke, Bake...
SMART TEMPS CONTROL - Automated electric feed system maintains temperature from 180ºF to 450ºF, Smart Digital Controller keeps temps within +/- 20...
BUILT TO LAST - Sturdy steel construction with a high-temperature powder coating finish makes the pellet grill long-lasting
EXTRA STORAGE - Front table and bottom shelf provides the space to place grilling tools, condiments, and so on, keeping what you need within reach
SUPERIOR MOBILITY - 2 rugged wheels easily conquer any backyard terrain, while the 2 casters with locks promote smooth rolling and secure your grill...
ULTIMATE 8 IN 1 - ZGRILLS Pellet Grill and Smoker: bbq✓bake✓roast✓braise✓smoke✓grill✓sear✓char-grill, you can do everything on here
Sale
Weber 22-inch Smokey Mountain Cooker, Charcoal Smoker,Black
Porcelain enameled lid, bowl, and center section retain heat and won't rust or peel
Two cooking grates provide ample room for smoking two large items at once
Silicone temperature grommet monitors the internal temperature of your smoker
Control the temperature of your smoker by easily adjusting the dampers. Smokey Mountain large aluminum fuel door allows grill masters to easily add...
Fuel door comes off to make adding charcoal or wood easier while smoking
Camp Chef PG24MZG SmokePro Slide Smoker with Fold Down Front Shelf Wood Pellet Grill, Pack of 1,...
SLIDE AND GRILL- grill, smoke, bake, roast, braise, and barbecue with Premium wood-fired flavor on a single grill. Digital control, best of both...
NEW PID CONTROLLER- Gen 2 PID Controller 1-10 Smoke Setting (Not WIFI Compatible)
EASY ASH CLEANOUT- cleaning between cooks is as easy as pulling a lever, thanks to the exclusive ash cleanout system You won't find on any other...
EASY ASSEMBLY and start up- check out the walk-through assembly video on camp chef site, so you can get cooking right away. In just a few minutes,...
FOLDING FRONT SHELF- comes with full sized folding shelf PGFS24 $74 MSRP