Do you want to welcome your guests with some flavorful and different barbecue recipes in your pit boss smoker?
It's time to welcome your guest with your pit boss smoker recipes having exciting flavor. Pit boss smokers not only give you ease in cooking, but they also change your meal taste by making it juicier, tender flavorful, and delicious.
Pit Boss Smoker Recipes
Let's take a look at some appetizing and mouth-watering recipes for your pit boss smoker.
1. Smoked Beef Plate Ribs with Homemade Barbecue Sauce
The preparation time of these ribs is 15 minutes while it's cooking time is 480 minutes. You can smoke them on any pit boss smoker by giving them a mouth-watering smoke taste. In order to increase their flavor and enjoyment, serve them with a little amount of honey, homemade barbecue sauce, as well as some smoked vegetables like onions tomatoes.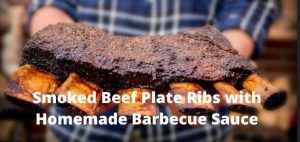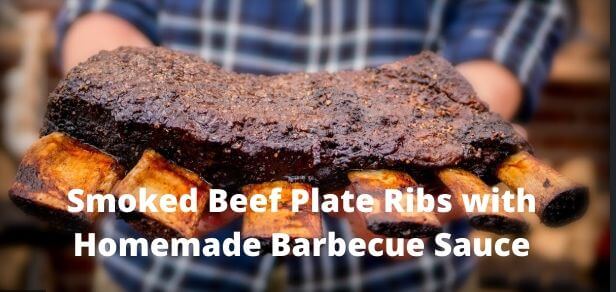 Let's start the recipe
Ingredients
Material Quantity
Apple cider vinegar 1, ⅓ cup
Beef plate ribs 4 lbs
Beef stock 1/3cup
Black pepper ½ tablespoon
Cayenne pepper ¼ tablespoon
Garlic cloves 4 ( meshed and peeled)
Honey 2
Kosher salt ½ tablespoon
Molasses ¼ cup
Olive oil two tablespoon
Paprika 2 tees spoon
Spicy brown mustard one tablespoon
Cube tomatoes 2 lbs
White onion 1
TT pit boss beef and brisket rub
Method
Tools
There are some special tools that you will need during your cooking like meat injector for injecting stock, aluminum foil, baking pan, sheet tray, temperature probe for accurate temperature checking, cast iron pan, blender for spice mixing.
Smoke setting
First of all, make ready your smoker and take it time to start smoking. Follow the instructions of your smoker for a smoke if the low temperature is needed then set its low temperature if high is needed then set its high temperature for a quick smoke. Pick the best electric smoker for better taste and results.
Marination of ribs
First of all, remove the top fat cap portion from your ribs then rub mustard on them. Besides this, flavor them with beef brisket rub and inject the beef stock properly in the meat, make sure the stock is injected properly between bones and all sides of the meat.
Grilling
Next, place the rib rack on your smoker grill center and make sure about one thing that the sear slide of the smoker is closed. Now increase the temperature of the smoker in order to cook the ribs properly. Do not increase the temperature too much because it will burn the ribs from outside, and they will remain uncooked from the inside. Increase the temperature to 250-degree Fahrenheit as well as for 3 hours, let the ribs cook properly and perfectly.
Sauce preparation
For the time being, prepare your barbecue sauce. Place aluminum foil in the sheet tray and add tomatoes, onions, and garlic on it. Stream some olive oil drop on them and flavor them with ¼ teaspoon of salt as well as black pepper. Place the tray in the smoke cabinet for 2 hours until the onions and tomatoes become in messy form.
Next, take a pan that is grill safe then add a cup mixture of apple cider vinegar and water on the pan. Remove your rib racks from the middle and place the pan in the middle as well as increasing temperature to 275-degree Fahrenheit.
Take out the tomatoes from the smoke cabinet, place them in a blender and add some flavor paprika, cayenne, ¼ teaspoon of salt and black pepper, molasses, honey, ⅓ cup apple cider vinegar. Blend the tomatoes until they become fully meshed and make sure that there are no lumps left. Transfer the tomatoes into a cast iron pan and place them on the grill. Now until one hour, let the sauce cook well and stir the sauce after every 5 minutes.
Final presentation
Now when the sauce is ready, pour some sauce on the ribs and keep some into a sauce bowl for dipping the ribs in some extra sauce. Cook your ribs until a metal skewer goes easily inside the rib or their internal temperatures become 204-degree Fahrenheit.
2. Smoked Salmon (Lox) Omelet
The total time is needed in the preparation of this smoked salmon (lox) omelet is 560 minutes while its cooking time is 270 minutes. It is American cuisine, yet it's cooking is not very difficult and tricky.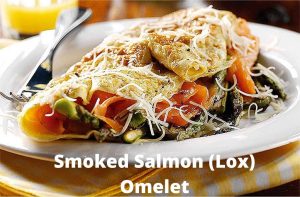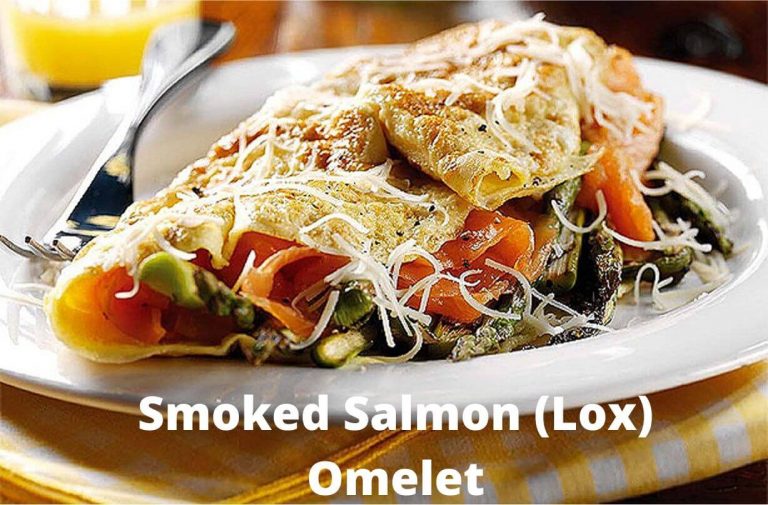 Ingredients
Spices quantity
Brown sugar 1 cup
Butter 1 tablespoon
Crushed black pepper as required
Cream cheese two tablespoon
Chopped dill ½ tees spoon
Eggs 3
Garlic powder two tablespoon
Heavy cream two tablespoon
Kosher salt ½ cup
Onion powder two tablespoon
Salmon side one about 2 lbs
Chopped Scallions 1 tablespoon
Grounded white pepper one tablespoon
Tools
You may need some tools during cooking like a paper towel, mixing bowl, plastic wrap, wire racks, metal sheet tray. These tools will help in mixing the spices, salmon marinating and cooking as well as eggs cooking in the last.
Salmon Brine Drying
The first step is the preparation of brine that will make the salmon dry, in brine preparation take garlic powder, onion powder, salt, brown sugar, and white pepper whisk all of them perfectly. Next, take a metal sheet and set a sheet of plastic wrap on it as well as dust half of the brine on the sheet. Now take the salmon and put it on the sheet by putting the skin side down on the sheet.
Furthermore, put a heavy amount of brine on the upper side of salmon equally and on all sides as well as wrap it in the plastic sheet properly. Now place it in the regenerator for 8 hours or for overnight.
After 8 hours, remove the salmon from the refrigerator and wash out all brine from it properly in the sink under cold water. Dry out the salmon with a paper towel and place it on a wire rack for two hours maximum. You can also place it on the fire until a yellowish sparkle appears on the salmon.
Cooking
Set your smoker, set its temperature, and smoke time according to your smoker instructions.
Smoke the salmon on the grill for 2 hours and raise the temperature up to 200 degrees Fahrenheit. Besides this, smoke the salmon for 1 to 2 hours so that it cooks perfectly from inside or the inside temperature reaches to 145-degree Fahrenheit.
When the salmon cooks perfectly, take it out from the grill. You can enjoy this smoked salmon on the spot and can also save it for later use. Wrap it properly into a plastic sheet and refrigerate it. You can enjoy salmon for up to 5 days.
Take 2 ounces of smoked salmon and place it on the grill in order to make it warm and season it with some dry spices. In a bowl, whisk eggs and heavy cream together, mix them well. Now put some butter on the griddle or in a pan pour the egg mixture on it. Use a spectacle to quickly flatten the eggs, place the salmon and cheese inside the egg roll over the egg quickly on salmon. For one minute on medium heat, cook the egg and then take it out.
3. Cajun BBQ Chicken Recipe
The bayou region of Louisiana is famous for the sweet and spicy flavor in their dishes. This cajun BBQ chicken is a dish that gives your taste buds a more delicious and mouth-watering sweet and spicy flavor. The preparation time of this dish is 25 minutes while it's cooking time is also 25 minutes.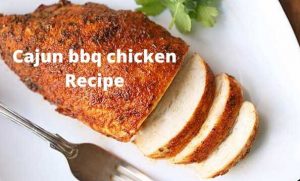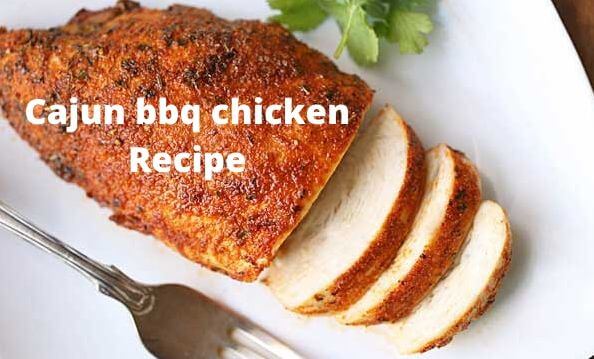 Ingredients
Material quantity
Barbecue sauce ½ cup
Beer ¼ cup any brand
Butter 1 tablespoon
Boneless skinless chicken breast 1pound
Chopped garlic cloves 2
Grounded thyme ¼ teaspoon
Hot sauce one teaspoon
Lime juice one lime
Olive oil one tablespoon
Oregano ½ teaspoon
Sweet heat rub two tablespoon
Worcestershire sauce one tablespoon
Tools
In the cooking and marination of this bbq chicken, you will need some tools that will help you and make your cooking easier. You will need tongs, whisk, temperature probe, small mixing bowl, heatproof saucepan. These tools will make it easy to marinate chicken with spices and herbs.
Method
First, prepare the mixing of the spices and herbs. Take a small mixing bowl, add sweet heat rub, oregano, ground thyme, and mix them well. Take the chicken breast and rub down olive oil on all sides of it. Make sure that the oil coats all sides of the chicken completely and evenly. Lavishly marinate the chicken with the sweet herb mixture. Apply the mixture on all sides of the chicken breast.
Make ready your pit boss smoker follow the instructions of your smoker. Set the temperature to 350 degrees Fahrenheit and on charcoal or gas grill, do not set a high temperature that will burn your chicken quickly. Set a medium amount of temperature on them in order to cook chicken perfectly.
Place the temperature probe inside in one chicken breast in order to know the internal temperature of the chicken. Now place the chicken on one side of your smoker cooking grill and let it cook. On one side, give it 10- 12 minutes to cook completely, then turn another side and give only 5 – 7 minutes in order to get the golden brown color on the chicken. Yet also give it enough time to cook thoroughly from inside until the internal temperature reaches to165 degrees Fahrenheit.
When chicken is done, take it out from the grill and give 10 minutes rest to the chicken.
Sauce preparation
In the meanwhile prepare sauce for the chicken. Take a heatproof saucepan, add butter, barbecue sauce, beer lime juice, chopped garlic, and Worcestershire sauce on it. Place the saucepan on the grill and let the sauce cook until it becomes thick. Whisk the sauce and bring a boil in it when the sauce becomes thick. Remove it from the grill. Add some sauce on the chicken while serving some extra sauce with the chicken too.
These were some of the best bit boss smoker recipes that you can try at home. Do serve them to your guests and cheer them up.
Hope you enjoy Pit Boss Smoker Recipes. For more updated visit us.