We are here with another list on 10 Best Electric Smokers under $1000.
Are you tired of continuously babysitting your smoker and stressing over lack of fuel? Your misery is about to end! Because an electric smoker will bring you immense relief and comfort. Electric smokers have changed the course of traditional smoking by uniting technology and ancient smoking techniques uniquely. With little effort, you can obtain the same traditional smokey flavor and natural aroma as charcoal smoking.
Best Choice
Good Choice
Don't Miss
Also Consider
Original Bradley Smoker BS611 4-Rack Natural Draft Vertical Electric Smoker
Bradley Smoker 6-Rack Outdoor Electric Smoker, Digital Vertical Smoker With Stainless Steel Grill
Dyna-Glo DGU732BDE-D 30" Digital Electric Smoker
Masterbuilt MB20071117 Digital Electric Smoker, 30", Black
Best Choice
Original Bradley Smoker BS611 4-Rack Natural Draft Vertical Electric Smoker
Good Choice
Bradley Smoker 6-Rack Outdoor Electric Smoker, Digital Vertical Smoker With Stainless Steel Grill
Don't Miss
Dyna-Glo DGU732BDE-D 30" Digital Electric Smoker
Also Consider
Masterbuilt MB20071117 Digital Electric Smoker, 30", Black
If you are willing to invest in a reliable product, we have done some considerable research to bring you the best electric smokers under $1000 that can be your ultimate companion in either smoking a crowd-pleasing or satisfying your barbecue cravings. Get ready to level up your smoking game with advanced technological features.
Now let's find out which electric smoker amongst the best ones can be your next purchase:
Best Electric Smokers Under $1000
Without any further query here is the list of 10 best electric smokers under $1000:
Masterbuilt has undoubtedly turned barbecue and grilling into art with its multi-purpose series of electric smokers. Masterbuilt 20070411 has been designed to bless you with delightful perfection of smoky flavor. The size of 18.5 x 19.5 x 33 inches is ideal with a weight of 57.8 pounds. The well-insulated body contains the rising aroma imparting perfection through the whole cooking process.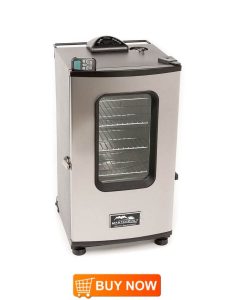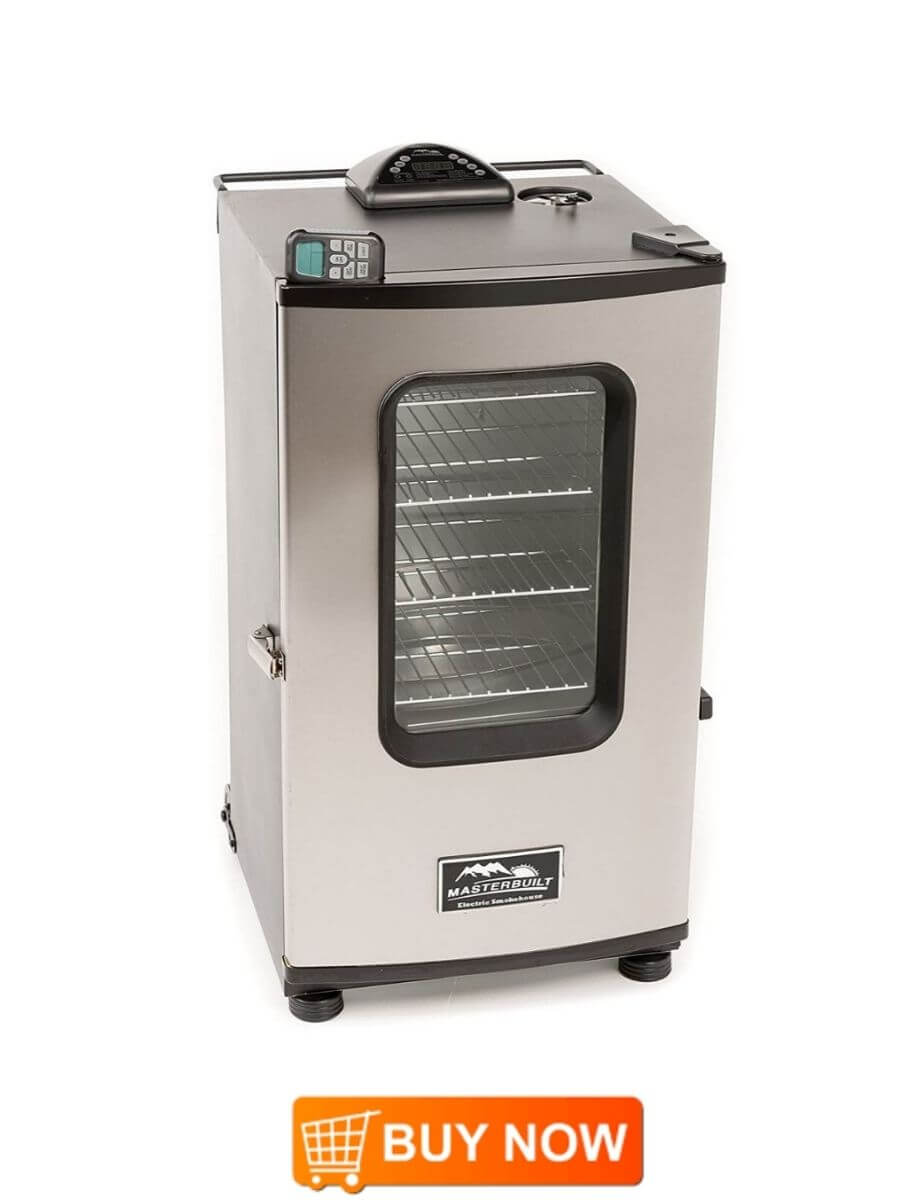 Masterbuilt 20070411 features a heating element of 800 watts that works with a thermostat to provide you with an optimal temperature between 100 to 275 degrees Fahrenheit. With low temperature, retain the natural tenderness by slow smoking. Through a digital panel mounted on the top, you can regulate the settings according to your favorite food and specific flavor.
Lazy enough to get up and check up on smoking meals? Masterbuilt 20070411 is here to rescue you. With the remote control, you can control the settings while chilling out on the sofa. For added comfort, there is an automated shutting system that switches off the unit when food is ready. The four chrome coated grates offer ample cooking space of 730 square inches. For large gatherings, you can serve 20lbs of smoked succulent meat. The racks are equipped with a meat probe to avoid drying out from over smoking or heat.
Wood chips can be conveniently loaded from the side to suffuse the desired natural smokey flavor. Additional user-friendly features include wheels at the bottom for easy handling and transport. Also, there is a glass door for observing the cooking of food. Along with that, you can regulate airflow and smoke by using a fixed vent. Furthermore, drip pan and grease pan make the cleaning easy.
Pros
Energy efficient
Remote control
Built-in meat probe
Portable
Glass window
Cons
Burning of the heating element from constant use
Bradley Digital 6 rack smoker has quickly set the reputation amongst professional grillers and novice bbq enthusiasts. The high quality slim luxurious cabinet style design has intriguing features worth your every single penny. Bradley digital 6 rack smoker is your ultimate partner in hosting a large crowd with mouth-watering and delightful smoked food during all seasons.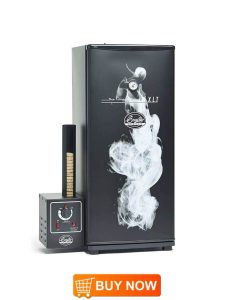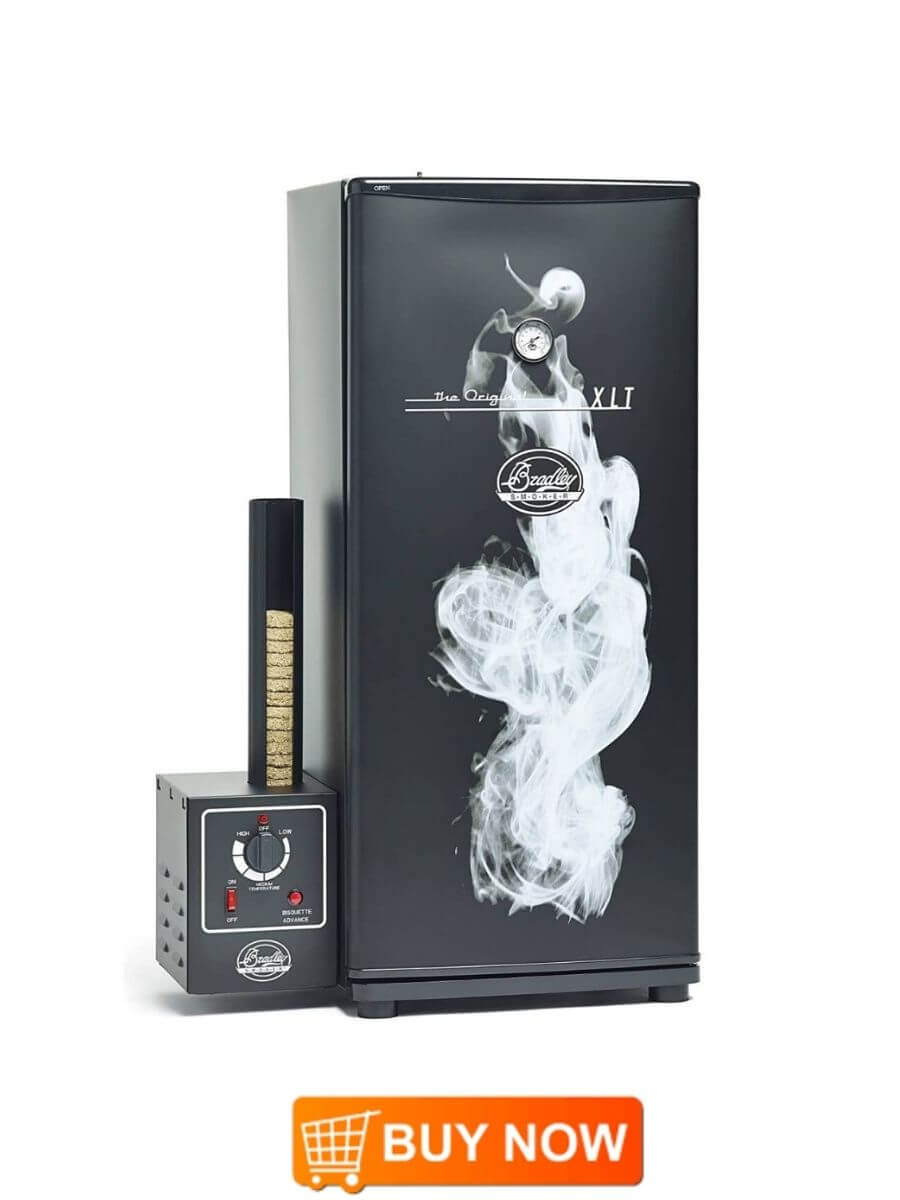 It comes with a cookbook and user manual for providing extra convenience. The six sturdy racks provide you with a cooking capacity of 708 square inches for fitting everything from turkey to vegetables. The unique feature which makes Bradley digital 6 rack smoker prominent amongst competing electric smokers is the automatic briquettes loading mechanism. The wood chips are loaded by a smoke generator or pressing the 'wood' button to the heating element. One batch lasts for twenty minutes followed by another release.
There are nine flavors of briquettes that can keep the smoke rising for eight hours. On the right side of the smoker, the digital panel provides you full control of features and specifications. Bradley digital 6 rack smoker offers two heating elements: 500 watts of cooking element and 125 watts of the smoking element. Experiment with only cooking or just smoking to unleash different cooking potentials of Bradley digital 6 rack smoker.
The additional unique specification is the hot and cold smoking option. Cold smoking is recommended for delicate meals like fish for cautious and attentive cooking retaining the original aroma. The hot smoking option can be utilized for poultry and tough meats. The durability of this electric smoker is unquestionable with epoxy powdered steel outer coating and steel construction.
Pros
Six removable racks
Automated wood chip loading
Reliable
Smoke and oven feature
The cold and hot feature
Ever read about or used advanced radio frequency remote control? Well, now you will. Masterbuilt 20075315 has surpassed its remote control technology to radio frequency. Now you can sit and control from a far greater range. With a minimalist and simple design, it encompasses versatility and user-friendly features. At first glance, you will see a glass door window to peek every time you want.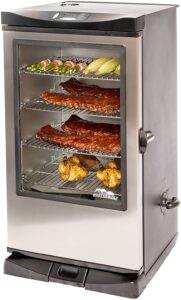 Unlike other electric smokers, the digital control panel is not regular and ordinary. It is equipped with advanced LED light to keep the maximum visibility during outdoor grilling and under sunlight. The massive cooking capacity of 975 square inches will fit your ribs, turkey, chicken in an effortless way. The cooking space is accommodated with four grates coated with chrome. They are easily washable with regular detergent and are corrosion-free.
The thermostat is complemented by a powerful heating element of 1200 watts to provide you a wide temperature range up to 350 degrees Fahrenheit. To achieve the perfect tender cooking you can monitor the temperature of cooking pieces by the help of an inbuilt meat probe. You can attain rare, medium-rare, or fully cooked smoky bbq food as desired.
The wood chip tray on the side can be slide out smoothly for refueling. However, due to its small size, it can only hold enough to produce smoke for forty-five minutes. To increase the duration by a few minutes you can pre-soak them in water before use. The drips from the meat will be collected in a drip pan for easy maintenance. In order to make it last longer, you can wrap the pan with aluminum foil to avoid unnecessary washing. These features make it the second-best smoker under 1000$.
The wheels at the base move the unit smoothly, but avoid moving it over bumpy areas. Sadly, the unit doesn't come preassembled. But don't panic it won't go like your previous experiences. The device can be assembled without giving you a headache in thirty minutes.
Pros
LED-equipped control panel
Easily available replacement parts
Radio-frequency remote control
90 days warranty
Cons
Small smokebox
Control panel is not waterproof
The glass window is covered with moisture
There are uncountable reasons why Bradley Smoker BTDS108P can be crowned amongst top electric smokers globally. It has a signature cabinet style as most of Bradley's smoker range series. Whether hot or cold smoking Bradley Smoker BTDS108P can do anything flawlessly. Don't reckon of it as lightweight, it weighs 60.5 pounds with 11.5 x 15 x 33 inches of size.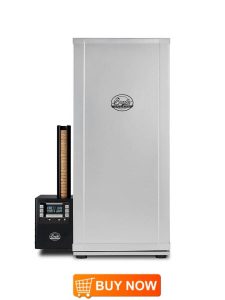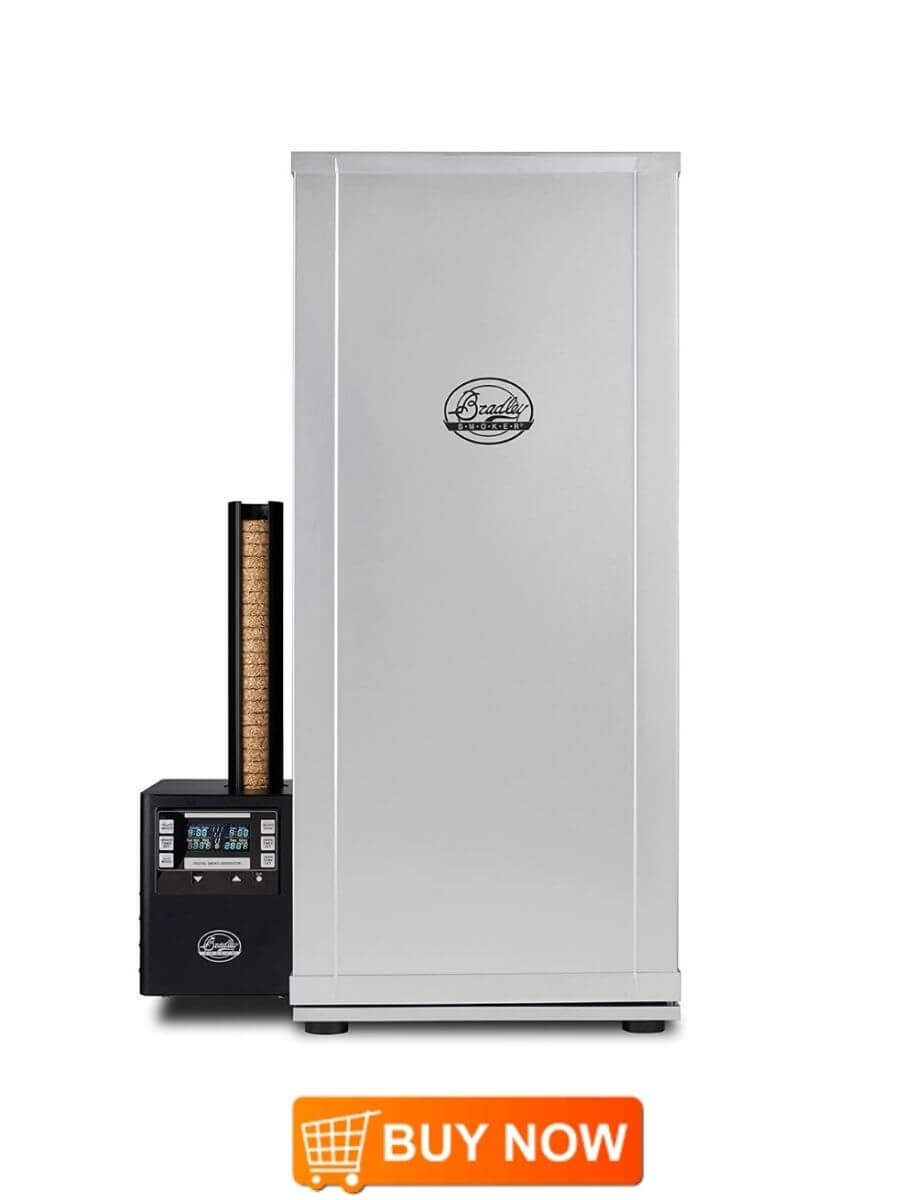 Feel free to play with features on the control board to get your desired finish. Adjust the cooking space of 858sq inches by removing and inserting six adjustable grates. Fit six turkeys or smoke two chicken with ribs and vegetables and the cabinet will magically fit everything. On the left side of the smoker, there is a wood chip loading system to save you from the mess of refueling. It works the same as others, followed by the release of pellets at regular intervals of twenty minutes.
With two heating units of 500 watts and 125 watts, you have the goodness of both an oven and an electric smoker. With only the cooking unit running, experiment with your baking skills and may be finished with a slight smokey touch. Well, do you also fear cleaning after having crowd-pleasing smoked food? Worry no more, as with removable racks and steel built interior cleaning is like a breeze. Just simply wipe out the interior and wash the grates and it's all ready to be stored till next use.
A Lot of users have complained about the low heating element. It is not capable of mounting the temperature fastly or retaining the temperature to desired conditions. The food will take hours to cook consuming more electricity and wood pellets. Furthermore, some elements are plastic-based like hinges and are prone to breakage. The thermostat displays the wrong temperature because it is fixed just above the heating element and that area tends to be hotter.
Pros
Easy cleaning and maintenance
Spacious cooking area
Up to 8 hours of constant smoking
Hot and cold smoking
Ease of operation
Cons
Plastic hinges
The less powerful heating element
Wrongly placed thermostat
Dyna-Glo DGU732BDE-D is a magical cabinet with 19.4 x 19 x 32.5 inches of size and weight of 62.2 pounds. If you reside in a colder region then it can be your life savior. The 800 watts of the heating element is powerful enough to retain high temperatures without the effect of the outer colder environment. The double-walled smokebox and insulated wall complement the functionality of the heating unit.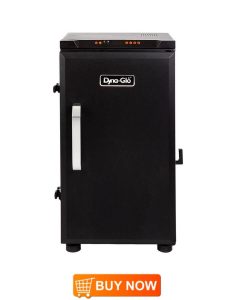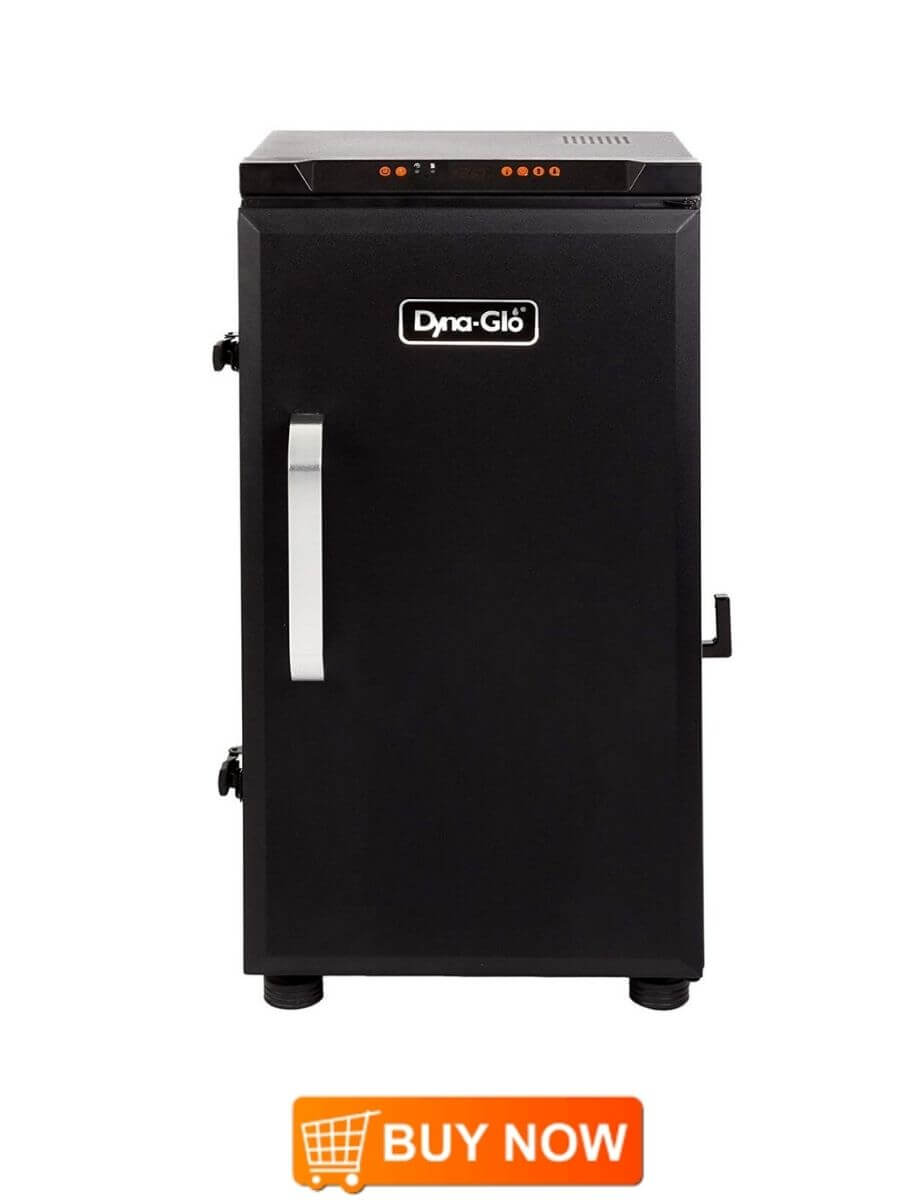 The thermostat can provide you with a temperature as low as 35 degrees Fahrenheit to achieve slow smoking. Go professional by testing different cooking settings from a digital control board. It also displays internal temperature through an installed meat probe. At the back of the smoker, there is a small damper to control the ventilation. The firebox can be accessed by sliding it out from the side rather than opening the door. This will not disturb the internal temperature and cooking process.
Cook countless numbers of smoked bbq with 732 square inches of generous cooking area. Four racks are coated with chrome which speaks for longevity. The grease pan located in between the wrack is removable and adaptable. Just drain and wipe the pan after use to make it more durable. The door has a reliable latching system and seals perfectly.
However, you will miss the viewing window. As it is human instinct to overlook things when they are under processing whether its food or anything else. But the absence of a glass window doesn't mean that you will not attain delightful smoked food if you are not monitoring. The base is raised from the ground by small wheels like studs but they don't roll. In order to move the unit, you will have to lift it.
Pros
Suitable for cold regions
800 watts heating unit
Easy controls
Two temperature displays
Side smokebox
Cons
No viewing window
Rear wheels
Heavy steel built, spacious cooking area, mouth-watering results hence a good deal! Smokin It Model 3 is the refined version of its previous two models. Thus it is worth mentioning that features possessed by this model have been tested in two previous models and further improved. We are sure that it will last enough to make a beginner into a grill master and later serve the next generations as well.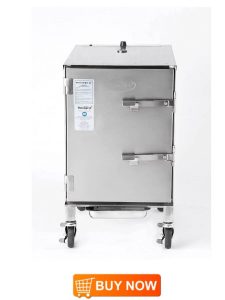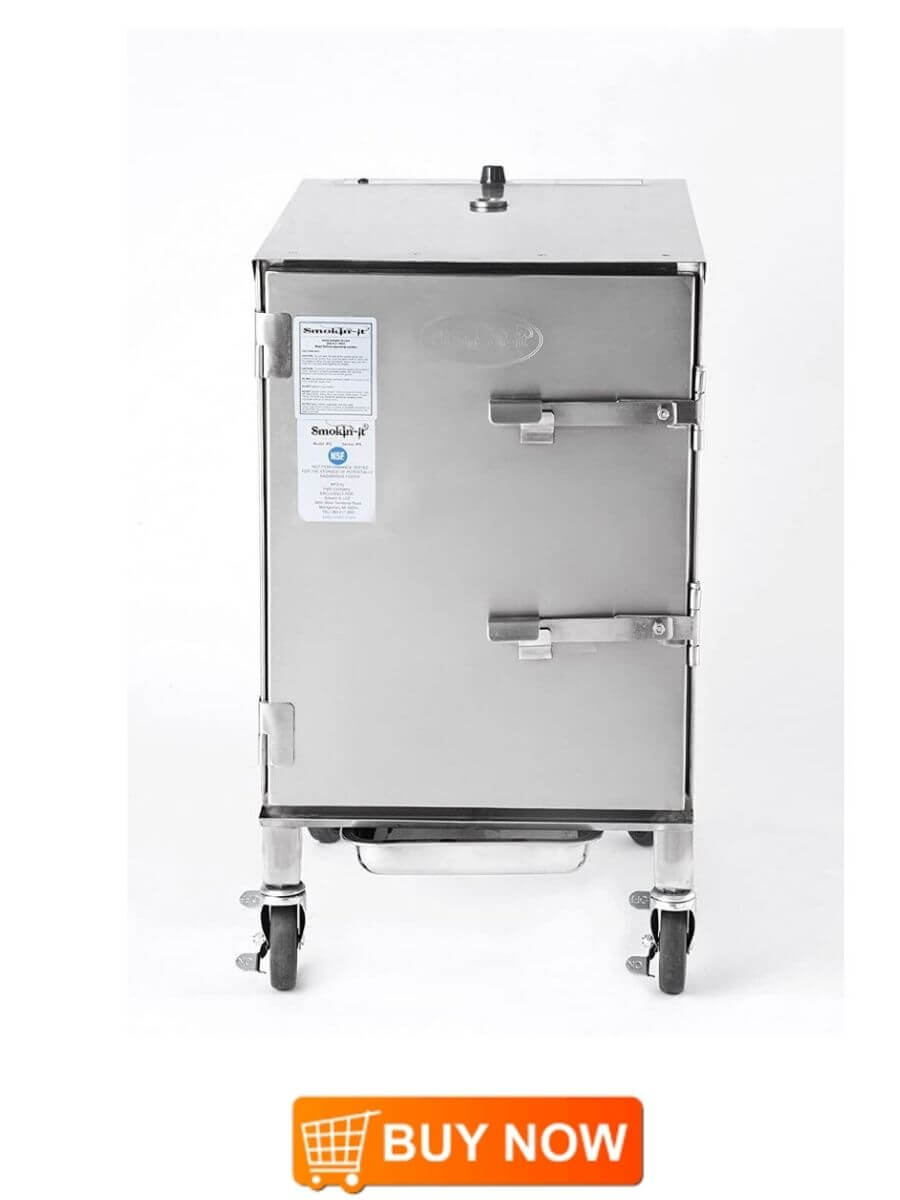 The construction feels hefty as a tank with eighteen gauges of stainless steel. The company has full trust in its product which is depicted by an extensive three years of warranty. Considering 125 pounds of weight, don't worry about moving this giant. The structure can easily be rolled to any space through four well-built casters at the base. The handles also assist in painless movements.
The unit comes pre-assembled except for a few elements that need to be put in place. It is worth noting that all the inner elements from grates to drip pan to brackets are removable. The door is firmly sealed by a latching system to ensure the perfect cook with the help of fiberglass inner construction. Temperature is controlled by installed rheostat between 100 to 250 degrees Fahrenheit. This box has 1200 watts of heating element that will leave you stunned with its performance.
You might find temperature adjustment challenging at the start as Smokin It Model 3 has a traditional analog temperature controller. But we don't suggest you miss out on much more by pondering on just analog control. There is no side door to access the smokebox. However, we assure you that you would not need to add more by opening the door as they last for an ample amount of time.
The 15†x 20†inches of the main chamber is a real monster and game-changer. The removable stainless steel based grates can fit 45 pounds of meat in one time. Also, the unit has twelve feet of the long chord that will be able to reach most of your switches without the use of extensions.
Pros
Massive cooking space
Heavy built and sturdy
Easy to glide wheels
Replaceable heating element
Cons
Analog temperature control
Masterbuilt MB2007117 will outclass your cooking and barbecue potentials. So, get ready to be amazed by what it has to offer. The unit is delivered safe and sound in styrofoam packaging. There is not even a slight risk of damage during shipping or delivery as the elements are compactly secured in place. The structure is heavily built and feels sturdy.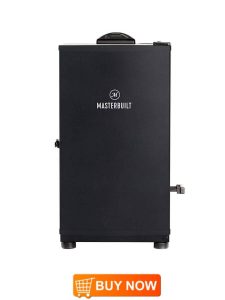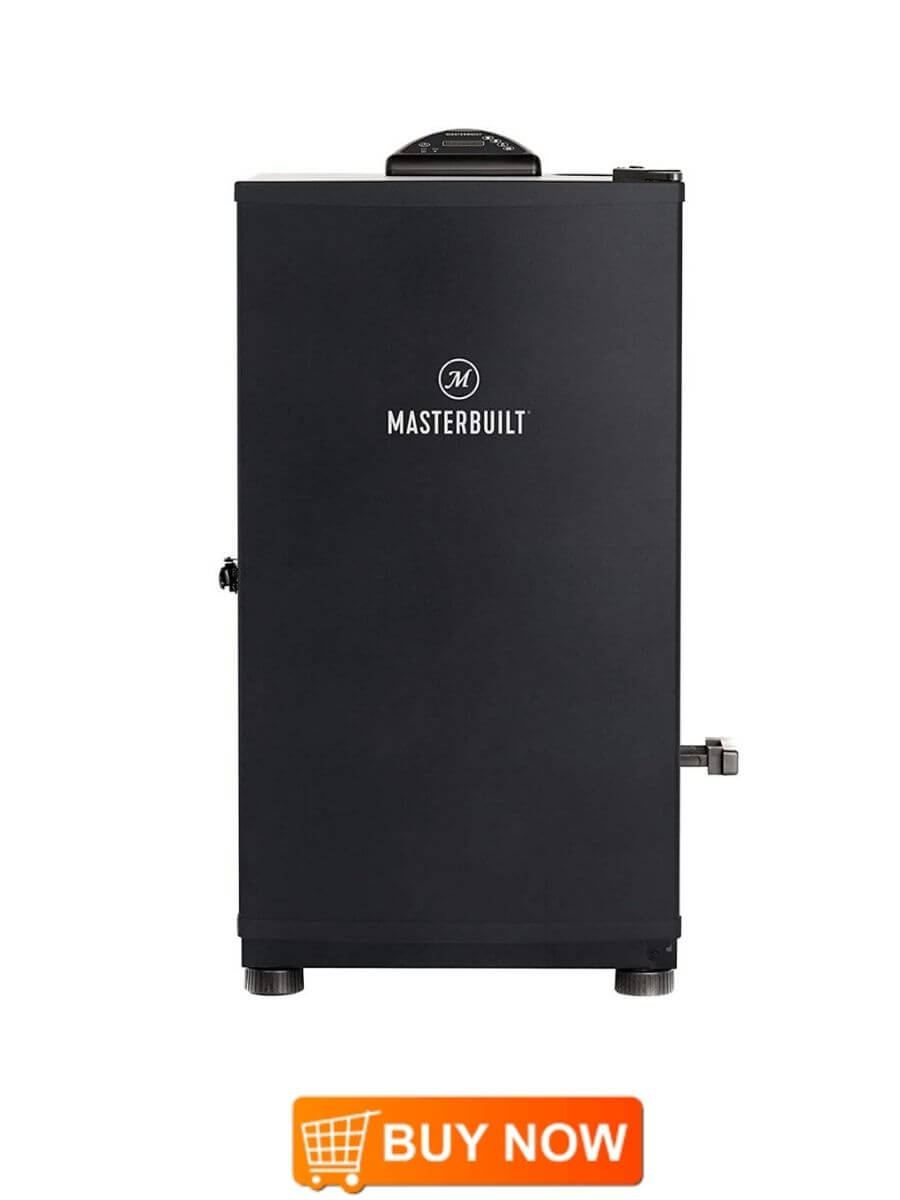 The body is very low to ground so be ready for some bending while handling and moving the unit. Also, while loading and unloading the wood pan which is also located at the base. We suggest you can invest in a stand to make it appropriate for your height. There are no fancy materials and knobs, just a plain basic appearance. It may not be aesthetically pleasing but according to a famous saying what matters the most is inside.
Through Masterbuilt MB2007117 you won't be dealing with a mess of charcoal, gas, or flames while having the same infused flavors and aroma. The digital control panel is mounted on the top but you will have visibility issues under sunlight as it isn't equipped with LED light. The automated shutting down system prevents burning and overcooking of cooking meat.
There is a damper located just near to the control panel. It gives more ease in temperature adjustment. There is no side door but wood chips can be added by a small pan that can reach the smokebox. The four chrome-coated racks can accommodate four whole chickens, four pork butts, and four rib racks.
Masterbuilt MB2007117 is the best under the budget option for people who are looking for the same features as in high-end smokers but not willing to spend a fortune.
Pros
Latched door
Damper located right next to the temperature control panel
A wood chip pan for easy loading
Cons
Not suitable for harsh weather
Limited warranty
You might be thinking you need excessive experience of smoking to deal with an advanced and modern smoker. You are wrong! Bradley Smoker BTDS76P 990216 will change your perception. It's easy to operate for both old school and technology-loving people. The exterior is composed of epoxy steel while the interior is stainless steel.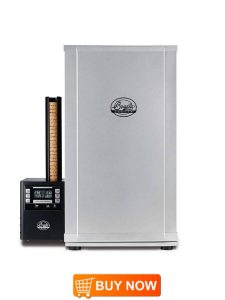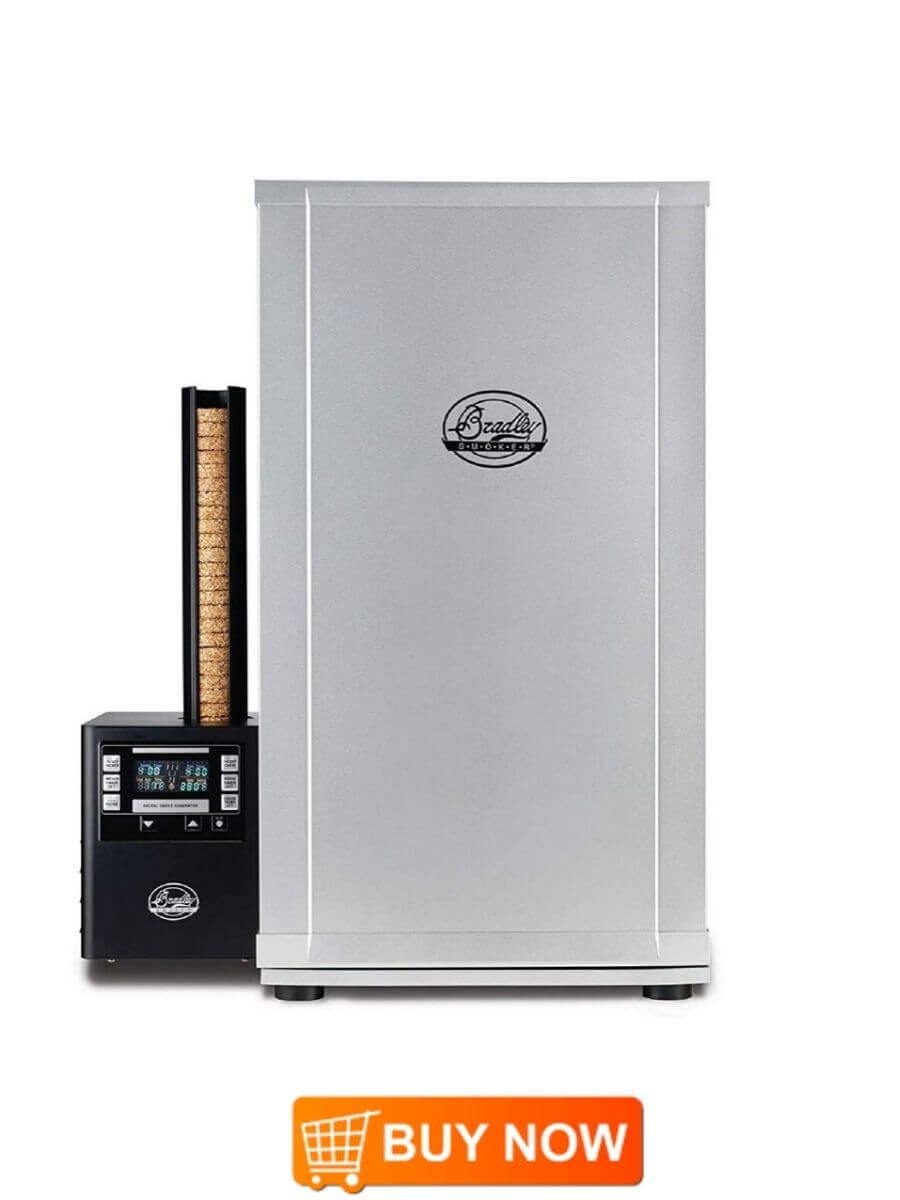 The design is sleek and slim and appears like a mini-fridge. The digital panel gives you hands down, full control of setting the temperature, smoke, and time. In case of any mistake, the smoke generator will save your food from ruining. It normalizes the abnormal fluctuation in temperature.
With an enormous cooking area of 520 square inches, Bradley Smoker BTDS76P 990216 can be your best friend in bbq competitions, for restaurant owners and pleasing your mates. The four grates can fit the turkey, pork, pork butts, ribs or anything you name.
The dual burners can provide you with the experience of a smoker and oven. The heating element is a mere 500 watts that are not suited for cold climatic regions. The hopper of the wood pellets loading system can accommodate enough pellets to keep the smoking on and rising for eight consistent hours. The system is complemented by a smoke diffuser at the base which uniformly distributes smoke throughout the smoker.
The built-in thermostat can increase the temperature up to 320 degrees Fahrenheit. Smoke vent at the top of the cooking chamber lets out the dirty smoke keeping food from the burnt texture and finish. Bradley Smoker BTDS76P 990216 claims there is no ash, but the small residue is collected in a drip bowl that you can discard easily.
Pros
Smoke generator
Smoke diffuser
Replaceable heating element
Suited for restaurants and bbq competitions
Cons
Not suited for colder regions
Cherish your gatherings with smoked slow-cooked and fall from the bone meat with easy to operate Masterbuilt 20072115. It is an ultimate partner for outdoor grilling. The control panel is LED-based for visibility in the outer environment. The panel is protected with a sunshade that can be removed.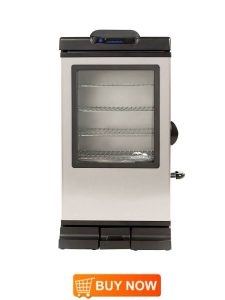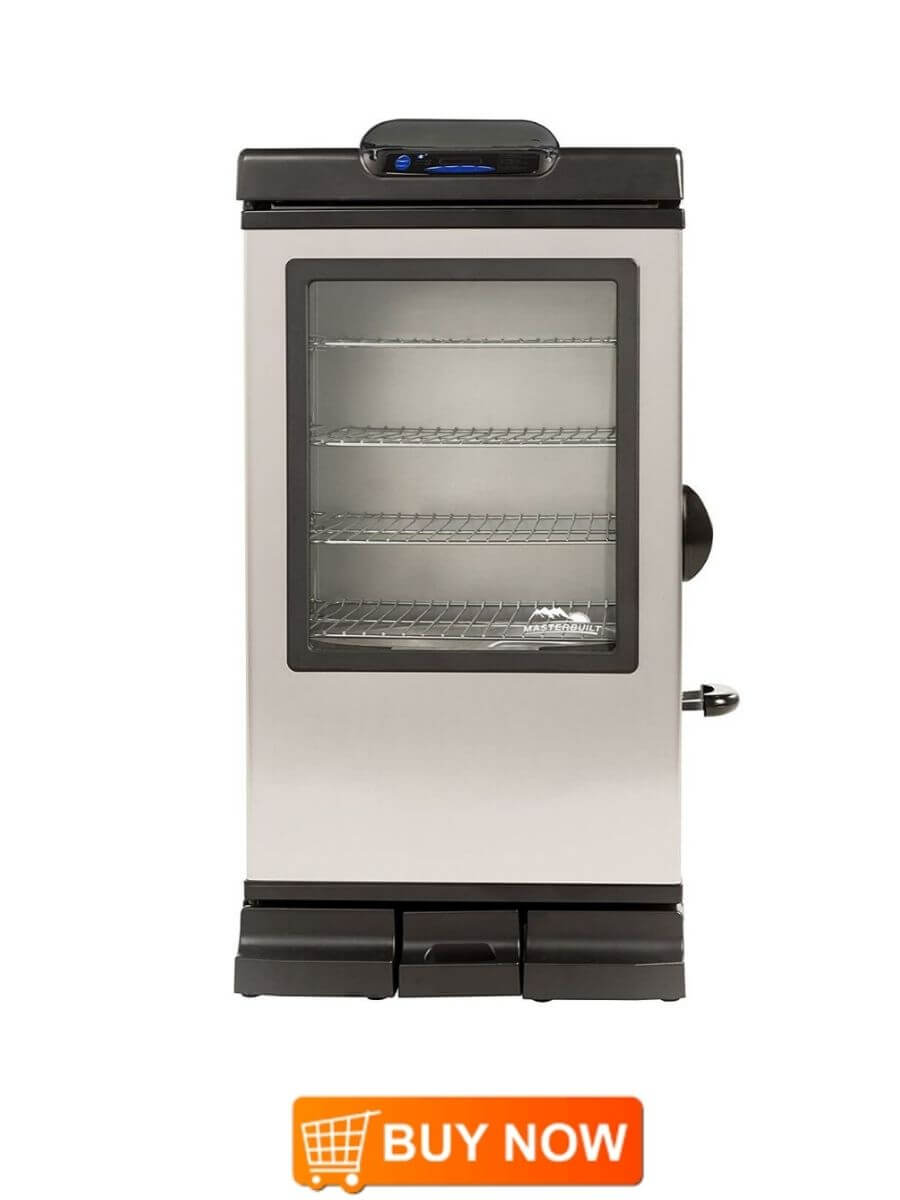 With smart Bluetooth control technology Masterbuilt, 20072115 can be paired with your mobile phone. In other words, you can control the smoker while using your mobile phone. You can control the power button, internal light, temperature, cooking time, and smoke. 721 square inches of cooking capacity is unprecedented in electric smokers. Four chrome-coated grates can accommodate 80lbs of meat in one batch.
The grates are adjustable at different positions, so you can experiment with smoking levels. The racks are washable, any meat or drip will glide instead of sticking. The consistent heating can be obtained at any temperature up to 275 degrees Fahrenheit by a powerful 800 heating element. The temperature of the meat is crucial, to obtain the perfect cook with perfect juiciness. The viewing window allows you to keep overlooking the cooked meat regularly.
The warming feature switches off the device when smoked meat is ready. It also keeps your favorite food, smoked chicken warm till the serving. All the components work together in one way or another to avoid temperature fluctuations or heat release. The door is secured firmly with a latching system without any air gaps. Wood chips can be loaded from the side to keep the perfect blend of heat and smoke.
You can smoothly slide out the water pan, grease pan, and drip pan at the base for cleaning. With wheels and sturdy handles, Masterbuilt 20072115 is your best portable companion.
Pros
Easy to roll wheels
Smart Bluetooth technology
Spacious
Portable
Cons
Limited range of Bluetooth
To satisfy your inner technology guy and barbecue expert, Smoke Hollow D4015SSS Smoke Tronix 40 Inch Digital Electric Smoker is a dream come true for you. The 22.4 x 21.5 x 40.2 inches of design features double-wall insulation to keep the body well insulated. The construction is stainless steel with powdered coating. Prominently known for smart connectivity via android or IOS, the unit can be wirelessly controlled.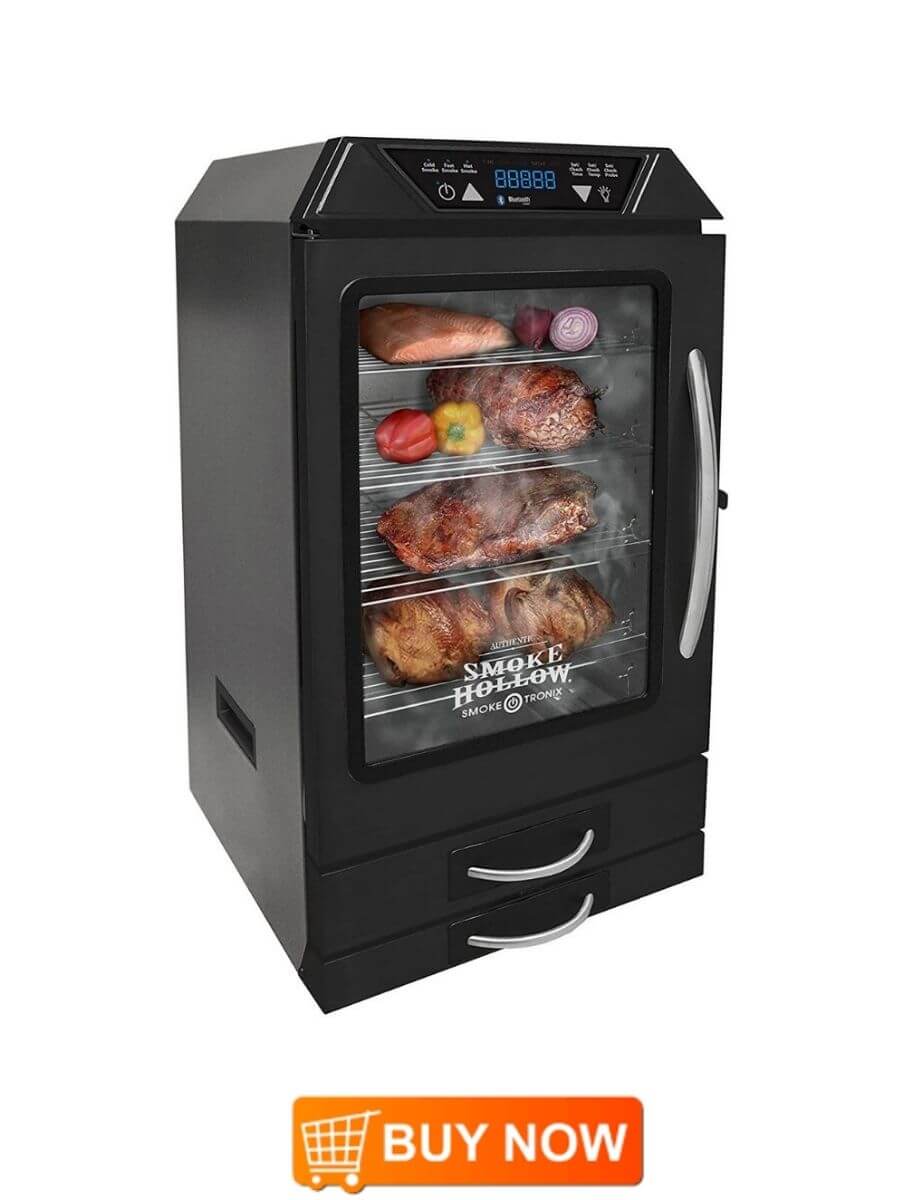 People appreciate the feature of a glass window although it gets blurry with smoke and moisture after a few minutes. Smoke Hollow D4015SSS can be called a pioneer of hot and cold smoking. It was the first electric smoker to offer this feature. You will love the feature of cold cooking more than hot. You can smoke intricate meat like fish, bacon, and other food like vegetables and cheese.
The cooking chamber has a cabinet shape with shelves in the form of racks. The 4.5 cubic feet or 40 inches of cooking chamber offers a whopping 1035 square inches of smoking capacity with four grates coated with chrome. The device is installed with two heating elements instead of one for faster and uniform heating in all parts from top to bottom.
Temperature is as high as 250 degrees Fahrenheit can be achieved. In addition to hot and cold smoking Smoke, Hollow D4015SSS also offers fast smoking. It can get your wood chips burning and smoking in less than fifteen minutes.
There are two drawers located at the base of the cooking chamber. The wood chip drawer can fill wood chips equal to six cups at one time. The lower drawer acts as a grease tray which is emptied anytime during smoking. The external water port allows you to refill water without opening the cabinet. For portability, the stand is provided with four stable wheels. Along with handles, the unit can be moved around easily to the desired position.
Pros
Massive cooking space
Cold, hot and fast smoking
Large smoke pan
Portable
Cons
Limited range of wireless control
In short, save yourself from the mess of bargaining and searching local markets by ordering online. We suggested the best electric smokers under $1000 from the most reliable source of Amazon that will deliver electric smoker at your doorstep in a matter of days. If you budget is less Read our other posts
Sale
Sale
Cuisinart COS-330 Vertical Electric Smoker, Three Removable Smoking Shelves, 30", 548 sq. inches...
548 SQUARE INCHES OF INTERIOR: The spacious 548 square inch interior means there is plenty of room to smoke a variety of meats and vegetables. The...
THREE REMOVABLE SMOKING SHELVES: Three chrome plated steel racks can be easily removed for smoking large cuts of meat. Racks are dishwasher safe,...
BUILT-IN THERMOMETER: Features easy-to-read thermometer on the front door for accessible monitoring of the internal temperature.
1500-WATT HEATING ELEMENT: Featuring a heating coil that provides the 1500-watt heating element able to produce a temperature from 100°F to 400°F...
STAINLESS STEEL TRAYS HOLDS WOOD AND WATER: Stainless steel trays hold the wood chips and water, so clean-up is easy after use. Smoker requires wood...
Char-Broil Analog Electric Smoker
544 Square inches of cooking space spread across three chrome-plated cooking grates
Double-wall insulated construction with dual exhaust ports.Wash cooking grate with warm soapy water, rinse and dry throughly
Door-mounted temperature gauge, and dual latches to keep door sealed shut
Front-access water tray, grease cup and wood chip tray
Measures 20.7 in W x 33.5 in H x 15 in D. 1, 000 watt electric element
Royal Gourmet SE2801 Electric Smoker with Adjustable Temperature Control, Black
SPACIOUS COOKING SURFACE: 457.86 sq. inches of cooking surface over 3 chrome-coated smoking racks; 1500-watt heating power with adjustable analog...
GREASE MANAGEMENT SYSTEM: In addition to removable stainless steel water pan and lidded chip box, this analog electric smoker has an independent...
VERSATILE APPLICATION: Featuring multi-functional uses, the smoker could satisfy different sorts of needs such as smoked barbecue, firewood grilling,...
GOOD SEAL PERFORMANCE: Latch system ensures a good seal performance, cool-touch spring door handle prevents scalding, and 2-side handles for...
HEAT-RETAINING: Double-wall construction firebox helps retain smoking temperature.
Dyna-Glo DGU732BDE-D 30" Digital Electric Smoker
Four chrome-plated steel cooking grates offer a total of 732 square inches in cooking space
800 watt burner provides abundant cooking power even in colder climates
Digital thermostat with push-button controls for setting and monitoring the cooking time and temperature
Integrated meat thermometer displays internal temperature at the push of a button
Side access wood chip loader minimizes smoke and heat loss when more wood chips are needed