You want to smoke meat with a minimum effort, set it and forget it? You can only accomplish this with the help of a digital electric smoker.
Remote controlled electric smokers have many benefits over analog electric smokers, which make them perfect for beginners and busy chefs. These can provide you better accuracy, heat retention and can minimize your efforts in smoking the meat. Thus, we have reviewed the ten best digital electric smokers of 2023.
Best Choice
Good Choice
Don't Miss
Also Consider
Masterbuilt MB20071117 30-Inch Black Electric Digital Smoker, Top Controller
Masterbuilt MB20073519 Bluetooth Digital Electric Smoker with Broiler, 30 inch, Black
Char-Broil 17202004 Digital Electric Smoker, Deluxe, Silver
Bradley Smoker 6-Rack Outdoor Electric Smoker, Digital Vertical Smoker With Stainless Steel Grill
Best Choice
Masterbuilt MB20071117 30-Inch Black Electric Digital Smoker, Top Controller
Good Choice
Masterbuilt MB20073519 Bluetooth Digital Electric Smoker with Broiler, 30 inch, Black
Don't Miss
Char-Broil 17202004 Digital Electric Smoker, Deluxe, Silver
Also Consider
Bradley Smoker 6-Rack Outdoor Electric Smoker, Digital Vertical Smoker With Stainless Steel Grill
Smoking meat is delicate, and professionals take years to learn it properly. All of this comes finally on mastering the exact temperature to measure different kinds of food.
Analog electric smokers make this difficult for you to set temperature while a digital control panel will make this as easy as to eat a pie. So, let us jump into some reviews, and in the end, we will see further benefits of these electric smokers.
Best Digital Electric Smoker to Buy in 2023
The following are the reviews of electric smokers with digital controls.
1. Masterbuilt 20070910 – Best Digital Smoker, Top Controller
Masterbuilt is one of the most trustworthy brands in electric smokers. It is not only #1 on our list but also a bestseller on Amazon. Let us review that if this smoker is worthy of its position or not? Masterbuilt 20070910 has digital controls, quality construction, and 730 square inches of cooking space. This space is enough to smoke a whole turkey or 12 pounds of brisket.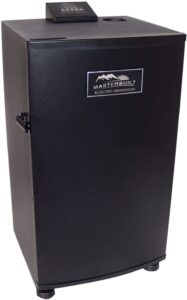 Easy to Assemble: This electric smoker is very easy to set up and use. After taking it out of the box, you can follow the instructions for the minimal setup, and these instructions also come within the box.
Design: Its design is highly space-efficient and looks more like a cabinet that can fit into any of your outdoor settings. The exterior appearance is sturdy and black.
Sizes: It is available in both 30-inch and 40-inch, but a 30-inch smoker would be enough to smoke sufficient food for 12+ people at once. This big space is around 735 square inches and further consists of four racks. These four racks are removable so you can wash them with ease.
Ignition Button: To start the smoker, you have to push a single ignition button, and it will be ready for you. The quality of material used in its making can be estimated by this ignition button, which turns on the smoker on pressing just a single time.
Durability and Heat Retention: You can change the temperature of the smoker from 100 – 275 °F. As the exterior is made up of powdered-coated steel casing so it will work as an excellent insulator and will maintain the temperature right where you set it. The smoker is efficient enough to keep the temperature at constant place irrespective of the outside temperature. The steel casing also increases the durability of the smoker, especially when you will be keeping it outside or in the backyard.
Easy to use: With the help of the side wood-chip loading system, you can add wood-chips easily without opening the main door. It not only ensures your safety but also makes it easy to maintain the temperature of the electric smoker.
Pros
100% Air Tight Door when closed
Top Air Damper
Drip pan
Water Pan
Cons
The small length of electric cord (use an extension cord to fix this)
2. Masterbuilt 20078715 – Electric Digital Smoker Front Controller
Available in 30 and 40-inch sizes, Masterbuilt 20078715 with a digital control panel makes temperature setup and monitoring very easy. This model provides more cooking power as compared to other traditional models.
Temperature: With this smoker, you can set temperature from 100 – 275 °F as well as you can monitor the internal temperature. It ensures the right temperature for the evenly cooking of food. The 800-watts heating element allows you to set it up for a maximum of 24 hours.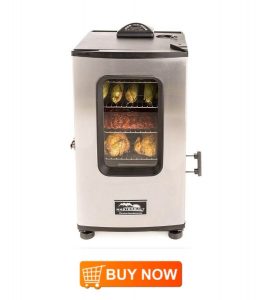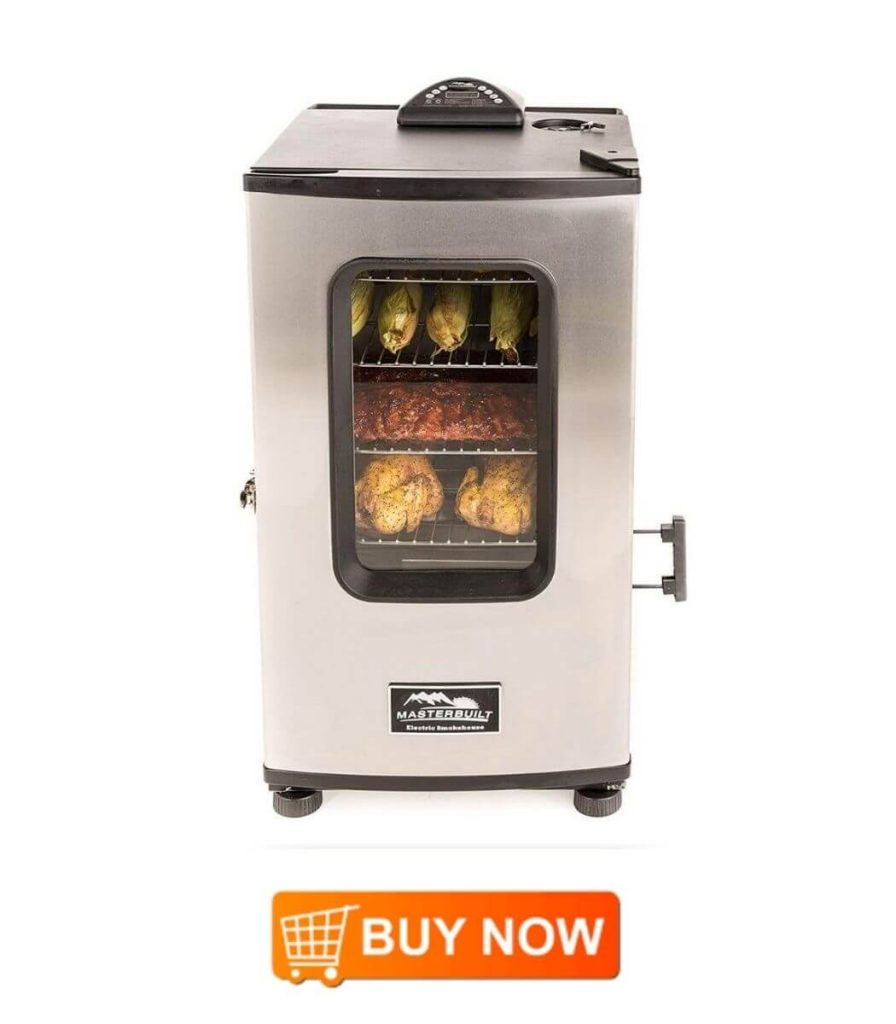 Cooking Space: This smoker has 730 inches of cooking space, which is enough to cook a variety of foods in it. Four racks are present in the cooking space, and you can have around 100 pounds of meat at once in this smoker. Furthermore, shelves are adjustable, so if you are smoking something big, then you can remove a few racks to make space for a whole turkey.
Design: The design of this smoker is more like a fridge and lacks wheels. Its design is sturdy and made for convenient use. Its weight is just 50 pounds, which adds up as a benefit to its portability.
Display Panel: The display panel is bright enough so that you can see it even on sunny days. As this is available in two variants of size, you choose the one which suits your needs.
Pros
You can add liquid in pans to keep the meat moist
Available in two variants
Bright LED Display
Works well in cold atmosphere
Cons
Wrong Handle Placement
No Wheels
3. Smoke Hollow SH19079518 – Digital Smoker With and without Window
This smoker is available in two variants on Amazon. Each has its benefits and demerits, and I am going to write them below for you.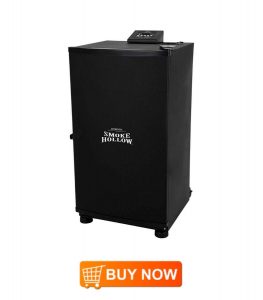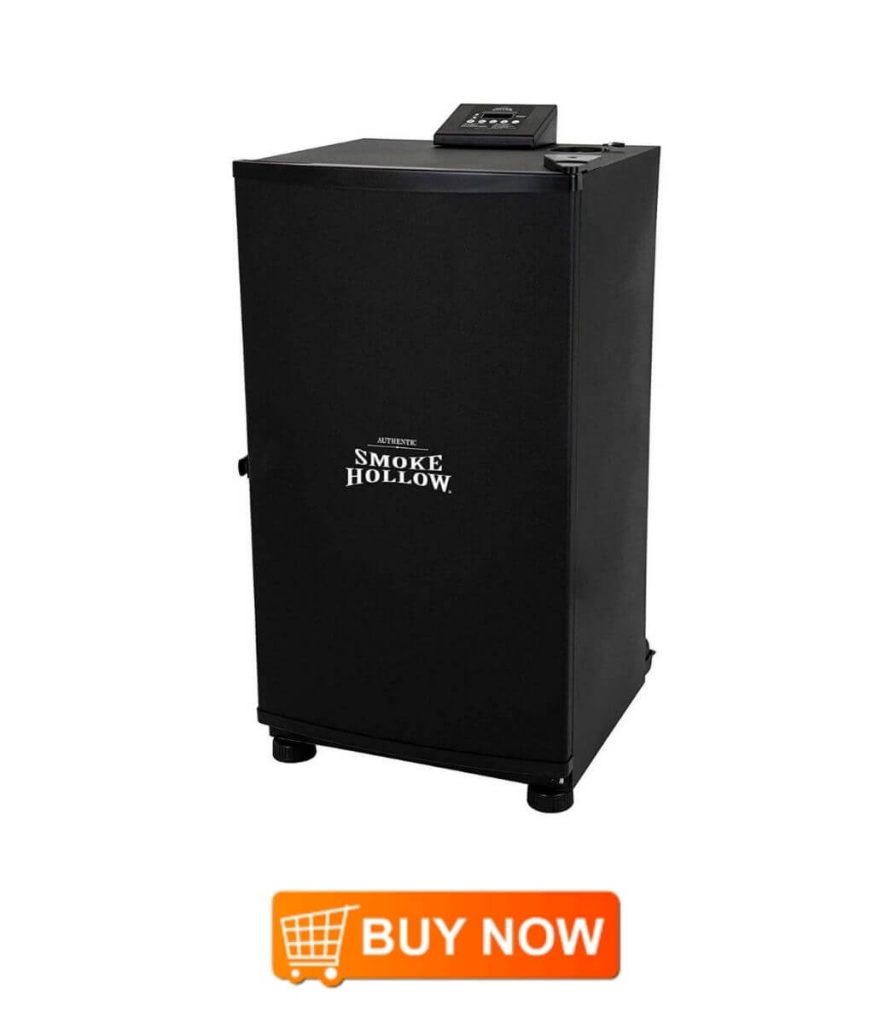 With Window: The version might be for beginner smokers who are curious to see the smoking of food. It comes in 36″ with a front glass panel to see your food smoking right in front of you. It has the benefit that you can see the meal without opening it, but the addition of a glass panel makes it a bit less reliable. Also, the glass may get too hot to touch. But you will not need to open the door, and so, you will not lose the temperature of the container.
Without Window: This 30″ version is for barbecue experts who know what is cooking inside with their instincts. Its outer door is insulated and will not get as hot as a glass. However, you will lose the smoke if you open the door.
Design: In both models, the exterior is pretty much usual with steel walls and insulated doors. To keep the doors shut during cooking, you can use the built-in safety locks. Although the smoker lack wheels, you can displace it with the help of handles on both sides.
Adjustable Grids: This smoker gives you the ability to adjust the heights of the grids so you can cook anything you wish. There is a digital controller, and it is present at the top of the electric smoker. It enables you to adjust the temperature, time while you squat in-front of the controller.
Pros
Available in Different Sizes
Available in Different Colours
Adjustable Grids
Cons
Digital Controller is not that durable
4. Masterbuilt MB20073519 – Electric Digital Smoker with Bluetooth
Although Masterbuilt 20070910 is #1 digital electric smoker, this one has more advanced features like Bluetooth. The addition of Bluetooth in this electric smoker adds further capabilities to it. Let us explore MB20073519 is depth.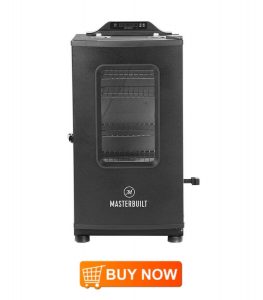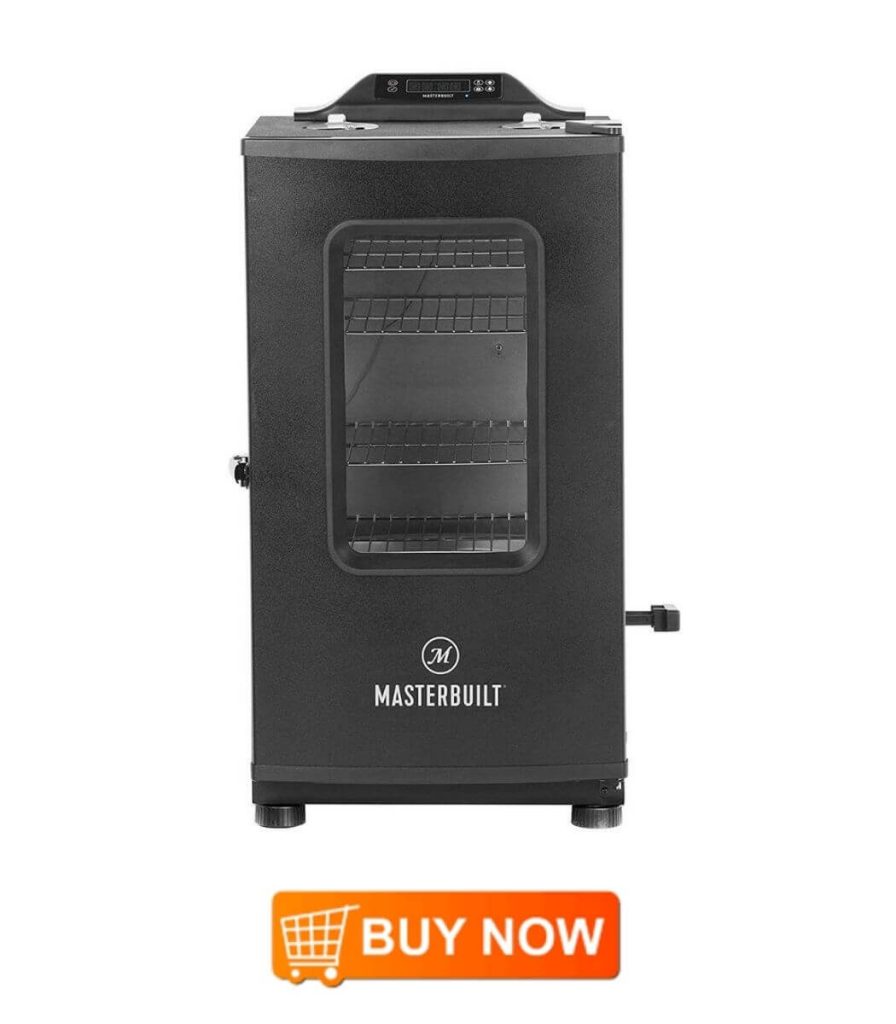 Size and Space: This smoker has plenty of cooking space, which makes it practical, not just technically advanced. This space is enough to smoke four racks of ribs, four pork butts, or even two chicken.
Ease to Use: With the help of the Bluetooth technology, you can set the smoker at a temperature and monitor it remotely. It not only saves you time but also eliminates the headache of checking smoker again and again. Like most of the latest electric smokers, it has a side wood-chip loading box so you can add fuel without opening the door.
Bluetooth Technology: Now, you can change temperature, monitor the heat, or turn the smoker off remotely using its Bluetooth Feature. You can also do some work using the Digital Control Panel. It has an advantage that most of the time, digital control panels of electric smokers stop working and responding, but with BT technology, you would still be able to control the smoker.
Pros
Control via Bluetooth
Chrome Plated Racks
Removable Drip Tray
Built-in Thermometer
5. Char-Broil Deluxe Digital – Electric Smoker Review
Char-Broil looks like a small yet sturdy addition of an electric smoker to your backyard. Would you believe if I tell you that it has the more retaining capability, the number one of our list? It can keep heat in cold temperatures because of its double insulated walls.
Air Damper: This smoker can make your smoked meat taste well due to the built-in air damper. This air damper ensures that clean oxygen is present in the smoker so your wood will burn clean, and your meat will taste great. While the wholly sealed door keeps smoke inside the container.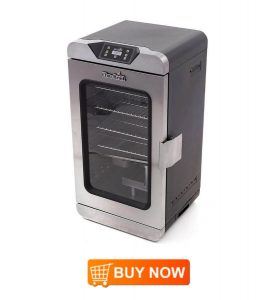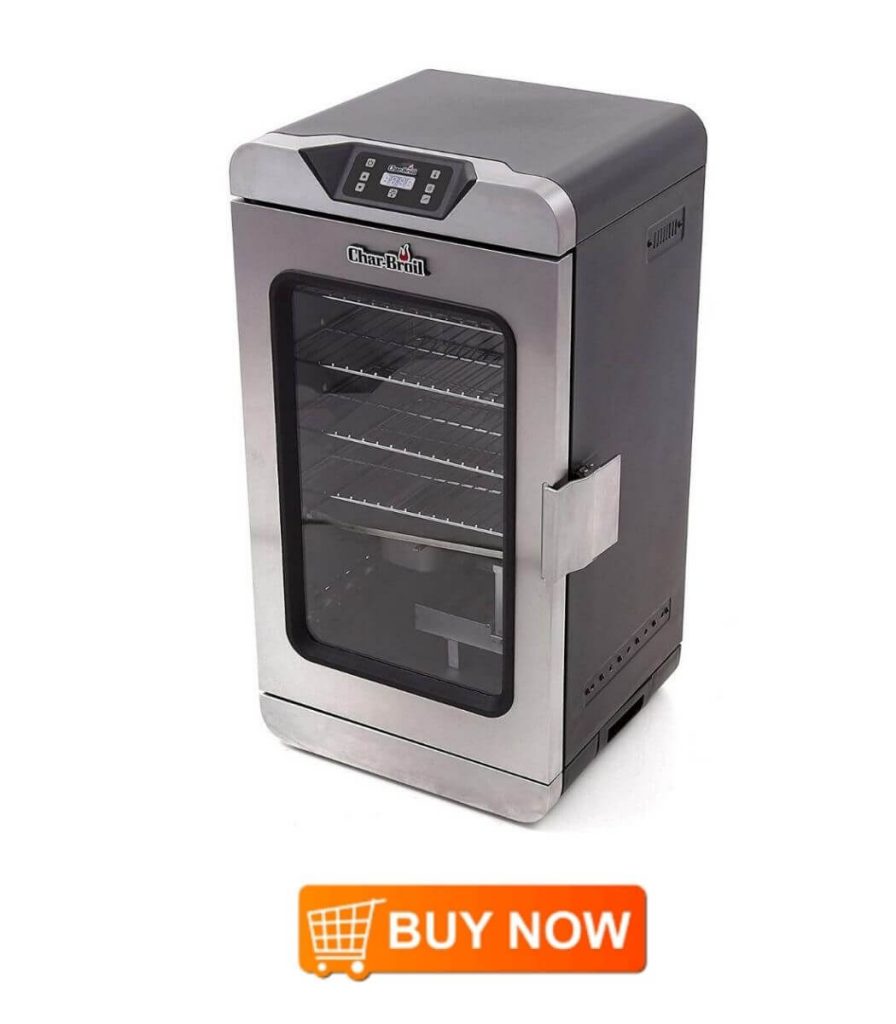 Accessible to Use: This is also a "set and forgets" smoker if you set and forget it, it will shut down automatically if the food is entirely smoked. It is possible due to its heat probe. Things get further excited when it takes just minutes to assemble and less than that to start using it.
Highly efficient: It can give you 7 hours of cooking time when its fuel box is full. Also, the range of temperature in this smoker is more than any other, you can go as hot as up to 275 degrees or you can cold smoke at 100 degrees F.
Full Cooking: It gives moderating smoking for proper cooking of meat from inside. You can further adjust the internal temperature remotely after setting it up one time. You can adapt this electric smoker classically on your balcony. It's cooking space is 725 square inches, but you adjust it through removable trays.
Easy to clean: In cleaning, you mostly need to clean the door glass and the trays. You can clean the glass using a dishwasher, and for the cleaning of the plates, they are removable so you can remove them and wash them too.
Pros
Door with Window
Portable
Good space for fuel
Good Capacity of Grease Tray
Double-Insulated Walls
6. Masterbuilt 20075315 – Remote Control with Front LCD
You have seen many of MasterBuilt smokers, but this one is different due to its glass panel in its door. Also, this one is for more prominent families as it is 40-inch. This one is bang for the dollar, but if you have any doubts, then its 24-months warranty will fade away all of your doubts.
Double Insulated Walls: Like other models, its walls are double-insulated, but it has something unique, which is its powder-coated walls and seal the tight metal door.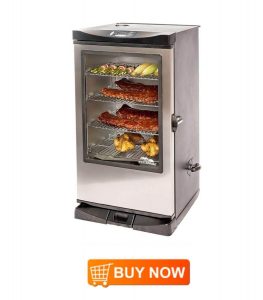 Durable Material: The material used in this smoker is of very high quality from bolts to walls. It is entirely steel and anti-rust plastic. This material used is also resistant to wear and tear. The stainless steel also improves its looks.=
Front Control LCD: The front controller is easy to access, located right in front of you. You can also see the display on a sunny day as its LCD is bright enough to see clearly.
Remote Control: If this is not enough, then a remote control might satisfy you. With the range of 100 feet, you can turn ON or OFF your electric smoker.
Compact Size: First, it is lightweight and easy to displace. Secondly, the wheels further add to its portability. The small size allows you to pack it in your car and take it where you wish.
Double Insulation and High Efficiency: It brings smoky flavor in your food because of consistent smoke. Double insulation and seal tight door further ensure that no smoke leaves the container. Its efficiency is so incredible that half the wood-chips cup would be able to keep it running for 6-7 hours. This smoker is well designed and most comfortable to clean. The grease tray and non-sticky grills further make it easy to clean.
Cooking Space: It's cooking space is the biggest among those listed above, around 975-square inches. This cooking space has four racks and considering the price, and it is a reasonable deal.
The only drawback you can find in this smoker is that you will need to add double AA batteries in its remote now and then.
Pros
Bang for the Dollar
Large 925 sq in cooking space
Remote control for a handsfree experience
Cons
Condensation hinders visibility of door's glass
7. Masterbuilt MB20071117 – Smart Digital Smoker
This smoker is for you if you have just started smoking meat and want to avoid the fuss of charcoal. The interior of this smoker is aluminum, while the exterior is steel with plastic trim.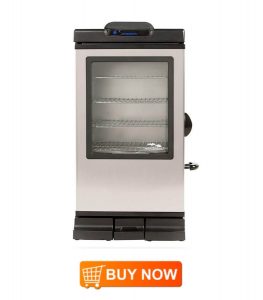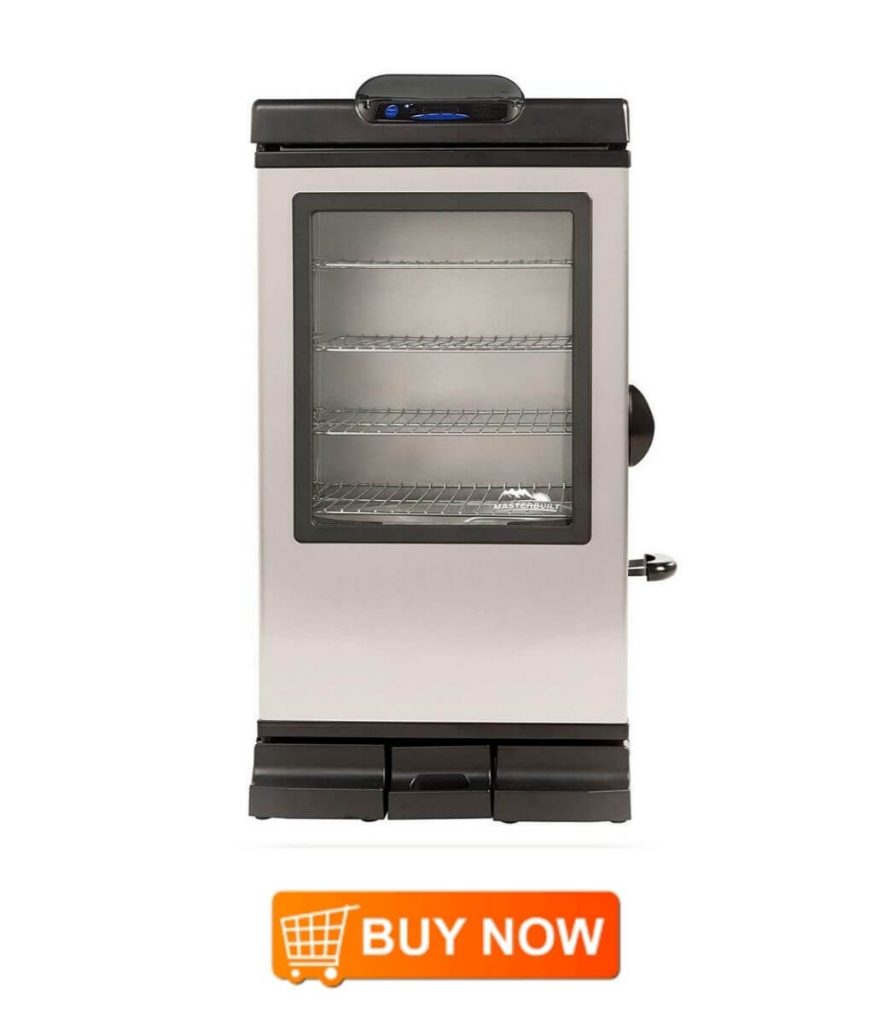 Digital Control Panel: With a digital control panel, you can turn on or off the smoker or increase its temperature from 100 to 275 °F. After setting up the temp, you can leave the rest of the work on the thermostat. Just plugin in, set up, and cook. This smoker not only maintains its temperature but also heats up quickly.
Front Window: The front window only looks cool, but after 10 minutes of smoking, there would be enough vapors to make the food invisible. However, this smoker can hold well even in cold temperatures because of its double body insulation.
Portable: This electric smoker is portable as its total weight is just 65 pounds. However, it does not have wheels, which can hinder transferring it from one place to another, but handles might cover up for that.
Bluetooth and App: The app works fine, and it includes the ability to monitor both the smoker temperature and meat temperature via the app, it does not sound an alarm at a target temp. As such, you'll need a separate remote thermometer unless you want to watch the app again and again. It should be a simple software change to the app itself, which they might update in the future. Bluetooth connection range is found as 20 feet and also works well outside even in the mountains.
Wide Temperature Range: Due to a suitable temperature range, you can also do cold smoking on this. But you might need a cold smoking kit addon for this purpose.
Wood Chip Box: Wood chip box is small, considering other smokers as it will run for an hour and a half when fully loaded. If you want to increase the time further, then you can use an external loading box for more prolonged cooking.Although you might like its space yet its width is not enough to cook prominent ribs. It might be the only drawback of this smoker.
Pros
Good Cost to Size Ratio
You can use it for cold smoking
Convenient wood-chip system
8. Masterbuilt 20077515 – Window and RF Controller
Out of 10, this one is the sixth smoker from MasterBuuilt. It is because of their quality, diversity, and support. It has 730 square inches of cooking space backed by 800 watts heating element. So, it is not an underpowered smoker. Masterbuilt 20077515 is second most selling commercial electric smoker.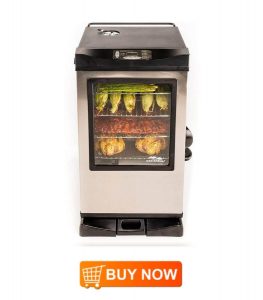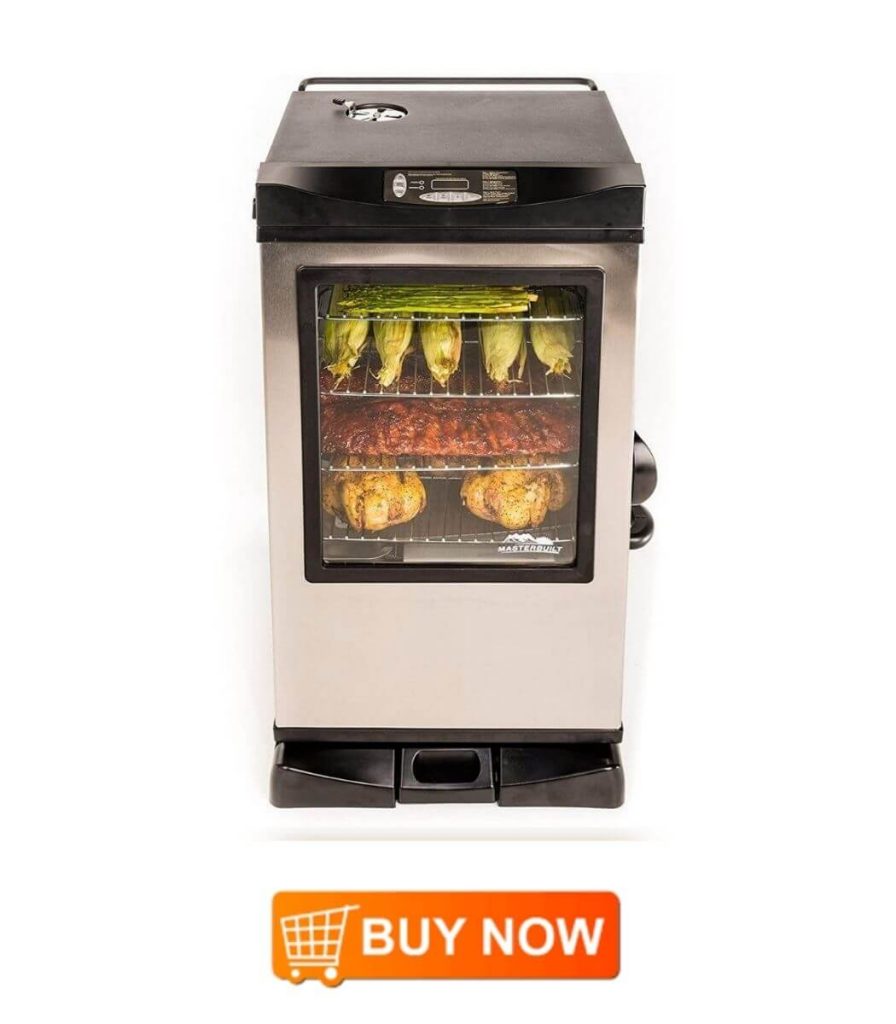 Internal Meat Temperature Probe: The remote control gets better with the internal meat temperature probe as it gives you more control. To load fuel, you need to use side wood-chips loading boxes. A lit bit of heat may escape from there, yet it is one of the convenient methods to add fuel to the smoker.
Water Pan: You can also get better results by using a water pan. It gives moisture and adds a smoky flavor to the meat. If you wish to do cold smoking, you can buy an attachment with a bit of additional cost.
Heating Element: The power the smoker is in its heating element. This 800 watts heating elements make it heat up quickly.
Customizable Smoker: In terms of design, it is more like a customizable smoker. You can reduce the cost by removing additional items from the cart. However, you will get a full glass at the front for a clear view of what you are cooking.
Pros
Heats up fast
Digital Display
Full Window Door
Customizable
9. Bradley Smoker BTDS108P 990223 – 6 Rack Smoker
It is a beast among other smokers, specially made for those who smoke large quantities of food. It has six removable racks in 858 sq in of cooking space.
Sleek Exterior: Its exterior is delicate with sleek stainless steel covering it. It makes it durable and beautiful, a lovely addition to your outdoor kitchen. Epoxy coating over steel further increases its durability and heat retention.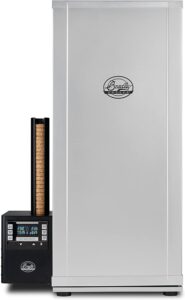 Time-based fueling system: It has a unique method of feeding wood bisquettes into the burner. First, you have to set some time, and after each time interval you set, it will add the wood-chips into the cooker. It will not only add an incredible flavor to your food but will also be fuel-efficient. Its rack is not only removable but also hassle-free to place again.
Highly Adaptable: This is also one of the highly customizable electric smokers. It gives you the ability to control temperature, cooking time, and even smoke. You can set up this temperature and smoke right from the LED panel. And if you do not know, this is the only smoker with two heating elements. You can control both of these heating elements separately.
Smoke generator: There is also a smoke generator which measures the smoke amount. It is in connection with the thermostat and works similar to it in maintaining the smoke.
Internal Thermostat: Once you set the temperature and smoke level, you can forget it and leave it on the internal thermostat. It will automatically adjust the heat if it goes and will continuously monitor the internal temperature of the unit.
Cleaning and Maintenance: Its cleaning and maintenance are far more relaxed then MasterBuilt and Char-Broil because of its ash removal tray. Further, drip tray and removable wire trays also assist in cleaning.
With all of these features, the only drawback we found is its less portability. It is challenging to move from place to place because it is vast, and it has no wheels.
Pros
Stainless Steel Exterior
Epoxy covering
12-month warranty
Two heating elements
Digital Display Panel
10. Cookshack SM025 Smokette Elite – Electric Smoker Oven
The last one on our list is Cookshack SM025, and it is the least known brand on our inventory. With your first look, you might feel that it is a small-sized smoker. However, it has 504 sq in cooking capacity, which is an average size. It looks like a safe addition to your backyard kitchen.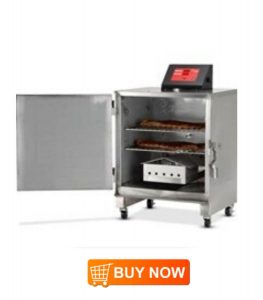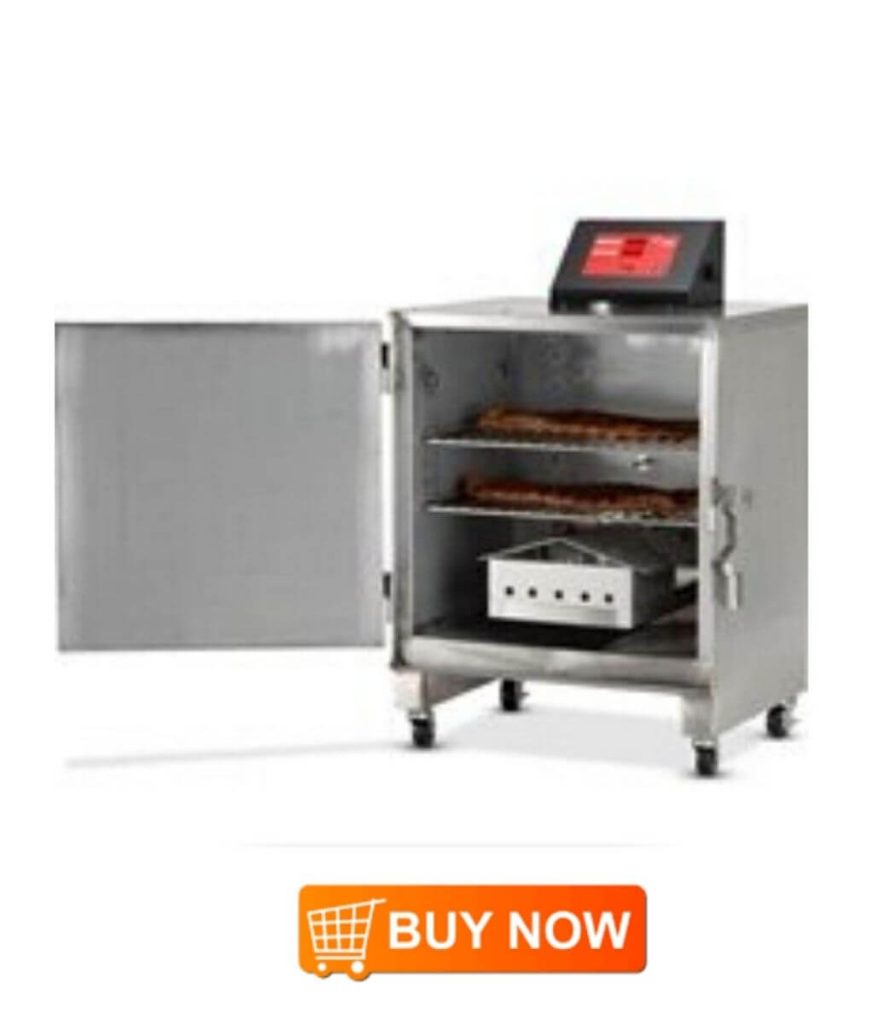 Size: This smoker is made for small families as it has a shared cooking space and a small heating element of 750 watts.
Durable: It is more of a sturdy electric smoker rather than a sleek designed one. It has thick, double walls of stainless steel. It has heavy-duty feet to move it from one place to another. You can evaluate its durability from its wood chip loading box made from stainless steel.
Wide Temperature Range: Most of the other best digital electric smokers can go as high 270 degrees, but this one can go up to 300 degrees. It has a commercial quality probe with it. Using this probe, you can insert it into the meat you are cooking. It will tell you the temperature of the meat right on your LED display, where you can also see the internal temperature of the unit.
This smoker is for small apartments or rooms, and you can call it the best electric digital smoker for small spaces.
Pros
Spin-Glass Insulation
Stainless Steel
Food Temperature Monitor
Buying Guide – Types & Benefits of Digital Smokers
Before going into the depth of how to choose an electric smoker, it is essential if we have some basic knowledge about types of digital smokers.
Types
If you are looking for an electric smoker with digital controls, then you must know that they are also of various kinds. Each type has its benefits and disadvantages, which you must be aware of if you are going to buy it.
Basic Digital Electric Smokers: These electric have pretty basic controls with a display LED. With these smokers, you can adjust the temperature and smoke, and you have to do that yourself. However, some of them have some advanced features like auto-shut on reaching a specific temperature and so on. Yet they are called primary digital electric smokers.
Bluetooth Digital Electric Smokers: These electric smokers are like basic but with extra Bluetooth functionality. With this Bluetooth functionality, you can control your smoker remotely from wherever you are in the range of smoker. Some smokers even notify you when a specific timer sets off or when the temperature passes a certain limit. These smokers are a convenient way as you can see what is happening in your smoker right from your bedroom. If you buy one with Bluetooth, make sure it is from a well-known brand, or you might end up with a 3rd class Chinese language app. You may read our recent post on Best Electric Smoker with Bluetooth and Wifi.
Smart Digital Electric Smokers: These electric smokers use Wifi instead of Bluetooth and connect to your phone via dedicated apps. They are smart enough to prevent your food from burning or from leaving it uncooked. They can also turn your smoker ON or OFF at a defined time and will provide you with live monitoring on your phone. You will know the exact temperature of the container, the temperature of meat, and smoke density right from the app. If you want to set a rule so that smokers will turn OFF when the temperature reaches a specific limit, you can do that using these smart electric smokers. Before buying, make sure you have an Andriod mobile that can support the app so you can enjoy all the features. Apps are usually not available for iOS platforms.
When you are looking for a digital electric smoker, you will need to consider many things. The most important among these is heat retention because, of course, heat is the thing that is going to smoke your meat. But if any of the other functions are not working correctly, you will never be able to cook your food. So, here are a few of these other functions you should check before an electric smoker with digital services.
Benefits
They are precise: As digital electric smokers have digital control, which has the least count of just 1 degree, so you can set up the temperature and see the exact temperature on the screen. There is no analog in which you have to know that it is 120 or 121 when you would be able to see the digits clearly on your screen.
User-Friendly: These electric smokers are for the ease of users. Remote control, Bluetooth, and similar features make them user-friendly. They provide you with the ease to control the temperature or smoker does not matter you are watching a movie or chilling on the couch.
Built-in Thermometers: They have built-in thermometers to tell you the exact temperature of the inside of the container. This reporting is used by the thermostat to control the burner. It can not only control your smoker even when you are sleeping but can also save you the cost of buying extra thermometers from the market.
Give you remote control: This is as exciting as it sounds. You can control nearly all of it remotely through Bluetooth, phone, or a remote control device.
Some Demerits
The LED light can be less bright: You have to monitor and control your smoker from the LED. If you are smoking on a sunny day, there are slight chances that you might not be able to see digits on the LED. The worst is there is no solution to increase the brightness.
You can lose control: If you are a bit unlucky, you might end up with a faulty unit with faulty controls. It happens sometime in digital controls. Analog smokers are usually sturdy and more durable, while digital controls can be lost easily.
Other than the above points, you will also need to check the total cooking area, the material of the smoker, water trays, and easy of adding fuels. If everything is as per your needs, then you can go with that smoker.
Digital Electric Smoker FAQs
Why use digital electric smoker over analog electric smoker?
Digital electric smokers are accurate; at the same price, you get more control and features like Bluetooth for remote control.
Digital electric smokers are best for beginners as well as experts, like if you are looking for Best Toaster oven air fryer and you are a beginner then you will go for a digital not an analog.
What are the types of Digital Electric Smoker?
There are three types of digital electric smokers. Firstly Basic one, Secondly, with Bluetooth and at last, smart electric smokers.
Which is the best digital electric smoker?
It depends mostly upon needs, but Masterbuilt 20070910 Black with Top Digital Controller is overall the best electric digital smoker.
Can we clean a digital electric smoker with a dishwasher?
Yes, but avoid water on the LED. You can use a wet cloth for cleaning of LED, but the soap will mess things up for you. It is like using a bedroom vacuum cleaner for cleaning pets hairs, You need the best vacuum cleaner for pet hair that is specifically designed for pet hairs, not a room vacuum cleaner.
Which is the best brand of Electric Digital Smokers?
Although Char-Broil claims itself as the best brand in the digital category if we speak honestly, MasterBuilt has more variety in electric smokers, and their support is also better. MasterBuilt is a recognized brand and provides a good warranty.
How to increase LED brightness of digital electric smoker?
In reality, you cannot increase or decrease the brightness of the LED screen. Please buy one with Bluetooth so you can control it from your phone in bright days.
Masterbuilt MB20060321 40-inch Digital Charcoal Smoker, Gray
versatile temperature range with the power of charcoal – reaches 225˚f in 8 minutes or 400˚f in 17 minutes
control temperature and cook time with the digital control panel or with smart device control using wifi or bluetooth
digitalfan minimizes heat fluctuations – maintains temperature
built-in meat probe thermometer for perfect results every time
big capacity with four racks for a total of 1,320 sq-in of cooking space
Royal Gourmet SE2801 Electric Smoker with Adjustable Temperature Control, Black
SPACIOUS COOKING SURFACE: 457.86 sq. inches of cooking surface over 3 chrome-coated smoking racks; 1500-watt heating power with adjustable analog...
GREASE MANAGEMENT SYSTEM: In addition to removable stainless steel water pan and lidded chip box, this analog electric smoker has an independent...
VERSATILE APPLICATION: Featuring multi-functional uses, the smoker could satisfy different sorts of needs such as smoked barbecue, firewood grilling,...
GOOD SEAL PERFORMANCE: Latch system ensures a good seal performance, cool-touch spring door handle prevents scalding, and 2-side handles for...
HEAT-RETAINING: Double-wall construction firebox helps retain smoking temperature.
Masterbuilt MB20074719 Bluetooth Digital Electric Smoker, 40 inch, Stainless Steel
Bluetooth Smart technology allows you to monitor and control your meat and smoker temperature from your smart device or digital control panel
One meat probe thermometer included
Patented side wood chip loading system allows you to add wood chips without opening smoker door
Four chrome-coated smoking racks
Interior light illuminates food in low light when door is open
Masterbuilt Smoke Hollow SH19079518 Digital Electric Smoker, Black
Exterior: 33.5 in. (H) x 18.2 in. (W) x 18.7 in. (L) Interior: 26.2 in. (H) x 14.8 in. (W) x 12.8 in. (L)
Digital panel controls on/off, temperature, and time
Three chrome-coated smoking racks
Integrated thermostat temperature control for even, consistent smoking
Fully-insulated smoker body