Nothing can replace the taste of smoked meat, and commercial electric smokers turn up as a requirement when you are running a restaurant or food business. Commercial smokers are larger and powerful, and it can be challenging to choose one as compared to a regular electric smoker. This ultimate guide and comparison will help you to select one as per your needs.
Best Choice
Good Choice
Don't Miss
Also Consider
Cookshack SM160 SmartSmoker Commercial Electric Smoker Oven
Masterbuilt MB20070210 Analog Electric Smoker with 3 Smoking Racks, 30 inch, Black
Char-Broil 17202004 Digital Electric Smoker, Deluxe, Silver
Best Choice
Good Choice
Cookshack SM160 SmartSmoker Commercial Electric Smoker Oven
Don't Miss
Masterbuilt MB20070210 Analog Electric Smoker with 3 Smoking Racks, 30 inch, Black
Also Consider
Char-Broil 17202004 Digital Electric Smoker, Deluxe, Silver
While selecting the best commercial electric smoker, you will be looking for a high power source, spacious cooking area, and a good number of grates. These are also the thing we look for selecting electric smokers, and all of the smokers below have these properties.
Best Commercial Electric Smokers Reviewed
1. KBQ C-60 BBQ Smoker Pit – Best Commercial BBQ Smoker
KBC C-60 is brilliant in every aspect from all the commercial smokers on the market. This smoker can take your BBQ to the next level with its advanced and top of the line technology. It is one of the most innovative commercial smokers for restaurants who can produce delicious food with mouth-watering flavors. With the help of just real wood fire and blue flame, you can conveniently use it to make delicious smoked meat.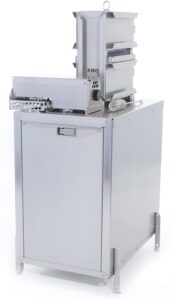 Design: In design, it does look like a commercial smoker and not just a traditional all-steel electric smoker. Although it is preferred for backyards by many users, we would suggest it for commercial purposes. Due to its fancy and sturdy looking design, it will look cooler in a big kitchen rather than in the backyard.
Weight: In terms of weight, it is big and thus a hefty (around 92 pounds) commercial smoker. Without any hassle, you can move this unit here and there with the help of three-inch wheels on the rear legs.
Cooking Space: This electric smoker has four cooking grates that can fit eight pork butts, two turkeys, or twelve chickens at the same time. It is enough to serve a lot of people at a party or in a restaurant. By an estimate, you can cook around 60 pounds of meat in it at once. The cooking space in this smoker is enough to put full-size hotel grade trays in it.
Adjust Temperature Real-time: You can know the real-time temperature of the meat from inside the smoker due to the sensors, and then you can adjust it according to the needs. This smoker can produce the ideal blue flame you wish for in other smokers.
The only flaw in this smoker is that it is not a set and forget and smoker. You have to check it every 45 mins or so and add the coal in it. Thus, you can not leave it unattended for an extended period. Also, you cannot keep it near children as it gets pretty hot for children to be near it. Other than that, it is a great electric smoker which can fulfill all your commercial needs.
Pros
Spacious Cooking Space
Two Wheels for transport
Cons
Not a set and forget the smoker
2. Masterbuilt 20077515 – Indoor Commercial Meat Smoker
For many good reasons, Masterbuilt 20077515 is the most popular commercial electric smoker in the market.
"This unit is available in two sizes and two designs. For commercial purposes, we would recommend 40-inch with Top Controller and Window Variant."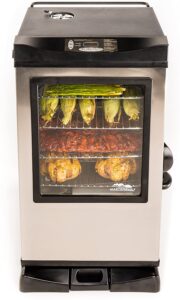 Digital Controls: You can watch the meat and adjust the settings accordingly with the help of the digital display and window. It might only be the smoker, which has a light inside like a fridge. You can turn it on while smoking meat at night. The controller at the front can control this light, timer, and heat.
Viewing Window: The viewing window is not only helpful to watch the meat, but it can also tell you when it is time to rotate the meat, and you can do that without opening the door. Furthermore, the heat will remain as the high-quality insulation materials cover every inch of this product.
Cooking Space: You get a total cooking space of around 730 sq inches in this commercial electric smoker, which consists of 4 cooking grates. If your hotel or restaurant trays are a bit bigger, then there is also nothing to worry about as you can remove the plates. It also proves helpful while cleaning.
Ease to Use: Although digital controls make everything easy as a pie, yet ease of use also means how easy it is to smoke meat in it. The inbuilt drip-pan captures all the drops or moistness dripping from your food and prevent it from reaching to the wood-chips box. If you find the liquid plopping, then you can also remove this tray. You can allow more air in this smoker by rotating the air damper externally.
Wood-Chip Box: To further ease the smoking process, this smoker comes with the easy to use loading system, you can swiftly add woo-chips into the smoker. If you find this smoker heavy or bulky, then you can use the wheels to transport it to different locations.
The only issue I was able to find in this smoker is the small length of the power cord. However, you can solve this issue by using a cable as an extension.
Pros
Four cooking racks
Easy to clean
Easy to Use
Removable Grates
3. Landmann 3495GLA – Best Budget
This one is a budget smoker in the list of best commercial smokers. Its durability and ease to use got it a spot on this list.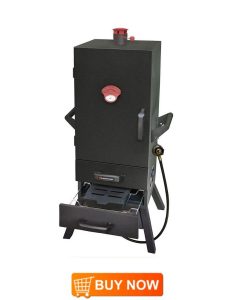 Durability: Landmann USA 3495GLA has a steel-built wide-angled bottom. The steel sheet on the doors and walls make it strong and prevent it from rusting. It also means that you can happily place this smoker in your backyard during the non-using season.
Power:  This smoker can cook sufficient food at once due to the 13500 BTU output. Not only this power is adequate, but you can control it with heat control. Using heat control, you have real-time reporting of temperature, and thus, you can control the total heat in your smoker.
Cooking Space: Just like other smokers on this list, this one also has 698 square inches of cooking space. You can adjust this cooking space by adjusting the removable racks. You can easily clean the cooking space after use because both the water pan and chip box are removable.
Meat Hanger: This is an exclusive feature in this smoker that you cannot find in any other smoker. If you love dried meat, then this smoker is for you as a meat hanger is for those who enjoy smoking dried meat.
Lightweight: Unlike KBQ, which is a big model but also very heavy, this model is very light and weighs only 53 pounds. It makes it the lightest smoker for commercial usage.
Not only this model is attractive but also heavy-duty. However, if you are new in smoking, then you might find a bit of hurdle in assembling the smoker. In such a case, you can look at the manual, which will be in the box with the smoker.
Pros
Double Steel Construction
Meat Hanger
Temperature Gauge and Controller
4 Cooking Grates
Cons
Challenging to Assemble the first time
4. Cookshack SM260 – Certified Commercial Electric Smoker
Cookshack comes with stainless steel construction, which suits the needs of both commercial for restaurants and residential users. Their both types of smokers have the same kinds of qualities, but they differ only in size.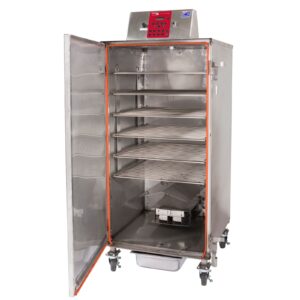 Stainless steel body: This smoker has five cooking racks hidden inside its stainless-steel body. They are adjustable as this is a commercial smoker and so its outer is very simple. Yet, we cannot judge the performance by looking at the smoker just from outside.
Big Cooking Space: This smoker can serve your small business efficiently as you can smoke around 20 chicken in its 1620 sq inches cooking space at the same time. As the exterior is simple, so its performance makes it one of the best smokers. 850 °F spin-Glass insulation in the interior makes sure that heat does not leave this smoker.
Latest Technology: Its IQ5 electric time and temperature controller makes it more interesting by making it a set and forget electric smoker. You can leave the food in it for hours and hours without worrying.
Certified Commercial Smoker: I have explained in detail about required certificates for a commercial smoker in the buying guide, and this smoker already has passed the tests for these certificates. Such as for the residents of the USA and Canada, this smoker has NSF and USDA certificates.
Overall, it is a durable and portable smoker focused on performance rather than design. It is one big and bulky smoker, so if you have to displace it, you can easily do that as it has two big wheels.
"Cookshack has many similar Models with number SM160, SM260 and SM360. All are similar and differ only in their year of release."
Pros
5 Cooking Racks
Spin-Glass Insulation
1620 sq in cooking space
5. Masterbuilt 20075315 – Affordable for Beginners

 
The excellent front presentation of Masterbuilt 20075315 makes it easy to control the setting or watch your food smoking in it. It lacks the Bluetooth connectivity, but if you are going to use it for commercial purpose, then remote control will cover up that loss.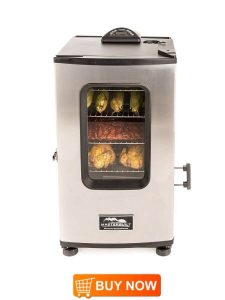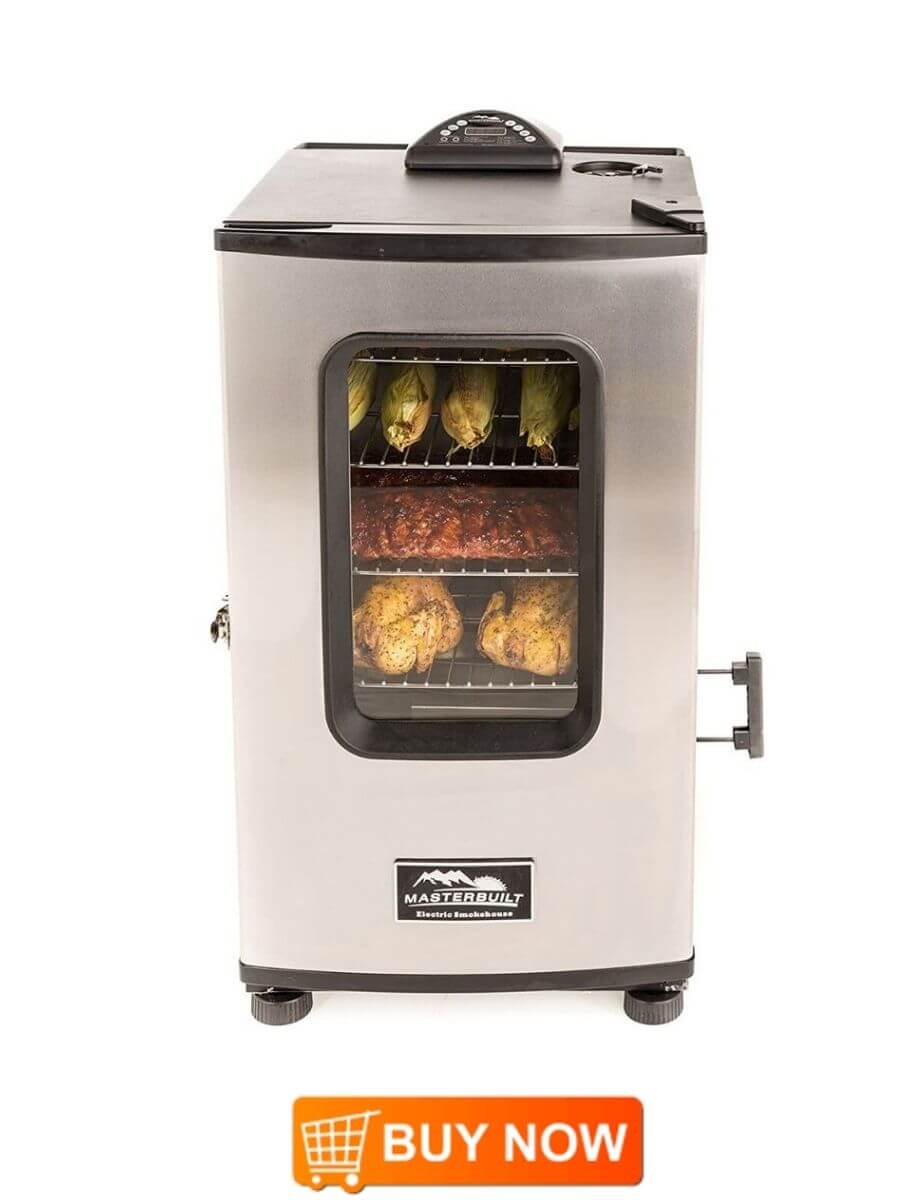 Design and Size Variations: Just like 2007515, this unit is also available in two sizes and two designs. For commercial purposes, we would recommend 40-inch with Top Controller and Window Variant. You can even go with a window-less unit if your chef is an expert in smoking food. You can also choose between pure steel and stainless steel. In that case, stainless steel is always better.
Cleaning: Most people look at the cooking space and other features but forget that once it is the next day. You have to clean the smoker. If cleaning is hard or complicated, you are going to waste a lot of essential time in it. Thus it is also necessary to choose and easy to clean a smoker. The chrome-platted non-sticky grills and drip pan makes cleaning this smoker a cakewalk.
Side wood-chip loading box: This smoker is not just easy to clean but also easy to use. You can prevent accidental temperature changes because of opening the door as you will have a side wood-chip loading box. Just open it, add the fuel, and keep your smoker burning.
Safe to use: No one wants accidents in their hotel. You will be safe from the burning hazards, as you will not be using propane. Not only this, the insulation keeps heat inside and prevents the exterior from being very hot.
Remote Control: You can tune-up or down the temperature and timing through the remote control. However, there is an LED light on the glass frontage to keep a close eye on your meal. We have another post on electric smoker with bluetooth-Wifi and remote reviews
Heat Retention: You can use this smoker in freezing outside temperature because it has top-notch insulation.
Easy to Assemble: It arrives nearly assembled, but you have to provide finishing touches, and a screwdriver would be enough to assemble the remaining parts. It doesn't matter it is 73 pounds in weight, and you would still be able to move it with the help of handles and wheels.
Short Term Warranty:  It is overall a perfect smoker but has only 90 days warranty. However, it is enough to check all the remotes and LEDs. Also, their customer support is famous for fast response and solution.
Pros
Made for Beginners
Easy to Assemble, Use and Transport
Remote Control
Real-time Reporting
What to look for while buying a Commercial Electric Smoker?
Commercial smokers are big and powerful as compared to usual backyard electric smokers. Make sure your smoker has the following things. However, all the above-listed smokers are carefully selected and meet the following criteria.
Things to Consider
Laws, Rules, and Certification: Specific Laws and regulations are present for commercial grade smokers. These include the location of the smoker, distance from the building, and the ventilation of the smoke. These laws ensure the safety of users.


NSF and USDA certificates should be present with a huge smoker. As the above-listed smokers are electric so you will not have to worry about the smoke of charcoal etc. These laws change from state to state. Make sure your next commercial electric smoker follows all the regulations.

Durability: You will be opening your smoker again and again to check the meat or to add or remove the meat for customers simply. Most probably, your smoker will be running throughout the day. In such a case, you will need a smoker that is durable and will help you in the long run.
Cooking area and Racks: It is better if your smoker has functional cooking space, but cooking racks also help a lot. Best smokers have around 4-5 cooking racks, which are removable, so space for a big turkey can be made for big order. Also, you can never rely on just the size of the smoker. Sometime grills matter more than size, especially if you are running a small business.
Temperature Control: A commercial smoker must have reasonable temperature control. You will be cooking a lot of different food in the smoker. Each meal requires different temperate for varying amounts of time. The smoker must be able to adapt to temperature changes as fast as possible. Also, heat retention should be good enough that no heat leaks the smoker, and your food is ready on time.
Location of your smoker: It matters where you will be keeping your smoker. If you are keeping the smoker outside, you have to check the rules and regulations of your state. If you are going to keep it inside, you will have to make sure that enough space is present in your restaurant. You will also have to maintain ventilation in the kitchen.
Commercial smokers are suitable for restaurants and small businesses. They are big, can cook more food at the same time, easy to use and require less electricity for the same amount of food in regular smokers. In short, these smokers are ideal for every business. read more about Electric Smoker Reviews
PIT BOSS 77435 Vertical Lp Gas Smoker, Red
Dual valve/dual burner system provides 100-350 temperature range
Three porcelain coated cooking grids, 800 sq in
Stainless Steel burners - 12, 500 BTU total
External access to wood chip drawer and grease tray
Large viewing window with high temperature door seal
Dyna-Glo Signature Series DGSS1382VCS-D Heavy-Duty Vertical Offset Charcoal Smoker & Grill
Features five chrome-plated cooking grates and a total cooking space of 1382 square inches
Heavy-Gauge Steel Body Construction. The temperature gauge features a smoke zone which indicates the ideal temperatures for infusing the perfect...
Cool-touch spring lid grip provides safer access to food
Stainless temperature gauge with "Smoke Zone" indicates the ideal temperature for infusing smoke flavor
Oversized steel wheels for mobility before and after use