Any smoker below the size of 30″ is usually considered a small electric smoker. It can solve your problems of space and portability if you live in a little place or have a small family. Electric smokers come in a wide range of sizes, and small ones are usually easy to maintain or carry around.
Editor's Pick
Good Choice
Don't Miss
Also Consider
Smokin-It Model #1 Electric Smoker
Masterbuilt MB20050116 MPS 20B Patio-2-Portable Propane Smoker, Black
Char-Broil Analog Electric Smoker
Old Smokey Electric Smoker
Editor's Pick
Smokin-It Model #1 Electric Smoker
Good Choice
Masterbuilt MB20050116 MPS 20B Patio-2-Portable Propane Smoker, Black
Don't Miss
Char-Broil Analog Electric Smoker
Also Consider
Old Smokey Electric Smoker
Their designs usually do not differ from other smokers, and most have similar features with digital controls apart from the fact that they are just compact.
If you have a small family of 4-5 people, then a small and portable electric smoker would be a great choice.
Best Small Electric Smokers Reviewed
1. Smokin-It Model #1 – Best Small Smoker
Being small, Smokin-It Model #1 can feed an entire family by smoking 22 pounds of meat at once. The smoker leaves people speechless when they observe that it has a small size yet decent capacity. The reason for this smoker for being number is this as it is durable, long-lasting, and can fit anywhere.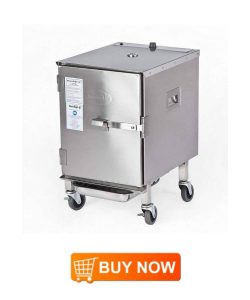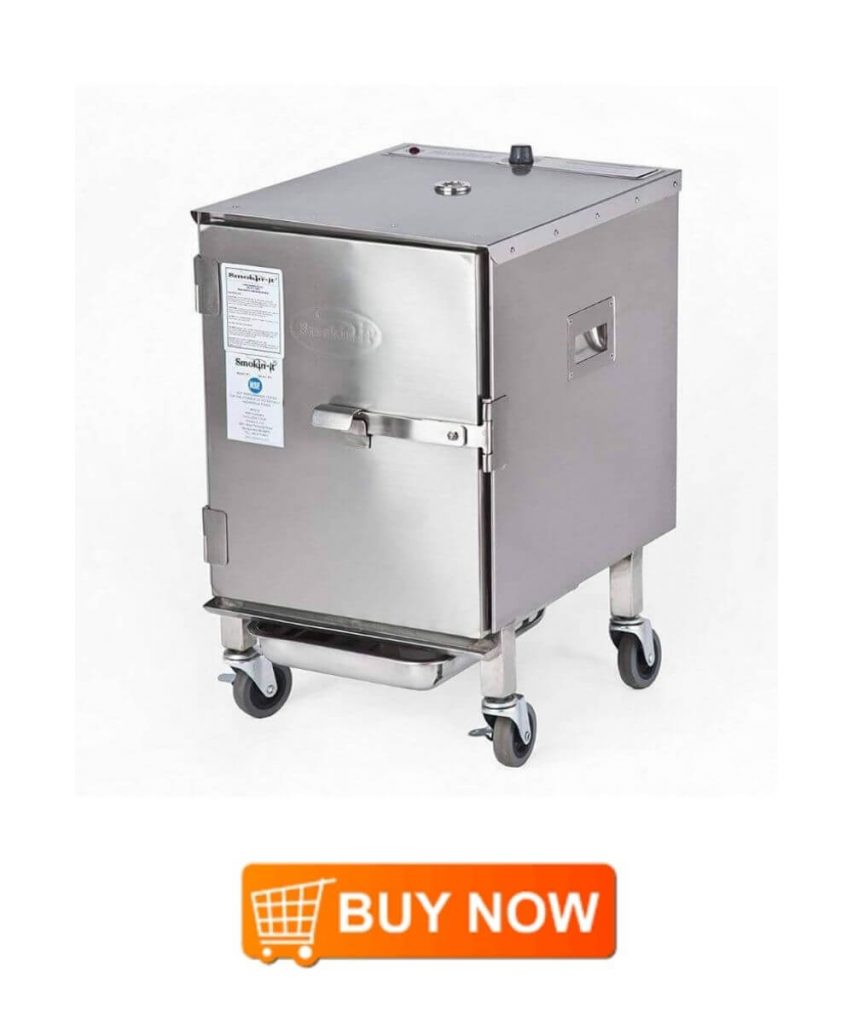 Design: The design of this smoker is a bit outdated and looks like a toolbox that people keep in their garages. You will realize that these looks did not matter when you came to know 18-gauge stainless steel is present all around its body. It is straightforward to use with no extra buttons other than basic controls and switch.
User-Friendly: It is highly user-friendly. You can verify this statement by knowing that you can remove the cord of the smoker when not in use. It can prevent it from getting damaged or broken.
Portability: You can transport this smoker easily as it has massive wheels under it. You can also remove the wheels if required. If you remove the wheels, you can use side hands to transport it. As it is light-weight so, carrying it won't be any problem.
Controls: The controls in the electric smoker are straightforward. You have only one controller on the top to change the temperature once you put the food inside. This position of the thermostat also aligns with the beautiful design of this small electric smoker.
Heating Element: The 400-watt heating element is enough to cook any food you wish. You can, but the wood in the box above the heating element and grease pan will take care of any grease or fat.
Easy to Assemble: It is not just easy to assemble but also easy to control and maintains the heat very well. With the help of 120 volts and 8 amperes of electricity, you can cook anything you imagine with good power and in less time. The temperature will also remain stable where you set it because of rheostat and thermostat. Ordinary smokers have double-wall insulation, but it is not an average smoker as it has fiberglass insulation.
Overall, this is a highly durable electric smoker, but it might look out-dated as it has no windows or remote heat sensors. Yet these few drawbacks can't decrease the quality of this smoker.
Power Cord: The power cord with this electric smoker is 12 feet long while its weight is about to 86 pounds. You can also manage the inside space and capacity of the smoker by altering the four removable racks.
Pros
Easy to Transport
Big Wheels
Long-Lasting
2. Masterbuilt 20073716 – Portable Electric Smoker
If you are starting smoking meat, this mini smoker can be the right choice for you. It is small, lightweight, and portable, with every other function needed to start a party in your backyard.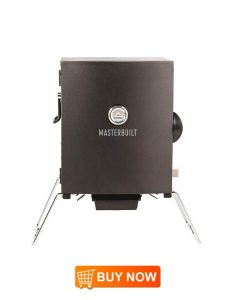 Chrome-Plated Racks: It has two chrome-plated racks with a 1400 watts heater, which is impressive for a small smoker. You can roast meat to a high temperature with the help of the 1400 watts heater.
Best for Beginners: This smoker is suitable for beginners as it has a thermometer along with the wood chip box. The thermostat will show the realtime temperature of the container. Realtime reporting helps beginners in understanding the smoking process more efficiently.
Easy to Transport: It is easy to transport. First, its weight is just a little over 20 pounds. Secondly, you can fold its legs while carrying so its size can go smaller as per space. The temperature gauge at the front will be evident for its performance. You will be able to see it is from the temperature gauge. It is not so precise but is accurate enough to show the exact temperature. This smoker will help you accomplish your idea heading off to long trips to enjoy nature. It is like a recreational vehicle and is also one of the smallest units ever made by MasterBuilt.
Removable Racks: You can place several meals in the application at once because of the help of removable racks. Although, you will have to keep filling it with wood chips as it is a small unit. In average cooking of 24 hours, you may have to refill it around four times, which depends upon the heat you or generating.
Easy to Clean: The best thing about this smoker is that you can clean its every part as you can easily remove its racks. If you put a non-stick spray on the interior of shelves, it will further help in the cleaning process.
You have three basic control settings in this electric smoker high, medium, and low. You can adjust these through the dial located at the front door. Being at the front door, you can keep an eye on the smoker as it has no digital or remote controls.
Pros
Portable,Easy to move
3 Temperature Settings
3. Americana Stainless Steel – Best Mini Smoker
It is the first product by a different company known to many users. However, it is an established company working from 1959 specialized in engineering. All of their products are the result of their highly qualified team, just like this Meco Stainless Steel Electric Smoker.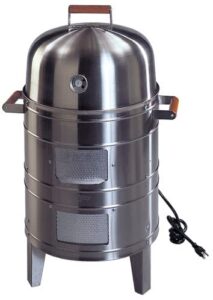 Cooking Space: This Meco Stainless we are going to review is one of their four best electric smokers. It is also called as Meco water electric smoker. It has 351 square inches of cooking space, whereas stainless steel covers this place with good insulation.
Design of the Smoker: Its design is unique among all other smokers. It is not a cube shape smoker but a cylindrical one. Due to its curvature, the food can continuously rotate on its two grills. You can reach the racks through the lid or the door so that you can use it in your way. You will notice that you can completely shut the door and not the top; it is not an engineering fault but a necessity. If the lid is also tight, the meat will never smoke properly.
No Window: The only drawback in this smoker that you will net get any view of the food you are smoking. However, you can believe in the gauge at the lid of the smoker.
Cooking Juicy Meat: You may have noticed that its name has "water" in it. It is because it has an extra-large water pan. This water pan has a 5.5-quart capacity, and it will help you produce the juicy taste in the meat. If you want to control the amount of the smoke, you can use the door and keep them a bit open for ventilation.
Water Pan: You can also enjoy different flavors of the same meat, or you can put beer or juices like apple or orange in the place of water in the water pan. You can leave the rest of the taste on its 1500-watts and CUL-listed heating element. This heating element is not a joke and will ensure that your food is cooked correctly.
Wooden Handles: If you are wondering why this smoker does not have any wheels, you will come to know that it has wooden handles on each side for you. First, it weights its size, so it will not be a problem to pick it up. Secondly, the wooden handles will be comfortable to carry around even when the smoker is hot, but your hands will not burn.
In short, a wide range of temperatures for smoking and quality is impressive at this price. Also, if you see the company name as Southern Company, then do not worry as both names, Southern Company Smokers and Meco, are of the same company.
Pros
CUL-listed and UL-listed 1500-watts heating element
Wooden Handles to carry it around
5.5-quart water pan
4. Char-Broil Simple Smoker – Table top smoker
Char-Broil Simple Smoker with SmartChef Technology is not an ordinary small meat smoker like the ones listed above. It is a highly advanced and digital smoker. This cylindrical electric smoker has a separate app, and it uses Wifi instead of Bluetooth as Wifi signals have a better range and more powerful then Bluetooth. This smoker may look small and limited in space, but it is not limited in its functions. It can alert you when food is ready through its app.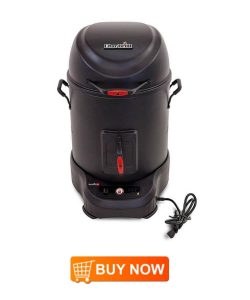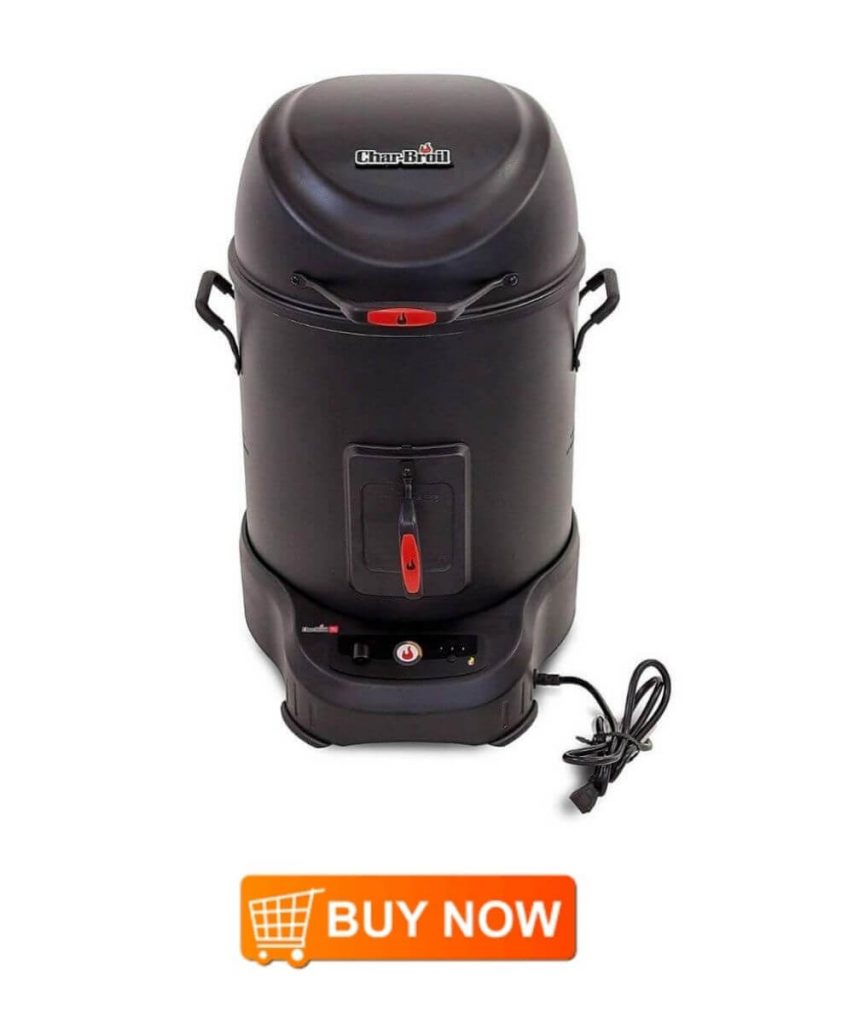 Customizable: Just like other small smokers, this one is also circular but has excellent wall insulation, which makes smoking meat easy and fun. This smoker is also different in its internal structure. You will get two shelves and a basket to add food. The basket is big enough for 16 pounds of turkey meat. However, you can adjust both the racks and basket as per your needs.
The lid as Door: There are NO doors on the sides to put the meat inside. To put the food, you have to open the top of the container. The doors on the sides are for putting wood chips or other fuel in it. You should know that the wood chip box is not big enough to produce smoke for many hours. You may have to refill it after every 2 hours, but you have to compromise this if you are going to buy the best small electric smoker.
User interface: The user interface on the smoker itself is straightforward. You can put the put, start it and forget it. But most of the time, you will be using its app, which is more convenient and easy to use.
Smart-chef technology: The technology which is exceptional in the smoker is called smart-chef technology. To get benefit from this technology, you have to download its app. This technology functions by smartly notifying you when your food is ready. It is excellent if you are busy with something else, and forgetting your meat in the smoker will burn it. This technology will save you from eating roasted chicken.
Pros
Smart-Chef Technology
App by Char-Broil
Easy user interface
Basket for Storing Food other than the grid
5. Pit Boss Grills 77221 2.2 – Small Digital Smoker
This smoker is the smaller version of a highly advanced and modern looking smoker. Its design can cause shivering in many big smokers.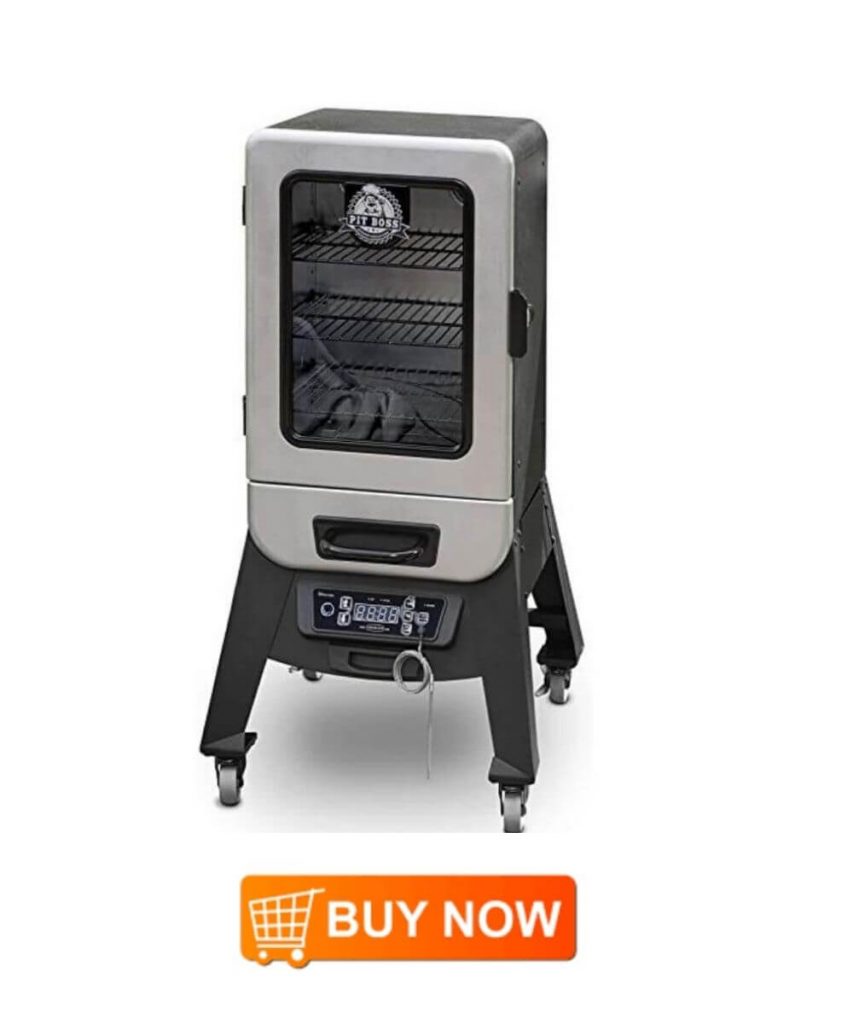 Digital Controls: The most notable feature of this smoker is that it is not just small-sized but also has digital controls, which you will least expect from a smoker of this size or price. You can monitor the temperature and pressure with the help of the digital LED on this smoker. Here you can check some Pit Boss Recipes you should try once.
Porcelain Coating: There are three grills in this smoker, and all have a porcelain coat on them. All of the racks are very wide, giving you a combined space of 593 sq inches. Its grills are vast, and this might be the reason it is rectangular as compared to other cylindrical smokers on our list. The water pan included in this smoker has a porcelain coat on it.
Unique and Modern Design: Its design is unique and modern. It has a window at the front. The main issue you face in most of the small smokers is that they do not have doors and at most just one entry to add the meat or check its progress. However, with this smoker, you can check the progress of your meat live through the window. It will also preserve the smoke which you lose on opening the door to check the meat.
This small bbq smoker has an incredible energy output of 1650 watts, which is enough to steak or grill any pepperoni. In short, it is a small size electric smoker from the future.
Pros
Front Window
Double-wall construction
Digital controls
Push Button Digital Control
Portable-Small Sized Electric Smoker Buying Guide
Sometimes, a large electric smoker is not the best and a small one wins the game. Small size smokers have many benefits, and most prominent of them is portability.
Some Benefits:
Portability: These electric smokers are usually very easy to transport owing to their small size and low weight. They are easy to assemble and disassemble so you can put them in the back of your car to enjoy the vacation on hills.
Cooking Speed: Surprisingly, cooking speed in small electric smokers is very fast as compared to large electric smokers. It is because of its small size. More smoke forms and less leaves the container. They are making it thick and good enough to cook the meat swiftly. Thus, a small electric smoker also saves you a lot of time.
Price: Yes, they have small size so low cost as well. They are never a burden on your pocket.
Beginner's Friendly: New users love to try smoking at a small smoker at first. They are easy to handle, and you never fear them. Once a user is ready, he can move to a large size smoker.
Less Space: This might be the most obvious benefit of these smokers. You can place this in your backyard efficiently. You can also put it in your apartment or room, but it is always advised to use the smoker outdoor. Small electric smokers also have revolving grills, which are not possible in large electric smokers. With the help of this, your meat gets heat from all sides and gets cooked better from inside out.
A Disadvantage:
Small Fuel Box: If the smoker is small, its fuel box, such as for wood chips, will also be small. Its small size can cause you to fill it again and again after a few hours. So, you will have to check back and again, and during checking, you will have to open the door. Now, if you open the door, there are most chances that you will lose a lot of build-up smoke. Once you get experience, you will be able to estimate the average time for the average amount of food, and this will solve your issue. Also, if you can pick a smoker with the right wood-chips box size, it would be good to choose a large electric smoker.
Small Electric Smoker FAQs
Which is the best electric smoker for apartments?
The smoker should always be used outside, but for small size and storage issues in flats, you can buy Smokin-It Model #1, which is the best small electric smoker.
What is the best small electric smoker?
Out of many tested electric smokers, Smokin-It Model #1 is the smallest smoker with the highest rating on Amazon. You may place it small size kitchen or even in drawing room while having weekend parties or preparing best hookah bowl and enjoying hookah flavors with friends.
How to Clean Electric Smoker?
Don't wash electric smokers with water, If you do, digital front control circuit may damaged. Use some wet cloth to clean the smoker. You can wash Drip pan, racks with water with any dishwasher detergent and after it get dried place them again in electric smoker.
Sale
Sale
Cuisinart COS-330 Vertical Electric Smoker, Three Removable Smoking Shelves, 30", 548 sq. inches...
548 SQUARE INCHES OF INTERIOR: The spacious 548 square inch interior means there is plenty of room to smoke a variety of meats and vegetables. The...
THREE REMOVABLE SMOKING SHELVES: Three chrome plated steel racks can be easily removed for smoking large cuts of meat. Racks are dishwasher safe,...
BUILT-IN THERMOMETER: Features easy-to-read thermometer on the front door for accessible monitoring of the internal temperature.
1500-WATT HEATING ELEMENT: Featuring a heating coil that provides the 1500-watt heating element able to produce a temperature from 100°F to 400°F...
STAINLESS STEEL TRAYS HOLDS WOOD AND WATER: Stainless steel trays hold the wood chips and water, so clean-up is easy after use. Smoker requires wood...
Royal Gourmet SE2801 Electric Smoker with Adjustable Temperature Control, Black
SPACIOUS COOKING SURFACE: 457.86 sq. inches of cooking surface over 3 chrome-coated smoking racks; 1500-watt heating power with adjustable analog...
GREASE MANAGEMENT SYSTEM: In addition to removable stainless steel water pan and lidded chip box, this analog electric smoker has an independent...
VERSATILE APPLICATION: Featuring multi-functional uses, the smoker could satisfy different sorts of needs such as smoked barbecue, firewood grilling,...
GOOD SEAL PERFORMANCE: Latch system ensures a good seal performance, cool-touch spring door handle prevents scalding, and 2-side handles for...
HEAT-RETAINING: Double-wall construction firebox helps retain smoking temperature.