If you are having a large family and want to enjoy smoked food with your whole family, then a 40-inch electric smoker can of use to you. Made especially for large families, these smokers have enough space to cook 30 pounds of meat at once.
A usual smoker of this size has around 4-6 racks and heating elements above 1000 watts. Other than that, you have to carefully look at their quality of material, display functions, warranty, and make sure all of that comes at affordable prices.
Best Choice
Good Choice
Don't Miss
Also Consider
Masterbuilt 20072115 Bluetooth Smart Digital Electric Smoker, 30-Inch, Silver
Masterbuilt MB20070210 Analog Electric Smoker with 3 Smoking Racks, 30 inch, Black
Masterbuilt MB20074719 Bluetooth Digital Electric Smoker, 40 inch, Stainless Steel
Cuisinart COS-330 Vertical Electric Smoker, Three Removable Smoking Shelves, 30", 548 sq. inches...
Best Choice
Masterbuilt 20072115 Bluetooth Smart Digital Electric Smoker, 30-Inch, Silver
Good Choice
Masterbuilt MB20070210 Analog Electric Smoker with 3 Smoking Racks, 30 inch, Black
Don't Miss
Masterbuilt MB20074719 Bluetooth Digital Electric Smoker, 40 inch, Stainless Steel
Also Consider
Cuisinart COS-330 Vertical Electric Smoker, Three Removable Smoking Shelves, 30", 548 sq. inches...
It can be challenging to check all the electric smokers and select the best one out of them so, we did this work for you, and the following is the list of such best electric smokers with 40-inch space.
Best 40-inch Electric Smokers Reviewed
Masterbuilt 20070311 is the best smoker for serving a fair amount of guests or a large family with a cooking area of approximately 975 square inches. This smoker is easy to move around due to its built-in wheels and a handle. The wheels also provide you fast mobility. There is no need to open the door to keep an eye on your food because it has an interior light and an extra-large window cut in the stainless steel door.
The best quality of this smoker is that it is a remote control electric smoker. Its remote helps to monitor the meat temperature, cooking temperature, and brewing time, even from up to 100 feet away. It also helps in turning the internal light on or off and the switching of the smoker as well.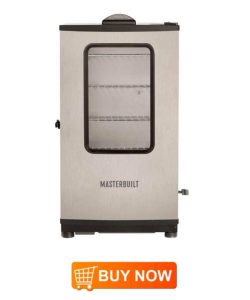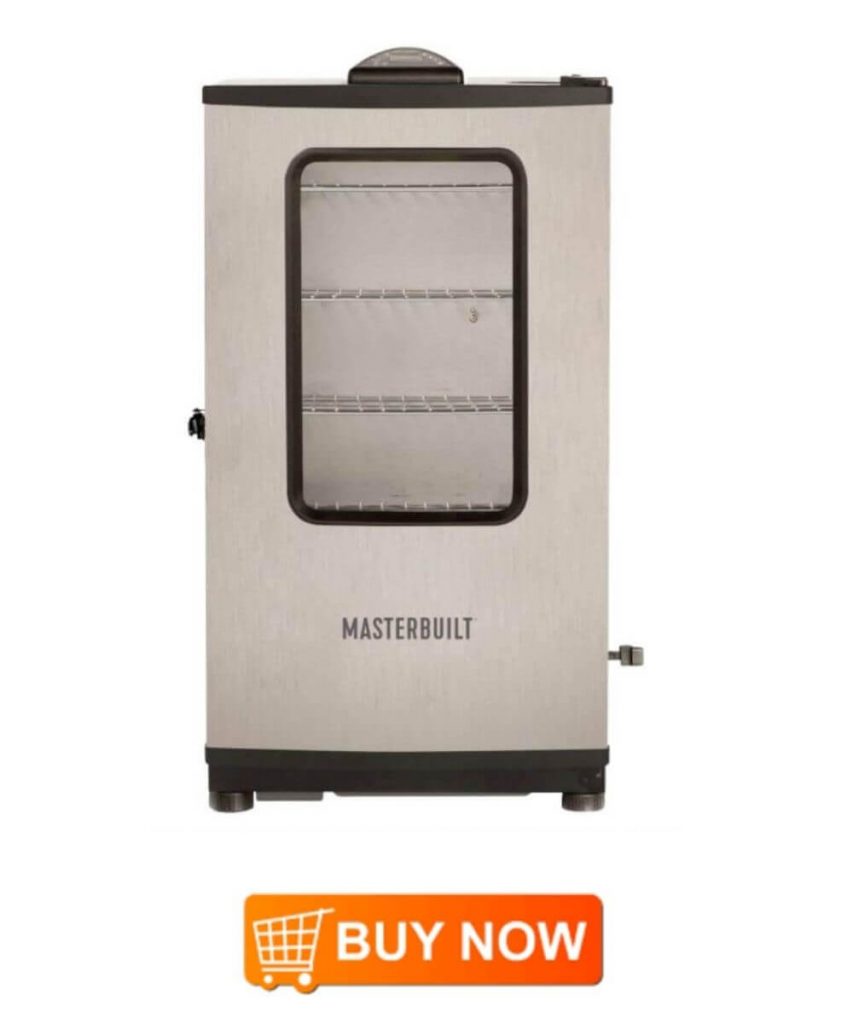 Digital Thermometer: One of the other fascinating features of this smoker is its digital thermometer. It makes this smoker the best in the business. You only have to set the desired temperature and to fill the wood tray. It has a heating element of 1200 watts.
Capacity: This smoker has a big cooking space enough for 30 pounds of meat, including ribs, chicken, turkey, and seafood. This smoker also has four removable chrome-coated smoking racks.
Meat Temperature Probe: Another essential feature of this smoker is the built-in meat temperature probe, ensuring accurate reading and perfect work for slow cooking. But sometimes, temperature readings are not correct, according to some users. It also has a temperature control thermostat, providing you a temperature range of 100 to 275 degrees Fahrenheit.
Side Wood Chips Loading System: There is a side wood-chip loading system, providing you a convenient way of adding wood chips. This smoker has a unique design that prevents the release of smoke or heat from the smoker while adding wood chips.
Miscellaneous Benefits: Among the benefits of this smoker, it has a removable drip pan and top air damper. It is not dangerous for children as it is well insulated from outside and never gets too hot to touch. But it is necessary to prevent your children from going near the smoker.
Warranty: This product gives you a warranty for 90 days or three months, which is too short of accepting. It makes it less impressive than others with a satisfying number of days of warranty. This 40-inch electric smoker is the best for smoking meat at home at a reasonable price.
Pros
Digital Thermometer
Side wood-chip Loading System
Safe for children
Masterbuilt 20070215 is a smoker that you can control with your smartphone or tablet. It is due to its the biggest and the most impressive feature of having the integrated Bluetooth technology that makes you interested in it. This technology allows you to control your smoker with your smartphone while you are away from the kitchen. There is a built-in meat thermometer in this smoker that is an excellent feature ensuring you the evenly cooking of the food.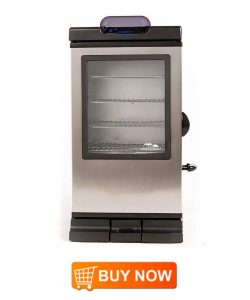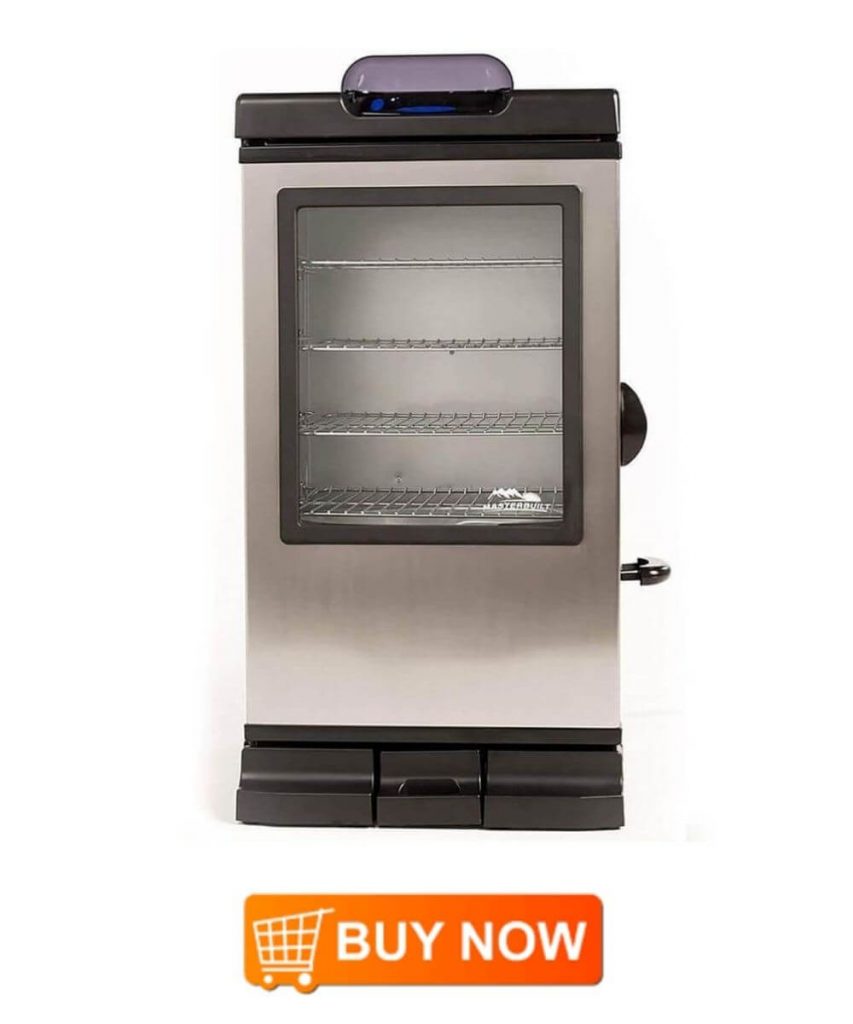 Capacity: Referring to the size, this smoker has a cooking space of 975 square inches and has four chrome-coated smoking racks that provide you to prepare a lot of food. Using this smoker, you also have a benefit to make all kinds of food.
Heat Retaining: This smoker is well insulated and keeps the smoke in its inside successfully. It is not advisable to open the front door during the process of cooking the food because the opening the front door results in escaping the smoke. There is a window that allows you to have a glance at your diet. The maximum temperature that this smoker attains is 275 degrees Fahrenheit. The heating element of this smoker is 1200 watts.
Side Wood Chip Feeder: With this smoker, there is no need to keep the lid or door of the smoker open for putting the wood chips inside it. There is a side wood chip feeder that is convenient for feeding of the wood chips.
Portability: Referring to its easiness of use, it has a handle and also has wheels that make it move quickly or having high portability.
Cleaning: The racks of this smoker are removable. Also, there is a removable drip pan and rear-mounted grease pan. All these make the cleaning of this smoker easy and comfortable.
Attractiveness: This smoker is probably the best looking smoker. The steel design of this smoker increases its beauty as well as the beauty of the kitchen, making it attractive for everyone.
Discomforts: There is a little bit of trouble in its use. This discomfort is the regular addition of wood chips due to its small wood-chip bin. Also, according to some people, its assembly takes a longer time. Another trouble is that its range of Bluetooth and connectivity is affected by various factors. The scope of the Bluetooth connectivity is minimal (only 15 feet).
Cost: This smoker is a little bit expensive because of its advanced Bluetooth feature.
Pros
Highly Portable
Good Heat Retention
Stylish exterior design
Easy to clean
Masterbuilt 20075315 is a lightweight electric smoker without a Bluetooth system. This smoker has a substantial capacity. It has a cooking space of 975 square inches. It has four rock-solid chrome-plated racks. The large size of this smoker allows you to load 24 burgers, 48 sausages,  or a dozen whole chicken.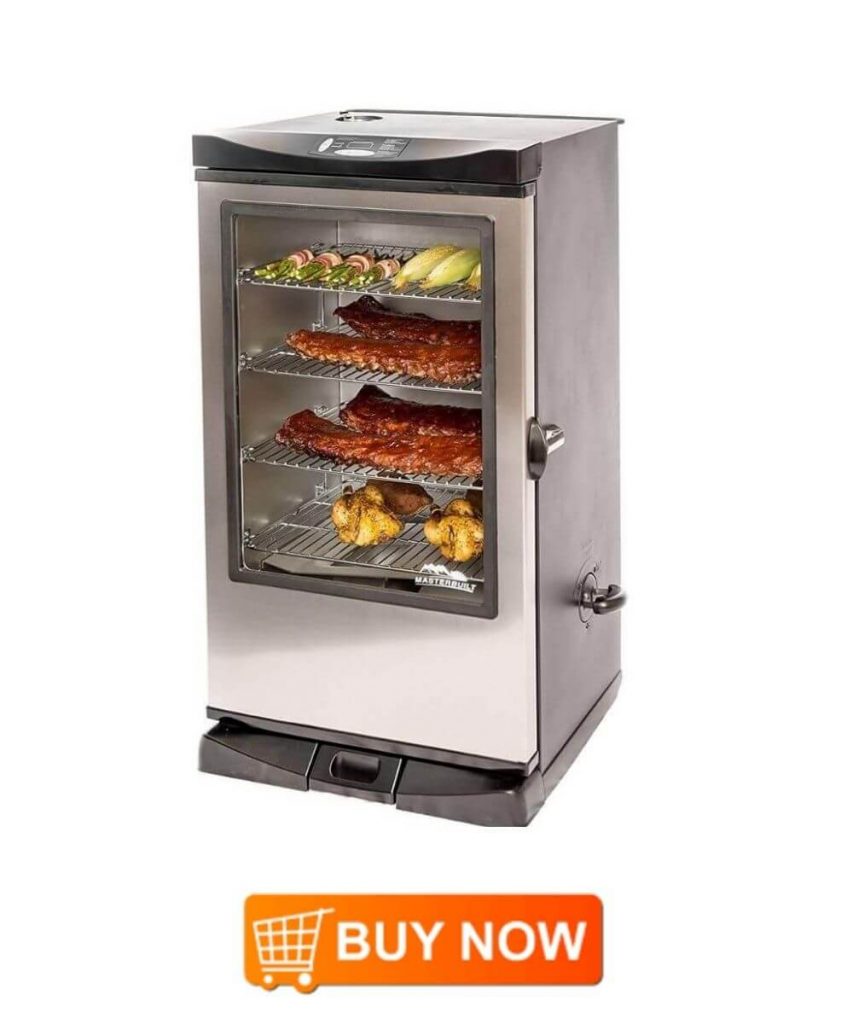 Insulation: This smoker is well-insulated. It is harmless even it gets hot to touch from outside. It does not cause a burn on your hand instantly. But to prevent any risk, the children should be strictly prohibited from going near it. This smoker works well even if there is a freezing temperature outside. It is all is due to its perfect insulation.
This smoker is technologically updated. Its assembly is effortless. You only need to get the Philips screwdriver and have to apply the finishing touches.
Portability: This smoker has wheels and handle, through which you can quickly move around the smoker when needed. You do not have to worry about the damage of the wheels because wheels are of good material. This smoker weighs only about 73 pounds, which ensures its easy portability.
Fuel and Tray: This smoker uses wood chips for smoke or temperature build-up. Your only duty is the loading of wood chips in the side of the smoker and placing of the heat in place. There is no need to open the door continuously. It also saves you from continually messing with the temperature. Use of charcoal or propane in sidestepping saves you from a lot of messing and grief.
Heating Element: This smoker uses a heating element of 1200 watts. This smoker provides a maximum cooking temperature of 275 degrees Fahrenheit.
Light Source: There is an LED light on a glass frontage that helps to keep an eye on your meal.
Remote Control: This smoker also has a remote that allows you to control the temperature and timing without going near to the smoker. There is also a thermostat that provides you the complete consistency of temperature with every meal.
Cleaning: This smoker has easy cleaning. Its cleaning is a cakewalk. The chrome-plated racks are removable.
Cost: Although the physical appearance of this smoker makes it look costly, this belongs to a middle price range. This smoker provides you the deliciously charred and smoked finish food every time you use it. This smoker also gives you the meat smoking guide to improve the taste of your meal.
Pros
Affordable
Wheels and Handle for smooth displacement
Easy to use and clean
LED Light
Cons
A bit difficult to assemble
The Smoke Hollow 40-inch Bluetooth Electric smoker is a smoker that makes your smoking projects more fun rewarding. This smoker provides you all the gadgets and allows you the extra control.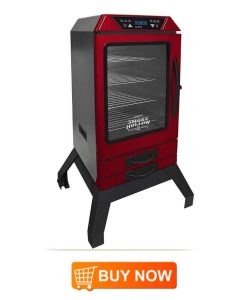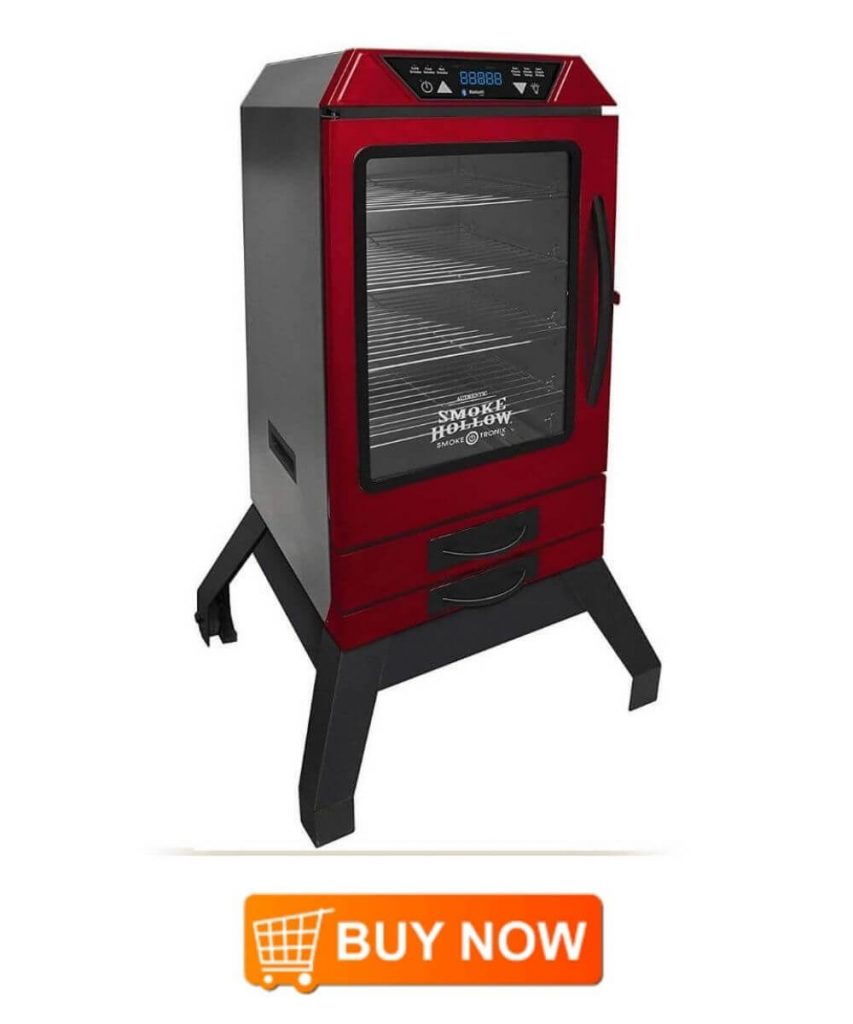 Insulation: The smoking chamber of this smoker is double-walled, providing you the best insulation. It protects you from getting burnt when touched carelessly.
Door: This smoker has an entry of stainless steel or black powdered coated steel door. There is an adjustable door latch that keeps the door securely closed. If the lock becomes loose with time, you can also tighten it easily.
Window: You have the opportunity to look inside at your food during the smoking process by a tempered glass window, located within the door. But the presence of smoke inside limits the visibility. Even with regular cleaning, you cannot get rid of the cloudiness of the window with time because the smoke is always there to enhance it further. We have another post on Electric Smoker with Window Reviews.
External Top Drawer: There is an external drawer at the top that easily opens without opening the cabinet during smoking. This drawer has enough space that you can put up to 6 cups of wood chips at a time.
External Lower Drawer: There is another drawer in this smoker that allows the grease tray to be removed and emptied when it overflows during the smoking process.
LED Control Panel: At the top front edge, there is an LED control panel. This control panel has an LED digital display that not only monitors on and off, internal temperature, meat temperature and time, but can also turn on the interior light.
Bluetooth System: You can control this smoker from a distance by your device because of its unique feature of having a Bluetooth control system. After connecting the smoker to your device using Bluetooth, you can control time and temperature and even can turn the light on and off by your device. However, the range of this Bluetooth system is limited. It is for those who will stay in proximity to the smoker.
Capacity: There are multi-levels mounting holes on the sides of the cabinet for four chrome-plated steel shelves, to allow them to adjust to different heights.  This smoker has a cooking space of about 1035 square inches on the shelves.
Dual Heating Element: The most distinct feature of this smoker is its dual heating element. The U-shaped significant element wraps around the bottom of the cabinet that surrounds the wood chip tray. This element has the main job of providing most of the heat in the container. For the smoking of wood chips, there is a second small element, just below the wood chip tray. This smoker is available with a warranty of 1 year at a reasonable price.
Pros
Dual Heating element
High range Bluetooth System
Good Insulation
Cons
Door lock loosens over time
40-inch Electric Smoker FAQs
What is the usual cooking space in a 40-inch electric smoker?
The standard cooking space you get is around 1000 square inches.
Which is the best electric smoker in a 40-inch range?
MASTERBUILT 20070311 is the best electric smoker in such size.
Which is the most affordable 40-inch smoker?
The most affordable smoker in this range is Masterbuilt 20072115.
How much food can I cook in a 40-inch electric smoker?
You can cook at least 30 pounds of meat at once in such a smoker.
How to clean an electric smoker?
You can clean the smoker using any diluted dishwasher. Use a sponge and wipe it gently. Avoid using any metal to clean your smoker. Here is Step by Step method to Clean a Smoker.