Well if you have decided on spending some dollars to level up your smoking game, then why not invest in a large electric smoker that can at least smoke a meal for gathering or a party? We know that this question has left you thinking. But we care so we are here again for you. Large electric smokers can save you from the hassle of going again and again in batches to meet the serving demand.
Editor's Pick
Good Choice
Don't Miss
Also Consider
Smokehouse Products Big Chief Electric Smoker
Char-Broil Deluxe Digital Electric Smoker, 1000 Square Inch
Bradley Smoker 6-Rack Outdoor Electric Smoker, Digital Vertical Smoker With Stainless Steel Grill
Char-Broil Standard Digital Electric Smoker, 725 Square Inch
Editor's Pick
Smokehouse Products Big Chief Electric Smoker
Good Choice
Char-Broil Deluxe Digital Electric Smoker, 1000 Square Inch
Don't Miss
Bradley Smoker 6-Rack Outdoor Electric Smoker, Digital Vertical Smoker With Stainless Steel Grill
Also Consider
Char-Broil Standard Digital Electric Smoker, 725 Square Inch
Before making a purchase, keep in mind that an electric smoker should not be only large but it should be equally exceptional in performance. So, it does not mean that you can compromise on quality to meet the size requirement. Few electric smokers fulfill both! Hard to search but not impossible to find.
We have just saved your mind from getting messed up in endless electric smokers' links and information. This article will enlighten you about the best options available in the market amongst large electric smokers yet with premium quality. Without further adieu, let's jump into details:
Best Large Electric Smoker Reviews
Let's take a look at large electric smokers
Do any bells ring in your mind after hearing the word Big Chief? It will be worth mentioning that with its performance, Big Chief has proved to be the sole deserver of the title. Therefore, all the pitmasters have crowned Big chief as the chief of all the electric smokers. Well, consider yourself lucky to have a big chief at your service for just under $150.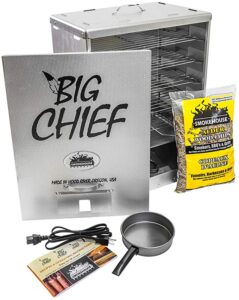 It comes in two options of front-loading and top-loading design. The front-loading system is a regular in most electric smokers with removable and adjustable grates. In the top-loading unit, you assemble the required grates in a rack form and load it into a smoker. So, coming back to the point, the spacious cooking capacity of the big chief ranks it first amongst the big electric smokers available in the market. The premium quality racks coated with chrome can smoke up to 50 lbs of meat on the go.
So planning a feast of your smoked favorite food? Big chief is your buddy in serving appetizing smoked meals at family gatherings and bbq parties on pleasant evenings. The unit is equipped with a non-adjustable thermostat which maintains a constant temperature of 165 degrees Fahrenheit. In other words, big chief honors true traditional low and slow smoking. Due to low temperature, it is recommended for smoking jerky, salmon, sausages, fishes, or rib racks.
For chicken or turkey, you can end with an oven to ensure the perfect cooking. The 12.4 x 18.2 x 27.1 inches of the unit is heated by 500 watts of the heating element. The element is powerful enough to maintain temperature for hours of slow cooking. Moreover, with good insulation, it is also lightweight which makes it highly portable. The unit is easy to clean with just simple use of detergent or taking the help of dishwasher for the racks. After reading all the features, you should know that Big Chief can be your new secret weapon.
Pros
Large capacity
User friendly
Reliable
Reasonable
Cons
Low temperature
Not suited for tough meat like chicken
If you are looking for a compact electric smoker yet with a surprisingly large cooking area then stop right here. Char-Broil Deluxe is ready to steal your heart. The unit comes pre-assembled and just needs fixing of removable elements like tray and pans. The exterior has high-quality plastic finish while the interior is metal-based. The design is aesthetically pleasing and looks more like an electronic appliance rather than a smoker.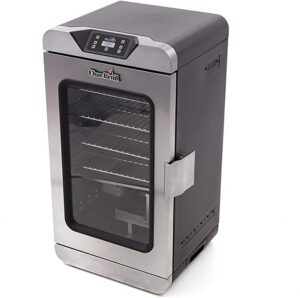 Charbroil is well known for manufacturing outdoor grills over the decades. So, we shall inform you that char broil has excelled in outdoor electric smokers as well. Equipped with a modern touch from the digital control panel, Char-Broil Deluxe is high tech but exceptionally easy to use.
On a button touch, you can take control of the smoker and its advanced feature. Not only that, with LED feel free to set the desired time and temperature. The front door is mostly covered with a glass window. This not only helps to overlook in daylight but also at night with the help of internal light.
The dual constructed well-insulated walls and latched door work together to prevent heat and smoke loss. Four chrome-coated adjustable cooking provides a massive cooking area of 1000 square inches bringing char broil deluxe into the list of largest electric smokers. With this much cooking capacity, you can probably serve a crowd with a smoked bbq meal. The wide temperature range of 100 to 275 degrees Fahrenheit is suitable for both cold and hot smoking. So whether from smoking fish to smoking turkey, Char-Broil Deluxe can do it all
The meat probe is removable and accurate and on the top of everything washable. You can determine the internal temperature of the meat by inserting the probe and receive an instant alert on the digital readout. The smokebox is large enough to accommodate 4 cups of wood chips that can keep smoking for seven hours.
With the help of warming features, the cooked meal will remain warm and tender until serving. So whether needed for home use or restaurant Char-Broil Deluxe can be your ultimate pick.
Pros
LED-equipped digital panel
Large wood pan
Spacious cooking area
Digital control
Easy to use
Masterbuilt truly honors the slogan of set it and forget it by its premium high-performance electric smoker. Being in the business for decades, Masterbuilt has excelled from grills to offset smokers to electric smokers. Keeping in view the advancement of 20th-century Masterbuilt has improved its products accordingly. Unlike other models, Masterbuilt MB20072718 has a creamy white finish with a glass window.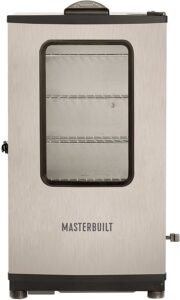 Apart from all the features, the one that stands out in Masterbuilt MB20072718 is a remote control technology. With a remote, you can control the electric smoker over the distance rather than babysitting your smoker again and again. The remote integrates settings for temperature and time regulation. But let's get to the main point of the cooking area that is the spotlight of the article. Masterbuilt MB20072718 has a massive cooking area of 971 square inches.
You might be cooking for the whole street and you still won't be able to fill the space. Fit in vegetables, cheese, whole bird, pork butts, or jerky Masterbuilt MB20072718 is a magic cupboard. There are four spacious cooking greats that can be adjusted to increase or decrease the height to fit large meat. On the base of racks is a huge drip pan to collect the drips falling from the grates or cooking meat.
The unit of 19.49 x 25.59 x 41.34 inches is heated by a powerful 1200 watts of the heating element. Hence large electric smokers with high heating elements for uniform and consistent heating. The installed thermostat provides any temperature between 100 to 275 degrees Fahrenheit. Oh and we forgot one thing, along with the remote control there is a panel of digital readout mounted on the top. So, control through remote or panel the choice is yours.
The unit is really easy to clean and maintain. Talking about cleaning. Are you thinking the same as what we are thinking? The scary mess of ash. Well, you don't need to worry because ash can be discarded by sliding out the wood pan after use. Well, we are sure after reading this you are as impressed with Masterbuilt MB20072718 as we are.
Pros
1200 watts heating element
Easy cleaning and maintenance
971 sq inches cooking area
Remote control
Digital control
Cons
Inaccurate digital thermometer
If you are looking for large electric smokers with large space with equally good performance the Bradley BTDS108P complies with all your requirements. With tall and slim design Bradley BTDS108P measures 11.5 x 15 x 33 inches in size. The body feels luxurious and modern yet durable. The exterior is stainless steel and the interior has a powdered epoxy steel finish.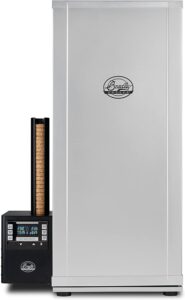 The user-friendly nature will attract both starters and experience bbq grillers. On the right side is a digital readout to control the smoker. On the left is an automatic wood pellet loading system. The briquettes are loaded into the hopper and can last for nine hours straight. You can add a combination of wood pellets for infusing different flavors.
Now mentioning the prominent feature of 780 square inches of spacious cooking area which makes Bradley BTDS108P large electric smoker. There are six adjustable racks in the cooking chamber to fit the smoking meat. The main advantage is you can fit tons of large pieces without cutting them in Bradley BTDS108P as it is a vertical smoker. From hosting a bbq party to bbq competition this electric smoker will never disappoint you.
There are two cooking elements installed in the structure. One is a smoking element and one is for the oven. This means you can always just roast the meat without smoking it. Bradley BTDS108P will impress you with its versatility to be used as a cold smoker, hot smoker, and oven. Hence we can conclude that with large size and large capacity this smoker will over exceed your expectations.
Pros
Automatic pellet loading system
Well insulated walls
Hot and cold smoking
Two cooking elements
Digital control
Can smoke for straight eight hours
Cons
Bisquettes are expensive
Inaccuracy in thermostat
In the last, we will like to discuss Char-Broil Standard in the list of large electric smokers as we won't be doing injustice with this spacious yet premium quality electric smoker. Char-Broil Standard Digital Smoker can amazingly fulfill your smoking requirements from serving to family or hosting a gathering. The unit is delivered already assembled from the company for your facilitation.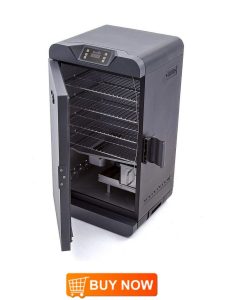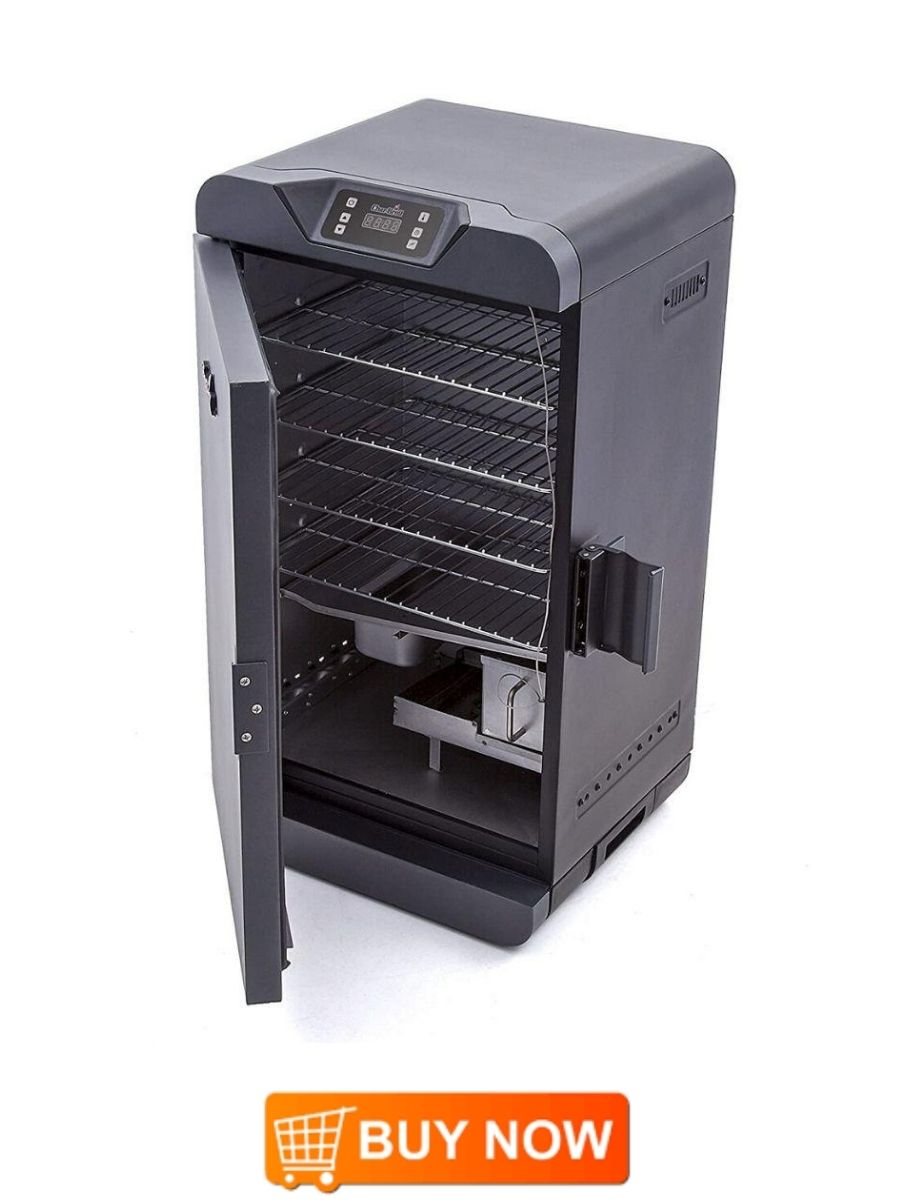 The body feels heavy and robust because of stainless steel construction. The insulation is provided by double walls and doors equipped with latching systems. The entire smoker can be just controlled with a few inches of the digital panel with an LED display. The removable temperature gauge helps you to monitor food temperature any time and change it from a digital panel if needed.
The cooking capacity of 725 square inches brings Char-Broil Standard into a list of large electric smokers. So start thinking about throwing a party with a smoked meal if you still haven't. This model will leave you surprised by how effortlessly it can perform and you will not even drop a sweat from the heat. So yeah! Char-Broil Standard electric smoker has your back.
Additional unique features include a warming system and auto shut off when the food is ready. With sturdy handles and wheeled base, Char-Broil Standard is easy to roll around despite 46.3 pounds of weight. So, what are you waiting for? Get your hands on this asap!
Pros
Removable food thermometer
Portable
LED display
Auto shut off
Digital control
In conclusion, don't even think for a second more! Because we assure you the electric smoker you have chosen is the perfect pick for your backyard or restaurant. It will not make you regret your decision for a second with its extraordinary results. Now already plan your first smoking because a large electric smoker will be at your doorstep soon. If you have small family or less number of friends then small electric smoker are best option for you.
Royal Gourmet SE2801 Electric Smoker with Adjustable Temperature Control, Black
SPACIOUS COOKING SURFACE: 457.86 sq. inches of cooking surface over 3 chrome-coated smoking racks; 1500-watt heating power with adjustable analog...
GREASE MANAGEMENT SYSTEM: In addition to removable stainless steel water pan and lidded chip box, this analog electric smoker has an independent...
VERSATILE APPLICATION: Featuring multi-functional uses, the smoker could satisfy different sorts of needs such as smoked barbecue, firewood grilling,...
GOOD SEAL PERFORMANCE: Latch system ensures a good seal performance, cool-touch spring door handle prevents scalding, and 2-side handles for...
HEAT-RETAINING: Double-wall construction firebox helps retain smoking temperature.
Sale
Original Bradley Smoker BS611 4-Rack Natural Draft Vertical Electric Smoker
Large Capacity Smoker: Our digital smoker is specially designed to accommodate the 4 included racks; This meat smoker allows you to feed a couple or a...
Professional-Grade Design: Perfect for professional chefs and food smoking fans, our fully automatic electric smokers allow you to simply load in your...
Dimensions: Our digital outdoor smokers measure 19 by 22 by 35 inches and 24 inches wide with the generator is attached; Feature a 4 by 11 by 13 inch...
Easy To Clean: Our electric grill features an easy-to-clean stainless steel interior that will not rust; Smoke diffuser system keeps the smoke...
Master Smokers: We developed Bradley Smoker products to produce the best smoke flavor possible; As we say, "It's all about the flavor," so enhance...
Masterbuilt MB20071117 30-Inch Black Electric Digital Smoker, Top Controller
730 sq. inches of cooking space with 4 chrome-coated racks and 800 watt heating element
Digital temperature and timer controls
Thermostat temperature control for even cooking from 100 to 275 degrees F
Convenient side loading wood chips, removable drip pan and top air damper
Ideal smoker for all experience levels
Sale
30-inch Digital Electric Smoker, Black
Temperature reaches up to 275˚F
Digital panel controls on/off, cooking temperature and time
711 sq. in. of smoking space to feed the whole family
Four chrome-coated smoking racks
Thermostat-temperature control for even, consistent smoking
Cuisinart COS-330 Vertical Electric Smoker, Three Removable Smoking Shelves, 30", 548 sq. inches...
548 SQUARE INCHES OF INTERIOR: The spacious 548 square inch interior means there is plenty of room to smoke a variety of meats and vegetables. The...
THREE REMOVABLE SMOKING SHELVES: Three chrome plated steel racks can be easily removed for smoking large cuts of meat. Racks are dishwasher safe,...
BUILT-IN THERMOMETER: Features easy-to-read thermometer on the front door for accessible monitoring of the internal temperature.
1500-WATT HEATING ELEMENT: Featuring a heating coil that provides the 1500-watt heating element able to produce a temperature from 100°F to 400°F...
STAINLESS STEEL TRAYS HOLDS WOOD AND WATER: Stainless steel trays hold the wood chips and water, so clean-up is easy after use. Smoker requires wood...
Pit Boss 77220 2.2 Analog Smoker, 2 Series, Blue
Integrated analog controls - no more plugging and unplugging components
Three porcelain coated cooking grids, 593 sq in. Includes porcelain coated water and wood pan
Analog meat probe included
Complete control of smoker from 150F - 325F.
External access to wood pan