Quality is not verified through price and if you have a limited budget then check out these best electric smokers under $500.
You'll find smokers from every price range, but not all of them are worth your money. If you want your electric smoker to do most of the work and share your load then I bet you've come to the right place!
Best Choice
Good Choice
Don't Miss
Also Consider
Char-Broil 17202004 Digital Electric Smoker, Deluxe, Silver
Smokehouse Products Little Chief Electric Smoker
Char-Broil Analog Steel Electric Smoker - 18202077
Cuisinart COS-330 Vertical Electric Smoker, Three Removable Smoking Shelves, 30", 548 sq. inches...
Best Choice
Char-Broil 17202004 Digital Electric Smoker, Deluxe, Silver
Good Choice
Smokehouse Products Little Chief Electric Smoker
Don't Miss
Char-Broil Analog Steel Electric Smoker - 18202077
Also Consider
Cuisinart COS-330 Vertical Electric Smoker, Three Removable Smoking Shelves, 30", 548 sq. inches...
Cooking in electric smokers is far better than gas smokers, especially when it comes to features and specifications. And besides,, who doesn't want to rest carelessly while the smoker is doing its work?
I do! And I'm sure you do too!
So here are 10 best electric smokers under $500 that you'll find in the market. And I'm not kidding, they are actually under $500! So take a look!
Best Electric Smoker Under $500 Reviews
Let's have a look at best electric smokers under $500
Want a large-sized electric smoker? That too, with less price? Well, Char-Broil got you covered by its Deluxe Digital Electric Smoker. The product dimensions are 16.50 x 18.10 x 32.50 inches which are quite nice. The overall cooking area is 725 square inches large, in which you can cook loads of food in fewer hours! The door is made of thick glass, so you can easily see the food without opening up the lid. Which is a feature many inexpensive smokers don't have?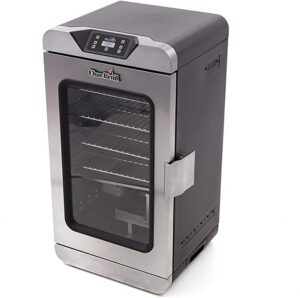 There's a large smoker box in which you can add wood pellets just in case you want that woody flavor in your food. And a water pan just like the previous product on this list. However, you can detach the water bowl if you don't want your food to retain extra moisture. These extra features make it to the list of the best electric smokers under $500.
A separate grease tray to save your extra effort and time is also present which collects all the grease and oil for easy cleaning. There's a temperature probe that tells us the temperature inside the smoker as well as inside the meat. Another good thing is, it comes with a remote control so you manage it from afar.
A bonus point as mentioned above is the smoker's large size and the fact that all the racks can take 10 pounds of meat each! Which makes it a perfect buy for large families and party lovers. Overall, the weight of the smoker is 50.2 pounds. But the body built and the quality interior, as well as exterior, justify the weight.
Pros
Dual-wall steel exterior
Glassdoor
Remote control
Four racks
Easy to start
Cons
Small distance for remote
If you're looking for a bigger smoker then this one is perfect. The size is about 24.5 inches with 24.5 x 11.5 x 11.5 dimensions. Also, you don't have to worry about the assembly, as it comes assembled.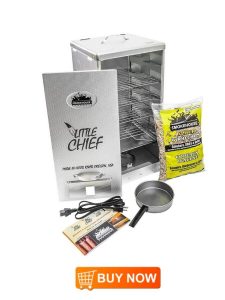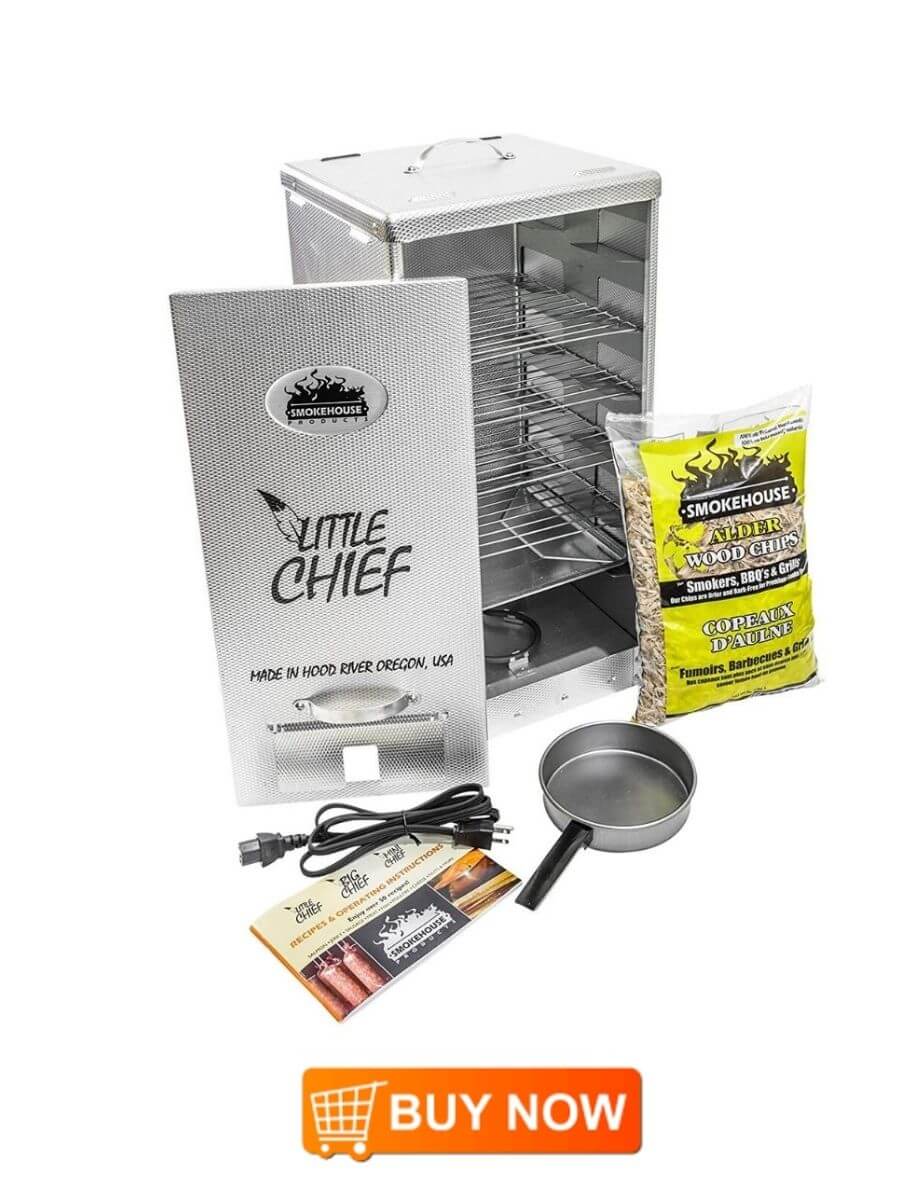 There are 4 cooking grates that are chrome coated. Right below the last grill is a tray that collects all the grease and oil. Which you can easily drain and clean. As the name suggests, this grill is for the people who live by themselves or have fewer family members around.
The temperature is set at about 165 degrees F and you cannot adjust or change it. This allows for a steady and slow type of cooking that you leave for hours. The slow cooking helps in preserving the smoked goodness with juices and a ton of flavor. If you're a beginner-level person in terms of using smokers then I recommend this one as you won't have to worry about the temperatures.
I know if you want to cook your food in a matter of an hour, you are feeling like this smoker has nothing to offer. But heck no! Why? Because of its whopping 576 square inch cooking space, it gives you a lot of room to stack in a bunch of stuff to cook at once!
The heating is 450 watts which are very generous in terms of electricity usage and smoking food. Apart from that this product is designed to be a slow cook smoker. It does the job fairly well as one. That too, as a budget-friendly option.
Little chief is very light, thanks to the thin aluminum exterior. But a drawback of this body is that it's not weather resistant and can't stand the test of time. It is also not suitable to use outdoors on breezy days. Overall, it's all you're looking for in a smoker!
Pros
Lightweight
Easy to use
Great for beginners
An excellent smoker
Cons
Not weather resistant
Not good for bbq
Preset temperature
Landmann 32948 is all that you can find in a top-notch electric smoker at an economical price. Aptly suitable for patios and backyards due to its compact design. This electric smoker weighs around 30 pounds and has the dimensions spread across 13.20 x 16.60 x 26.70 inches that make it a preferable choice among compact-sized electric smokers.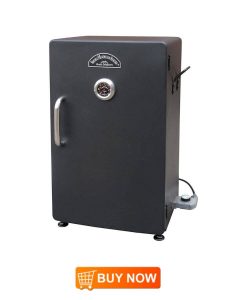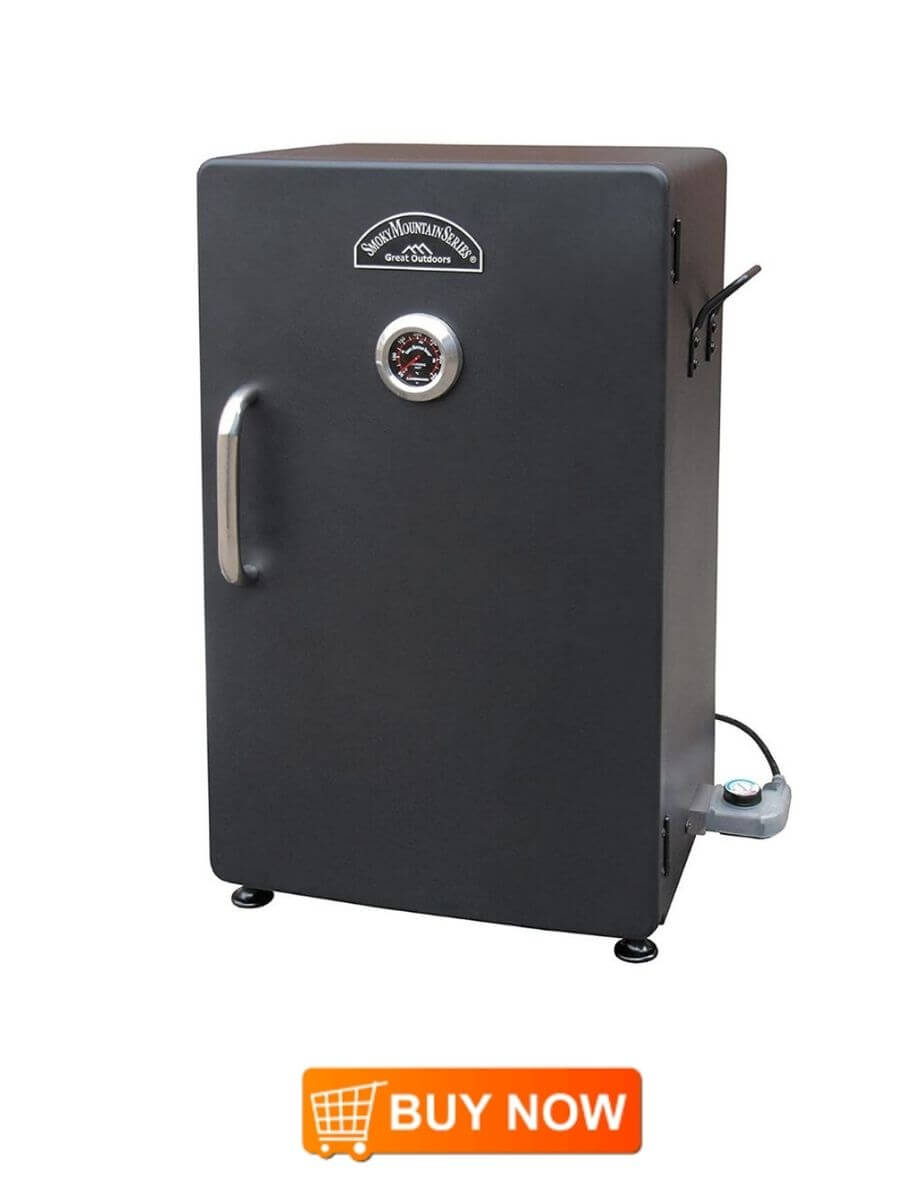 This electric smoker extends compliance and ease of use either for professional smoking enthusiasts or beginners who have a passion for smoked food. The smoker offers a huge cooking area of 443 sq inches, and with this much area, you can smoke a lavish cuisine for a number of diners. Smoke in turkeys, Newyorker strips, whole chicken, seafood like salmon or snapper, sausages, veggies, ribs, briskets, and much more.
Perfect smoked food is possible with the 1500 watt heating elements, which makes the heat sizzle each and every cut of the meat. With 3 adjustable cooking grates in the cooking chamber, you can toss in your desired meat and leave the rest on this smoker. What's brewing inside will be indicated by the front-mounted analog temperature gauge between the temperature range from 100 °F and 260 °F.
Enhancing your convenience is the 3 in 1 tray, which entails a wood-chip tray, ashtray, and grease tray. This tray not only contributes towards easy smoking but also makes cleaning afterward swift and effortless.
When it comes to exterior design, Landmann makers have kept it simple and elegant. The exterior is equipped with a cool-touch handle on the front door and two side handles. The side handles support unchallenging portability from one place to another while the adjustable leg levelers balance the smoker on uneven surfaces.
Pros
Compact size
Lightweight yet sturdy
Spacious cooking chamber
3 in 1 tray
Cons
No front window
The thermometer might show defective readings
For durability and overall functions, this smoker is as good as the best ones mentioned on this list. The great thing about it is, its size is manageable and large. Making your food in less time and taking in a ton at once. The dimensions are 20.7 x 33.5 x 15 inches, which are generous and preferred by many.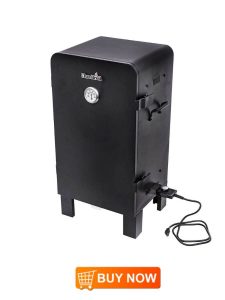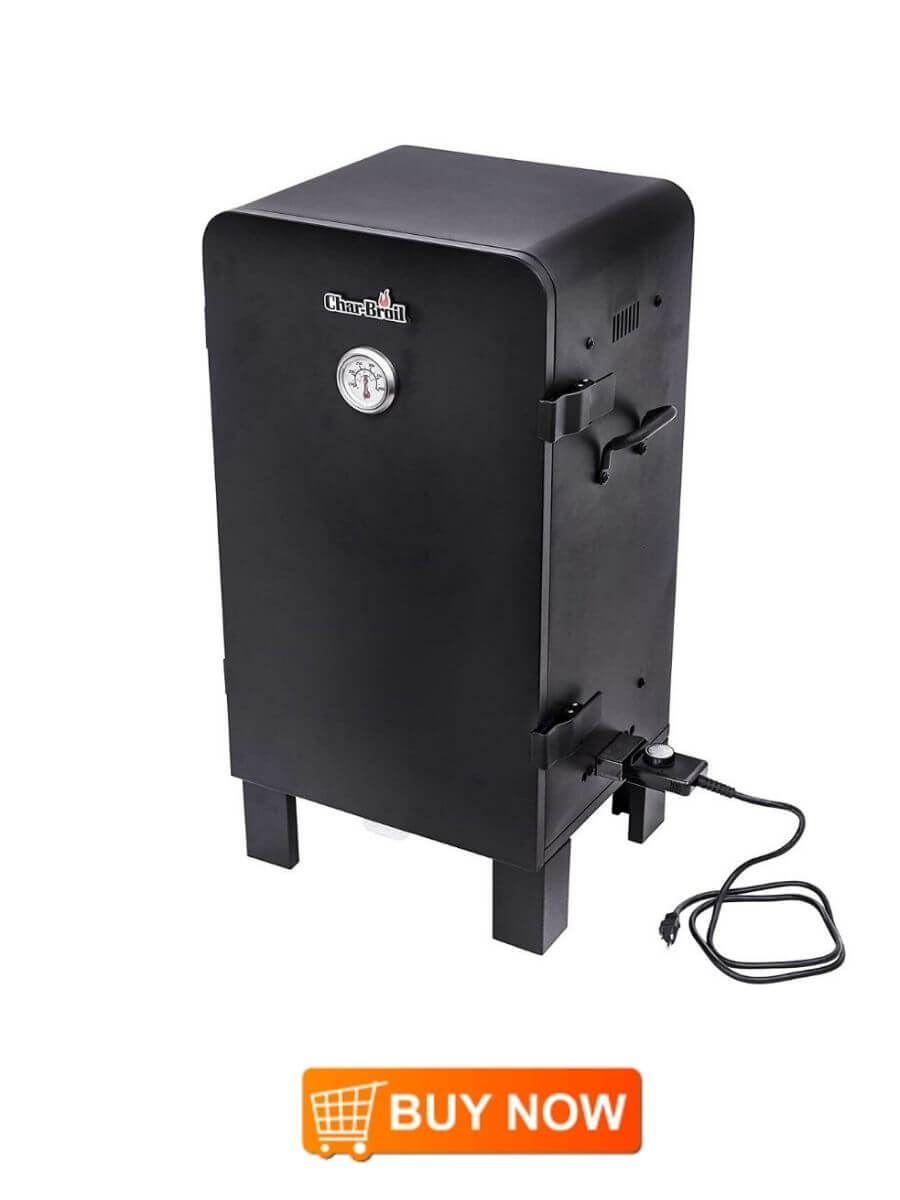 The cooking area is bigger than most smokers out there, about 544 square inches. There are 3 grill racks and 1 tray rack, all of them are detachable and can be managed according to your preference. You can easily feed 5-10 people with the food it cooks in one go.
Apart from that, there is a grease tray at the bottom which you can take out easily to clean. The heating part is 1000 watts and fits in effortlessly. There's also a temperature controller through which you can manage the temperature of the smoker. There are 2 handles on each side of the smoker and the weight is only 49.5 pounds. And there are 4 small legs to keep the smoker stable.
The biggest drawback so far is no door handle, which means you need to take extra care while opening or closing the hot door. You can also use oven gloves to make sure your hand stays safe. Although this smoker is pretty efficient, some of its drawbacks are too much to ignore. But if these features are a no-brainer for you, then it cooks good food.
Pros
Easy to assemble
Temperature is easily maintained
Add chips with no door opening
Cons
Small size
No glass door
No door handle
Read Also: Best Electric Smokers under $1000
Bradley Smoker BTDS108P comes with 2 different versions: One with 4 racks and another larger version which has 6 racks. The best feature that Bradley Smoker came up with is the quality of the control panel. It does almost all your work and is very good for beginners who are new to smoking food.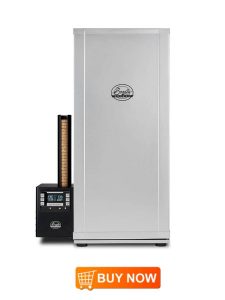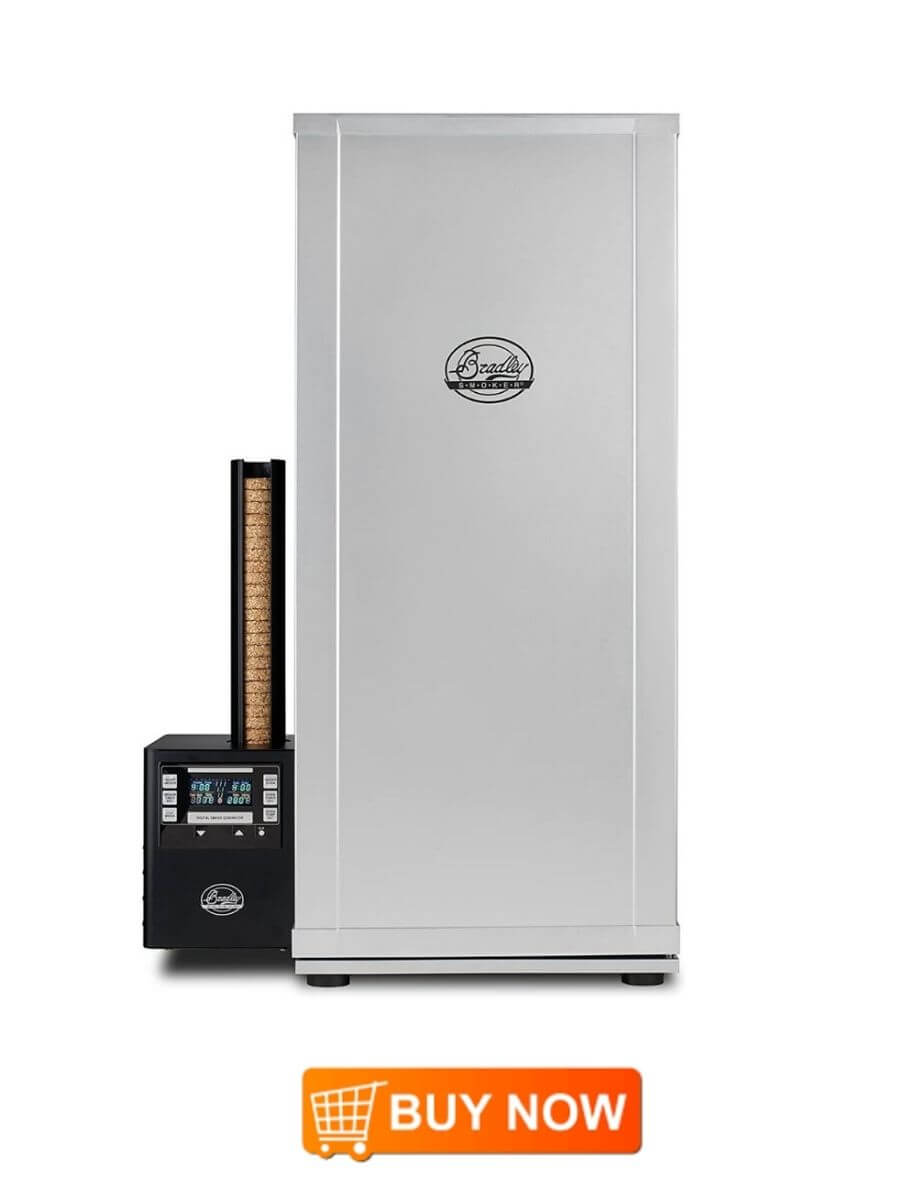 Apart from this, it does both: hot smoking and cold smoking, which is the coolest feature ever! The smoker uses pellets to achieve that smokey flavor and is powered by electricity, which makes it unique and at the same time fall in the place of an electric smoker.
You can choose any smoker according to your preference. There are bisquettes which you can buy with the smoker that last for 20 minutes, it is good if you buy the bisquettes with the smoker as it burns and gives a nice overall temperature.
The size of the Bradley smoker is quite spacious with 11.50″ L x 33″ H x 15″ W dimensions. The cooking area is a whopping 3432 sq. inches to make enough food for 20-30 people! But with great size and dimensions comes a problem and that is its weight. It is not a lightweight smoker and that means it is not easy to maneuver it around.
Pros
Best for beginners
Simple maintenance
Simple setup
Body insulation is superb
Large space
Hot and cold smoking
Good for restaurant use
Cons
Buying bisquettes again and again
A little expensive
The thermostat does not give an accurate temperature
Who doesn't want a good smoker at such less price? Old smokey knows how to take your worries away by its cheap price tag and good quality. The heating system is efficient with 1250 watts of power.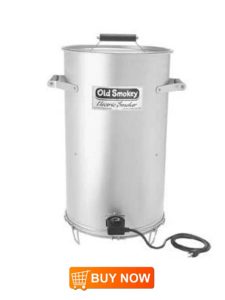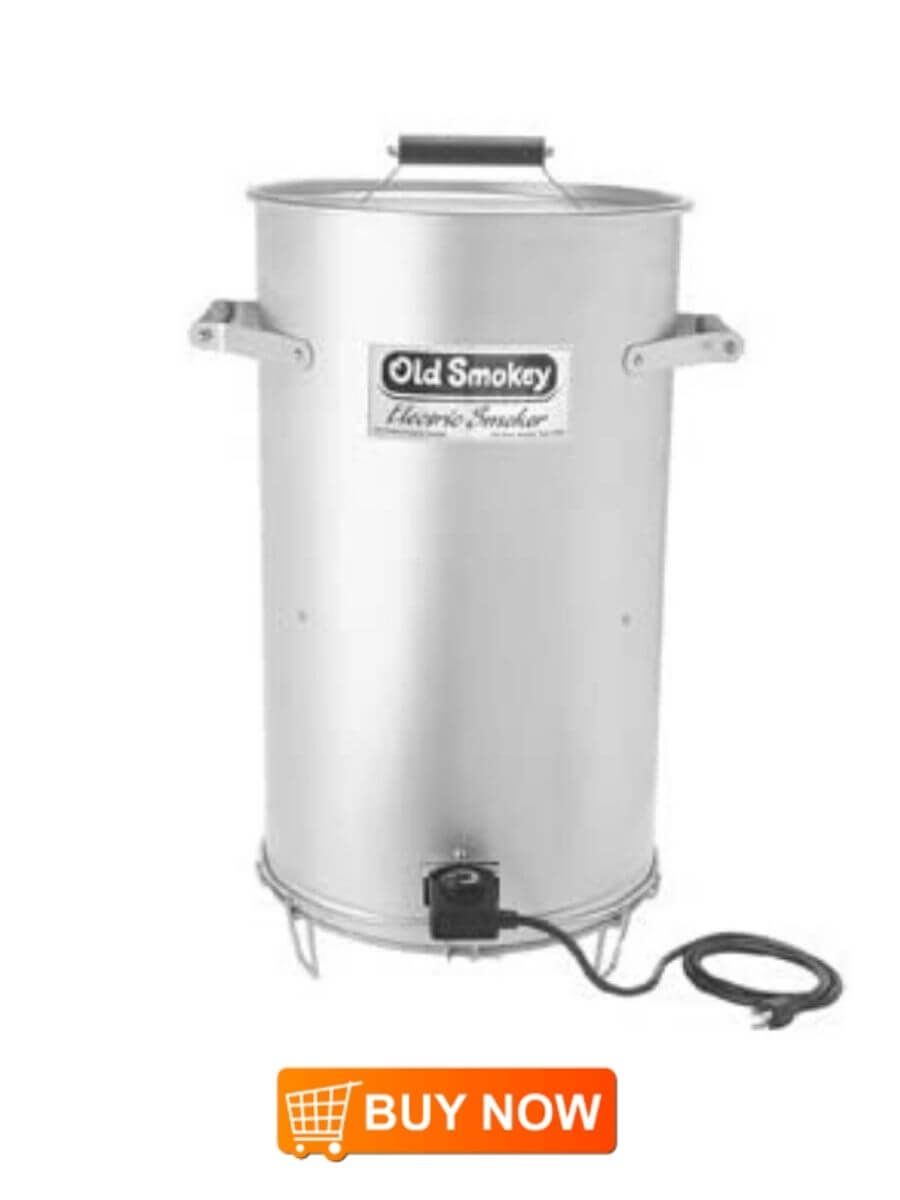 This is connected to a thermostat that regulates the temperature. However, Old smokey is quite old-fashioned with no digital readout which many people prefer. Yet the smoker's insulation is up to the mark.
Although it's a cheap and old fashioned nut once you get the hang of it you can produce extremely delicious food. The smoker doesn't need a water pan as the lid is not detachable and is sealed with the body.
The juices and steam stay inside the smoker to give a rich, juicy, and aromatic feel. There are 2 grills and an additional chip tray. You can add your wood chips on the tray below to add extra flavor.
But now you may be thinking that while cooking the handles will be so hot that you won't be able to touch them. Well, this is not the case. The smoker comes with heat resistant handles that stay cold even when the power is on. The cooking grates are extremely tough and made with quality material. There's an additional drip tray for effortless cleaning and overall hygiene.
Pros
Inexpensive
Convenient
Good distribution of heat
Cons
Becomes very hot when power is on
No glass door
If you want to cook quickly then Master built hollow provides you with just that. The capacity is compact, making heat travel faster to your food. The overall price is very reasonable too with many great features.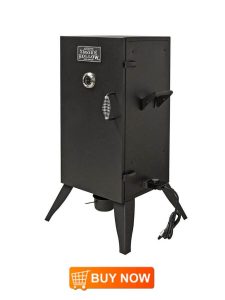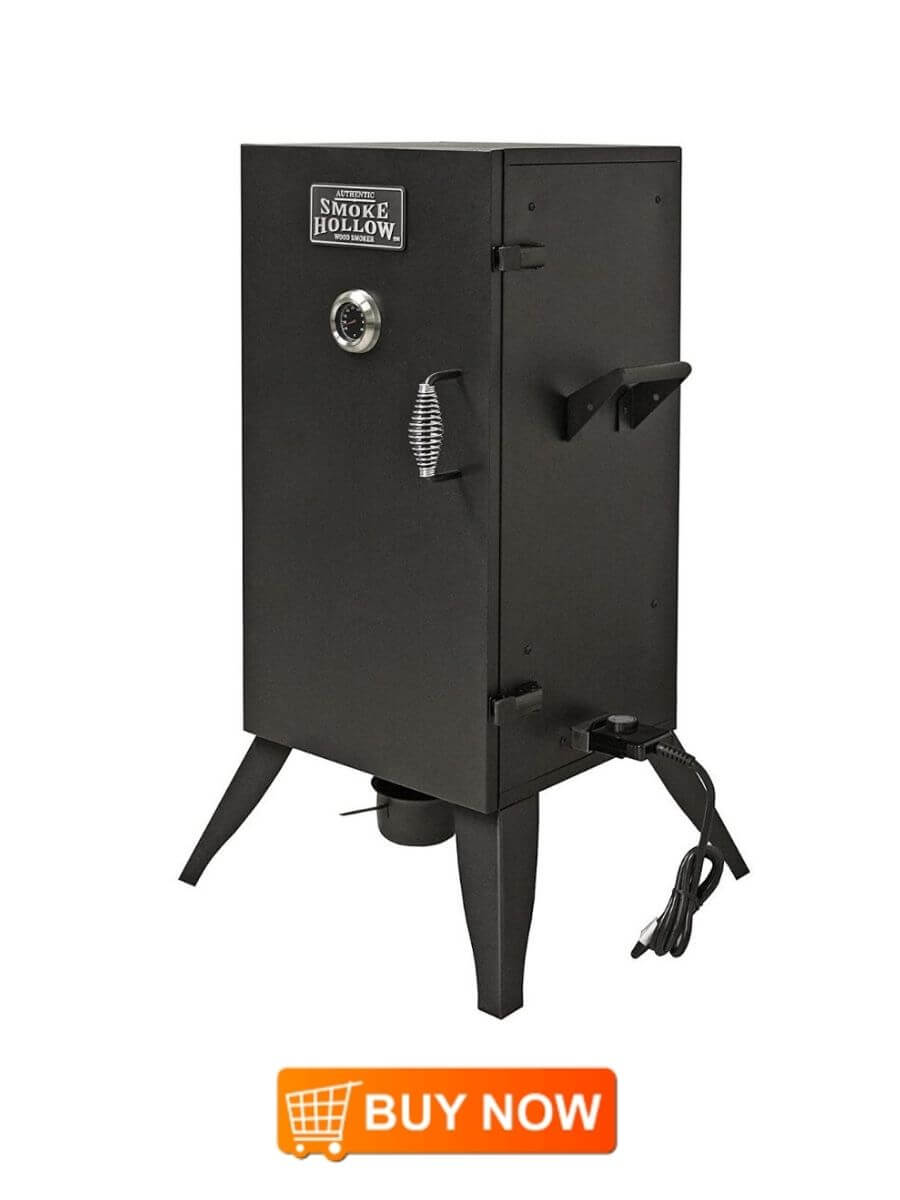 Yes, it is not a perfect buy, yet when it comes to the food it cooks I bet you'll be surprised. The dimensions are small and manageable of 19.91 x 22.49 x 37.79 inches. And they justify the product's lightweight at only about 47 pounds. The system for closing the door is pretty unique. It has built some magnets which don't let the smoke escape and closes the lid quite nicely.
The overall temperature is very steady which many smokers lack and is one of the essential features. There is no digital reading for temperature, which means that you'll have to rely on the gauge. However, the gauge tells the most accurate temperature. You can add wood chips to enhance the bbq flavor. The cleanup is easy and the mechanism to operate is very simple. Apart from that, the price is much less which is a plus point.
Pros
Good for beginners
Inexpensive.
Maintenance and clean up is easy.
Durable.
Cons
Small space.
No advanced options.
Bradley Smoker BTDS76P might be your next best electric smoker under $500 because of its unique feature. The features in this smoker are just as good as its large 6 rack counterpart mentioned above.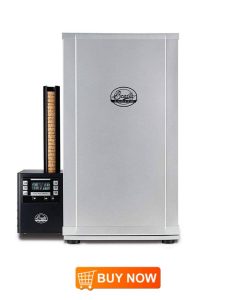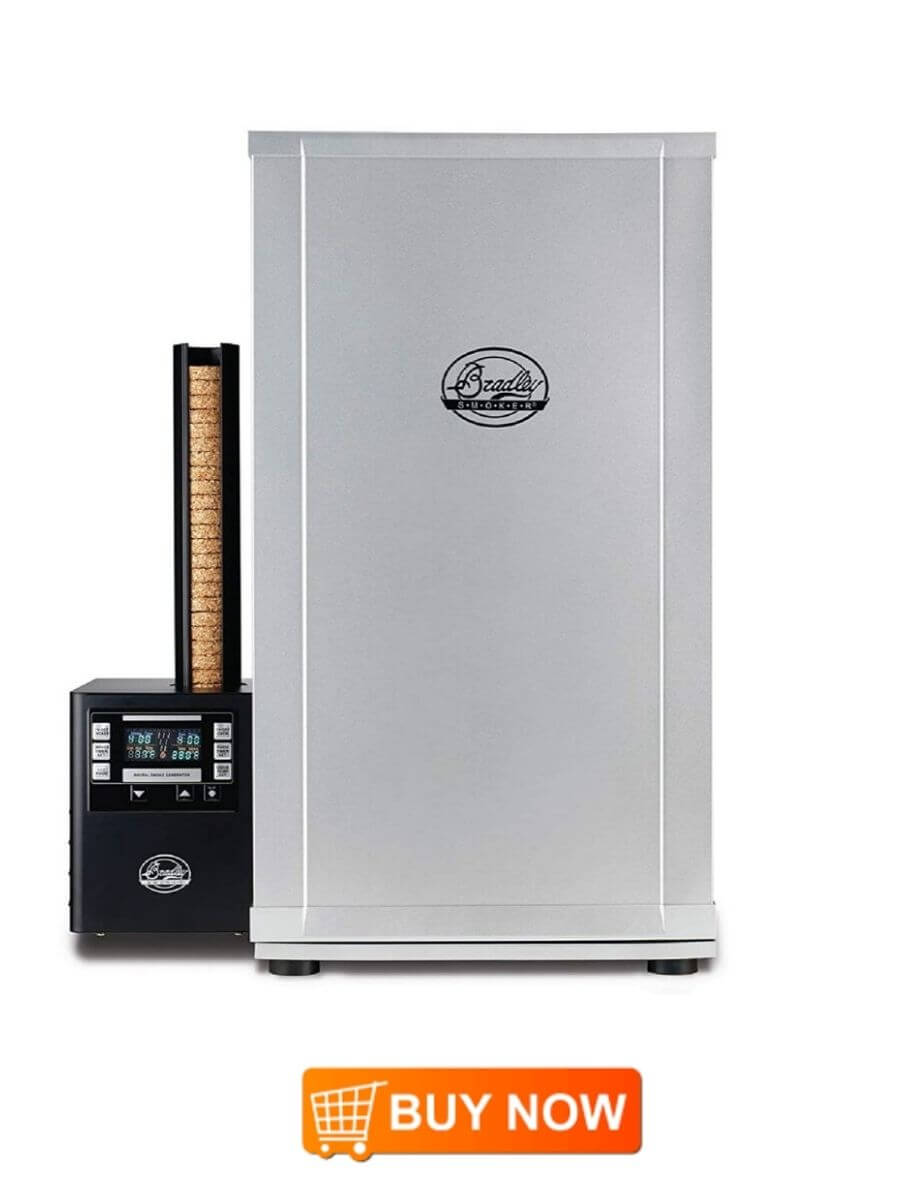 The size is ideal for large family use. It is portable and can be assembled anywhere to cook delicious food. The overall cooking capacity is about 520 square inches and the dimensions are 14.00 x 17.00 x 31.00 inches from height, length, and width respectively.
Although some people might get confused with its digital controls, in reality, they are really straight forward. With a few tweaks and you will be able to control temperature, smoke, and time. Which means that you can control the results you want.
Apart from that, all other features are just the same as its large version Bradley Smoker BTDS108P which is mentioned above!
Pros
Efficient performance
Cheap price
Cons
Performance is low when the temperature is cold outside
9. PIT BOSS PBV3D1 – Vertical Electric Wood Smoker
The pit boss electric smoker knows how to create the magic! With its beautiful body built of steel and an amazing cooking area of about 748 sq inches. You can cook food in loads to satisfy your cravings.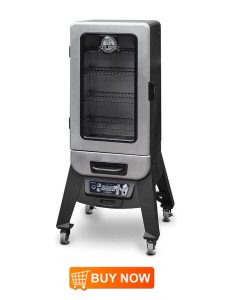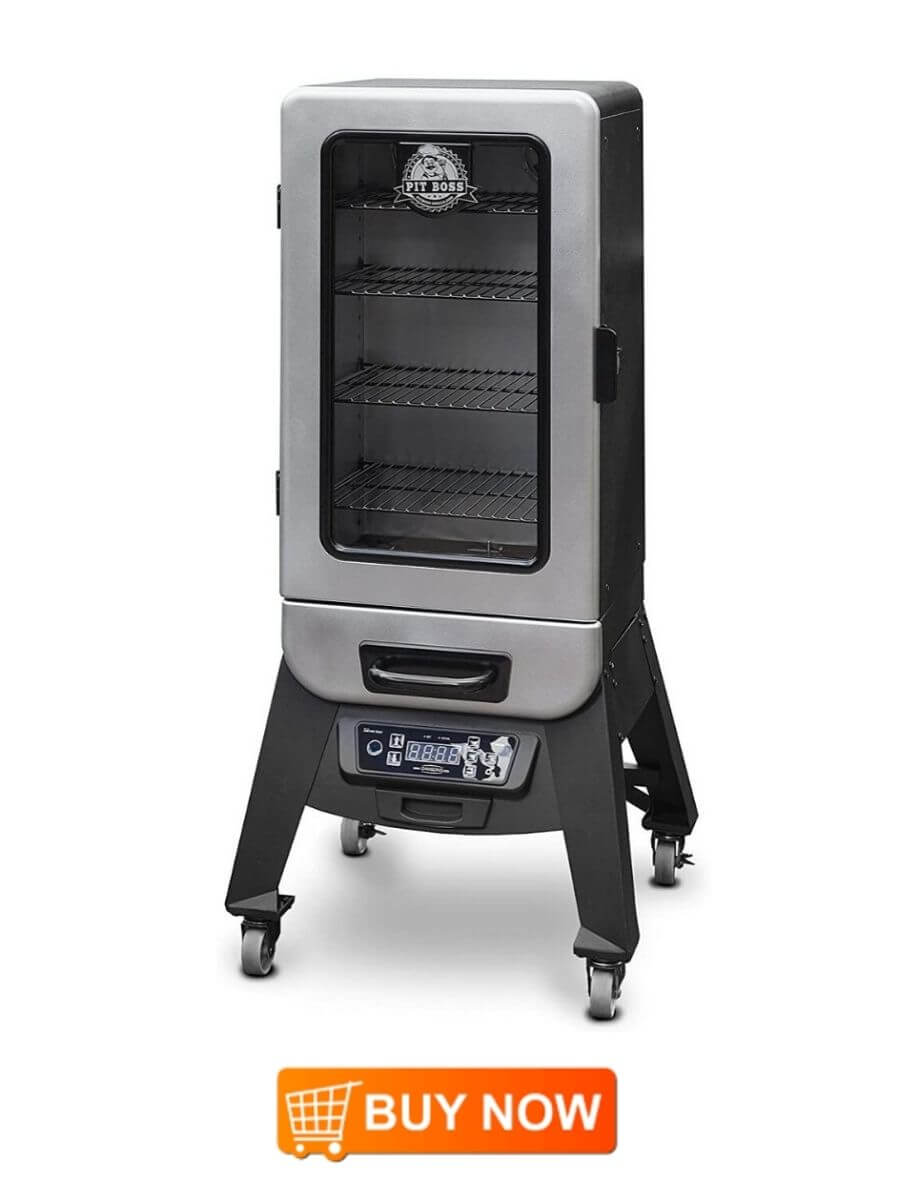 There are 4 racks that are coated with porcelain for easy cleaning and maintenance. The temperature range that it comes with is from 100 degrees F to 400 F. Which, I suppose, gives you a lot of space to choose from. The electricity power is about 1650 watts and the grills perform fairly well.
A good thing about this is that even if it is inexpensive, it provides you with a meat probe, a wood box that is on the outer side, a glass door, LED screen reading, a double insulation body wall, and a door seal. So, providing all these features at this price is pretty overwhelming. The vertical electric smoker is easy to store or place in kitchen.
Pros
Large cooking space
Convenient
Body is insulated
Durable
Cons
Less customer satisfaction
Hard to read digital readout
The Cuisinart COS-330 electric smoker has some pretty interesting features which are right under your budget. Starting from the thermometer readout which is easy to use and simple to its exterior. All the things are generously placed and built.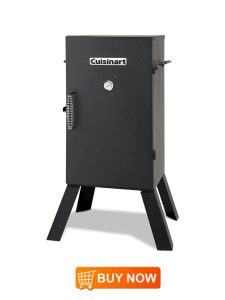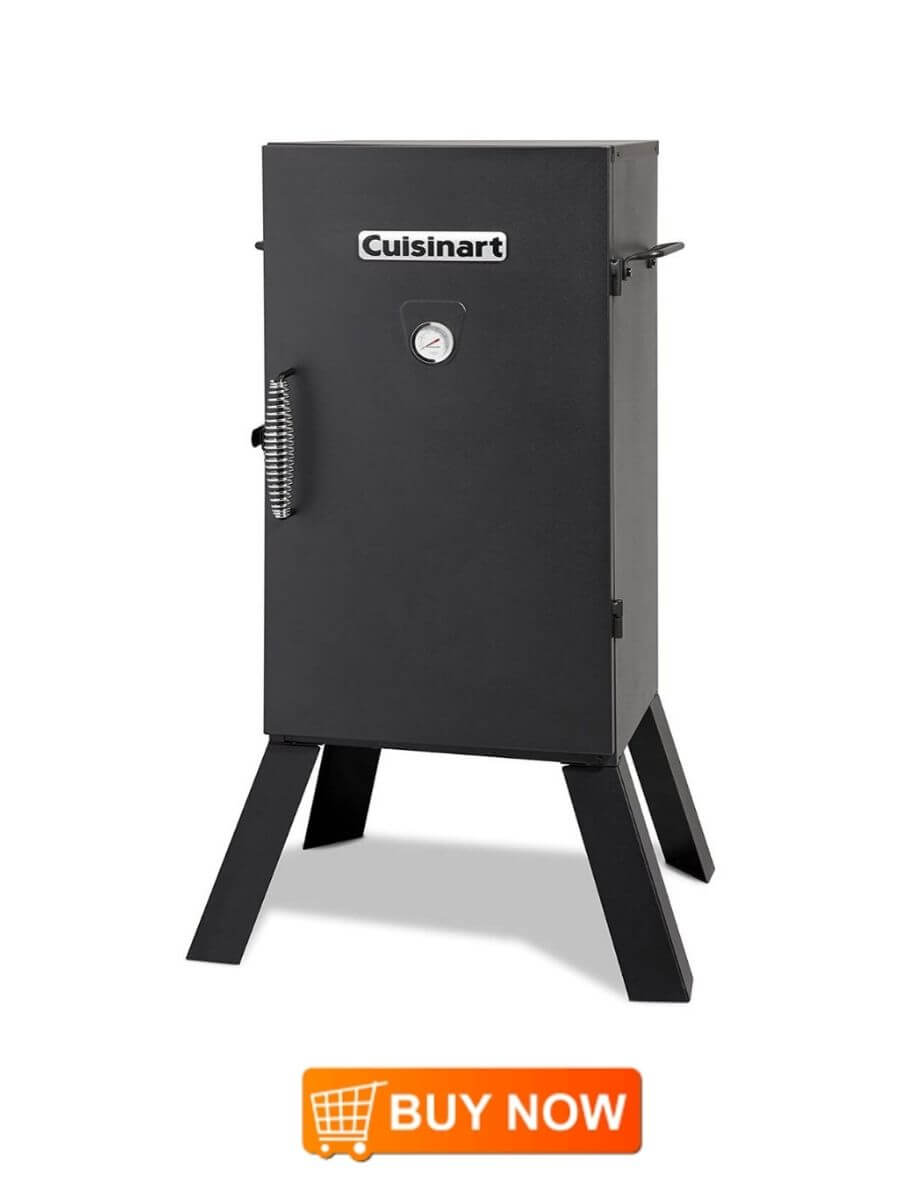 There are 3 racks for cooking with an overall generous cooking size of 548 square inches which function perfectly. Good for beginners but a drawback is that it has no glass door, which is preferred by many.
Not only does this smoker has reporting features but all of its features are to the point as well.
The food it cooks is awesome and tastes delicious. The electricity usage is about 1500 watts and temperature options are wide from 100 degrees F to 400 F.
Apart from that, this 30″ electric smoker's weight is very light allowing you to pick it up and move it around quite easily. If you're a beginner and want something simple, cheap, and good quality-wise then this is the one for you.
Pros
Lightweight
Simple to use
Manageable size
Cons
No glass door
Temperature gauge tells inaccurate temperature at times
Best Budget Smoker FAQs
What is the best electric smoker for the money?
Old smokey is the best for money. It is cheap and works well so that all the customers love it!
What is the easiest smoker to use?
The easiest one to use is the Weber 18 inch Mountain cooker, which is the first one in this list. Its features are extraordinary that save your time and do the job!
Are electric smokers worth it?
Yes, as they are very easy to use and create less mess.
Which is a better electric smoker or gas?
Gas is way better than electric smokers as it takes up less energy and has a lot of features that electric smokers lack.
What is the best home smoker to buy?
Master built hollow and Cuisinart COS-330 is one of the best. However, Old smokey and Bradley 4 rack is just as good. for more updates check the smoker reviews.
Final Words
Hope you found the best electric smokers under $500. If you budget is less then we have another review on Best Electric Smoker under $300.
Sale
Sale
Original Bradley Smoker BS611 4-Rack Natural Draft Vertical Electric Smoker
Large Capacity Smoker: Our digital smoker is specially designed to accommodate the 4 included racks; This meat smoker allows you to feed a couple or a...
Professional-Grade Design: Perfect for professional chefs and food smoking fans, our fully automatic electric smokers allow you to simply load in your...
Dimensions: Our digital outdoor smokers measure 19 by 22 by 35 inches and 24 inches wide with the generator is attached; Feature a 4 by 11 by 13 inch...
Easy To Clean: Our electric grill features an easy-to-clean stainless steel interior that will not rust; Smoke diffuser system keeps the smoke...
Master Smokers: We developed Bradley Smoker products to produce the best smoke flavor possible; As we say, "It's all about the flavor," so enhance...
Smokin-It Model #1 Electric Smoker
Up to 22 lbs. of meat capacity per load
400 watt heating element, 8 amps 120 volt single phase
3" Diameter rubber casters and 3 removable shelves included with space for 4 shelves total.
All 201, 18 ga. stainless steel construction. NSF Certified for Restaurant use.
New Side Handles for easy movement or lifting of smoker.
ASMOKE AS500N-1 Electric Wood Fired Pellet Grill and Smoker, Pack of 5 Seasoning BBQ Kit, Safe...
【Mouth Watering Consistency】 Ultimate 8 in 1 Pellet grill can BBQ, Bake, Roast, Braise, Smoke, Sear, Broil, and Char-Grill. Hot and fast or low...
【Large Cooking Area and Hopper Capacity】 325 SQ.IN. Main rack + 140 SQ.IN. insulation rack, totaling to 465 SQ.IN. Ideal for a large 3-8 group...
【Innovative Technology】 Advanced auto pellet feed system and heating fans maintain temperatures from 180°F to 500°F, Color LED controller keeps...
【No Flare Ups】 Proprietary internal design with patented stainless steel slide-plate flame broiler supports either direct or indirect heating,...
【5-Year Warranty & Built to Last】 Heavy duty steel construction with UL Certification, porcelain coated cast iron cooking grids with safe...
Pit Boss 77220 2.2 Analog Smoker, 2 Series, Blue
Integrated analog controls - no more plugging and unplugging components
Three porcelain coated cooking grids, 593 sq in. Includes porcelain coated water and wood pan
Analog meat probe included
Complete control of smoker from 150F - 325F.
External access to wood pan