Are you craving for the smoked beef Brisket?
Let me put an end to your cravings by presenting you with a texas style smoked beef brisket recipe!
To make a perfectly cooked and seasoned brisket, you will need to follow only seven easy steps. By following these steps, you can prepare a more delicious, tasty, juicy, and tender brisket that you can enjoy with bread, pickles, onion pickles, and with smoked vegetables too.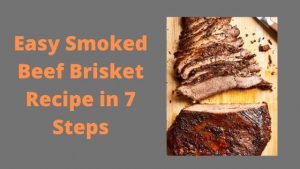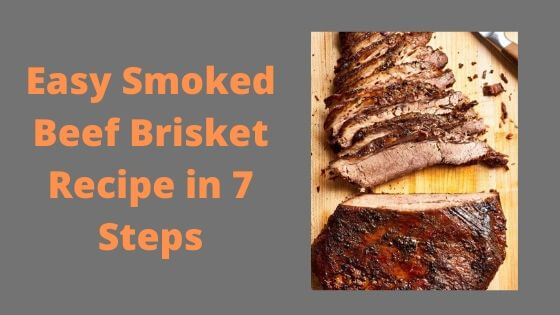 Smoked Beef Brisket Recipe
The preparation time of this recipe is 30 minutes, while cooking time is 15 hours. Besides this, 1 hour is its resting time, and the total time of this recipe is 16 hours 30 minutes. You can serve this recipe with 18 people, and it contains 282kcal calories.
Ingredients
Whole packer brisket 1 (12-14 pounds)
Garlic powder two tablespoon
Grounded black pepper two tablespoon
Kosher salt two tablespoon
Seven steps to make smoked beef brisket
Choice of brisket
Trim
Season
Smoke
Wrap
Rest
Slice
1. Choice of brisket
The brisket is taken from cows, and two briskets are available per cow. It is made by two different muscles one is a point, and the second one is flat. These are the muscles that are used most in the walking of cows, so that's why they have different layers of fat and marbling on them.
The layer of marbling and fat is dependent upon the cow feeding, and the cooking time is also varied according to marbling and fat. The more marbling brisket takes slightly more hours in order to cook evenly from the inside and gives you a more juicy, tender bite. While the low marbling and fat briskets take a little bit short time in order to perfectly done from inside and outside too.
2. Trimming
Each brisket has a good amount of fat from which some fat will render and cook easily, while some will take more extra time and do not render easily. So you just need to trim the brisket perfectly so that it will take plenty of short time in cooking. Before seasoning, makes sure that you will trim the fat that will not render because that fat will give you tough cooking time and difficulty in its marination too.
Keep your briskets in the refrigerator before marination. The cold brisket is easy to cut and trim as well as removing the fat is also easy in cold brisket. Remove the silver skin and fat pockets from muscle. Also, cut down the crescent moon shape fat from the brisket until a smooth layer appears.
Turn it over and start removing fat from the top cap. You will find this top cap fat on the above brisket point. Do not cut all fat. Make sure to leave a ¼ inches of fat on all brisket fat sides that will give it protection in cooking. This fat will also avoid the burning of the brisket and help to make it's inner completely cooked. Trim and remove all extra fat from the points and make a square shape from edges and ends.
3. Seasoning
First, take olive oil and apply evenly on all sides of briskets. Take a mixing bowl and add kosher salt, black pepper, and garlic powder in it. Mix the spices well and then apply the spices evenly on all sides of the briskets. Make sure that all spices apply on every side of the brisket so that it will give you a mild spice taste on every bite. This simple Texas seasoning gives you more taste and flavor instead of using a lot of herbs and spices. Moreover, the smoke also has its flavor that will enhance the brisket flavor more.
4. Smoking
The best smoker for smoking a brisket is pellet one yet get ready your smoker according to its heat as well as smoke range. Warm over your smoker at 225-degree Fahrenheit's to give an initially middle amount of heat to the briskets.
Now place your briskets in the middle of your smoker cooking grill. Make sure that the endpoints of the brisket face the main heat sources because they are a little bit thicker than the inner part and get some more time to cook perfectly.
Now close the lid and let the briskets cook evenly from all sides. It will take 8 hours cooking, or you can check its internal temperature too. When the internal temperature becomes, 165 degrees Fahrenheit, your briskets are ready. Here you may pick a best pellet smoker.
5. Wrapping
The Texas wrapping of brisket basically increases its internal temperatures and lets it cook faster from inside. You can use foil or pink butcher whatever you like in wrapping the brisket. While the use of butcher paper is more perfect and gives your recipes more flavor. Foil is not more breathable than the butcher paper, and paper lets smoke taste to go inside the brackets.
After eight houses, take your briskets out from the smoker. Take a butcher paper or foil in order to wrap the brisket properly. Place your butcher paper on a tray and put your briskets in the middle of the paper. Now wrap the briskets evenly so that the butcher paper covers all brisket surfaces, and not part of it will remain out of the paper. Make sure that the wrapping of brisket is leak proof too.
After wrapping it completely, take it again on your smoker grill. This time keep the closer side of the paper down on the grill so that the weight of the brisket will make the edges and corner of paper tighter.
Next, cover your smoker lid again and maintain the same temperature of 225 degrees Fahrenheit to smoke the briskets. It will take more than 5 to 8 hours to smoke or can also check its internal temperatures. When the inter textures reach 202 degrees Fahrenheit, it means your brisket is ready.
6. Resting
This step is one of the most important steps in brisket cooking. After complete smoking, hours take your brisket out for the smoker on a large cutting board. Give at least 1-hour rest to the brisket in order to cut perfect juicy slices.
When you give time for rest, the inner hot bubbles of juice and spice will settle down into the brisket again and give you a soft flavor. When you immediately cut the brackets from getting it out from the grill, the inside juices and flavor will waste on your cutting board. While you will not get a soft, juicy, and tender texture in your brisket. Give it time to set and cool down its temperatures.
7. Slicing
If you want a maximum level of tenderness in your brisket than slice them against the grain. There are two separate grain directions, while two overlapping muscles are there. Cut the slices in a direction that you like more.
After one hour rest, take a big sharp knife and slice your brisket immediately. You can serve it with any barbecue sauce, pickled jalapenos, pickled onion, bread, and with some smoked vegetables if you like.
Try Smoked Beef Brisket Recipe at home and visit us for more updates about Smoker Reviews and recipes.